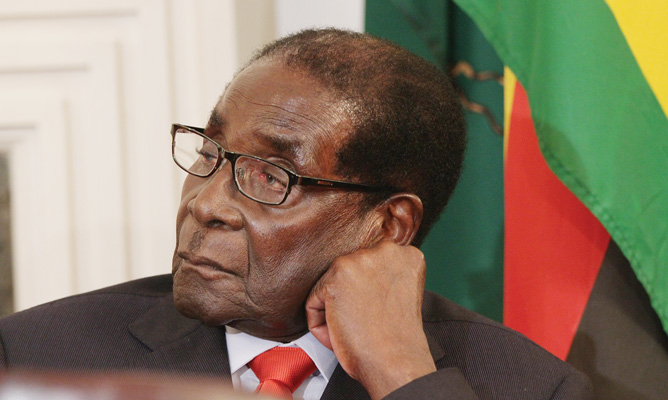 IT might have been a slip of the tongue, but President Robert Mugabe's astounding revelation that diamonds worth $15 billion could have been stolen from Chiadzwa under his government's watch has sparked intense scrutiny of his rule.
BY XOLISANI NCUBE
From MDC-T's march that drew a crowd of about 5 000 into the streets of Harare, to the lone protestors at Parliament and during the Independence Day celebrations at the National Sports Stadium last Monday, Zimbabweans are demanding answers.
The brave woman who demanded her share of the missing $15 billion from Mugabe at the giant stadium left the veteran ruler's security details shell-shocked.
Before the woman's stunt, veteran theatre producer Silvanos Mudzvova was arrested at Parliament Building after he tried to stage a one-man show on the missing diamond revenue.
The award-winning Mudzvova claimed the play was inspired by revelations made recently by Mugabe, when he said the country had lost $15 billion raised from diamond sales.
Last month, a lone protestor stood outside Parliament Building with a placard demanding answers on the country's missing diamond billions.
The man — Fagio Marowa — was snapped wearing a green T-shirt and holding up his placard in front of police officers at the entrance to the parliamentary precinct in the capital.
The placard mentioned the $15 billion that Mugabe said had been lost to diamond firms mining in the Chiadzwa diamond fields. "Iripi? the placard asked in Shona. Where is it?".
Political analyst Ibbo Mandaza said Mugabe exposed himself to "unnecessary public scrutiny which has somewhat brought shame and humiliation" on his floundering legacy.
"It's very unclear whether he was genuinely concerned about the missing money or it was due to old age and lapse of the mind, but this has really exposed him to jibes and comical response from the public," Mandaza said. "People are expressing dismay that a whole president could admit that he lost $15 billion when he has a government in place.
"They are laughing at him, at the same time expressing anger and disgust. It's a pity that's how things are."
Another analyst, Ernest Mudzengi said Mugabe should explain how his government lost the $15 billion as this was a sign of failure, hence people are using his admission to mock him through artistic work and comedies.
"That admission is a sign of failure and ordinarily it exposes the leader to mockery," he said.
"Government should show efforts to recover the money, that is, if indeed he meant it and it was not one of his statements made in jest," Mudzengi said.
University of Zimbabwe political science professor, Eldred Masunungure said the people's reaction to Mugabe's revelations that
$15 billion went missing were a result of "surprise and disbelief".
"Most people are not convinced that Mugabe was not aware, hence you see the comical nature of their expression."
"They want him to reveal where the money is and this really puts a dent on his already washed down legacy.
"He could have said it to register his genuine displeasure with diamond firms but that is not what the people will easily believe and buy."
Some observers believe Mugabe made the claims in an attempt to justify the cancellation of licences of diamond miners in Chiadzwa.