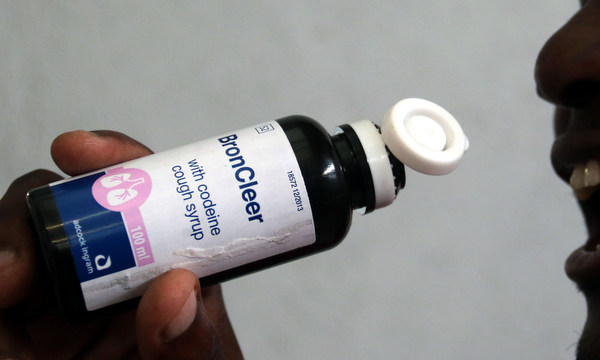 The abuse of BronCleer cough syrup to "get high" quickly mostly by urban youths is set to go down following action by its manufacturer Adcock Ingram South Africa which has launched an improved formula with less alcohol.
By Phyllis Mbanje
Responding to reports of misuse and abuse of their cough syrup BronCleer, Adcock Ingram announced on Friday that the new formula now contains only 0,5% alcohol.
Ongoing reports of the abuse of the product, very often combined with other substances, has caused great concern to the company and stakeholders alike. While BronCleer, popularly known as Bronco, has been banned in Zimbabwe, it is very popular among young people and touts, and is smuggled into the country via different ports of entry.
The cough syrup is sold for between $3 and $5 per bottle in Harare.
Empty bottles of the cough syrup have become a common sight on the streets.
On the streets of Johannesburg, South Africa, young people are getting high on Bron-Cleer, which is said to be going for R15 a bottle, making it one of the cheapest "highs" around.
The medication, which is meant to relieve cold symptoms, contains the drug codeine, a highly effective pain killer, much like morphine.
Codeine is also found in a range of other medications, including Myprodol and Mybulen, Benylin C, Syndol, AdcoDol, Tensodol, Sinutab C, and Sinumax Co, among other products.
An overdose or abuse of codeine phosphate can lead to respiratory depression, constipation, restlessness, sedation, nausea, vomitting, skeletal muscle flaccidity, bradycardia, hypo-tension and death.
According to United Kingdom-based Zimbabwean medical doctor Brighton Chireka, large doses taken by people who abuse this cough syrup can cause breathing problems.
"Death can even occur if the cough syrup is taken with other medication that affects the brain," he warned.
Meanwhile, the managing director of the Over the Counter (OTC) Division of Adcock Ingram, Werner van Rensburg, said they were committed to supporting the responsible use of the medicines they manufacture.
"The diversion of the product has been beyond our control. So it needed an approach to reduce the attractiveness of BronCleer with codeine to potential abusers," he said.
The response has been an improved formulation of BronCleer with codeine, which is immediately available in the market.
"As a result of the improved formula, there is a change in the taste of BronCleer with codeine. But as all the active ingredients in the product remain the same, consumers can be assured that there is no change in the efficacy," van Rensburg added.