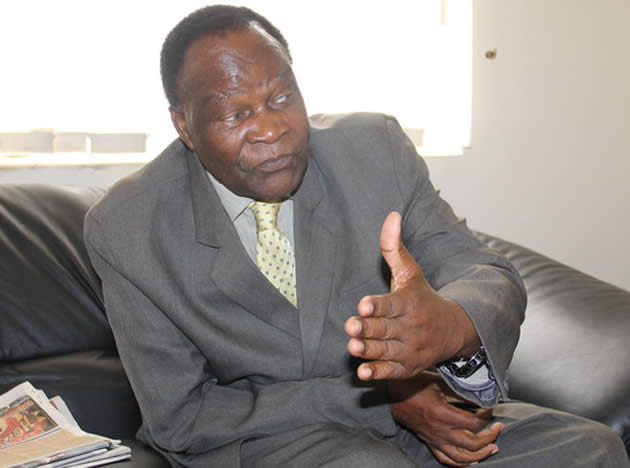 Masvingo Provincial Affairs minister Shuvai Ben Mahofa and Psychomotor minister Josiah Hungwe's political survival in Zanu PF is under threat amid reports that their government jobs are hanging on the balance.
By Tatenda Chitagu
There are reports that at least 20 Members of Parliament from Masvingo have delivered damning reports on the two to President Robert Mugabe, who is now said to be under pressure to wield the axe.
Mahofa, the Zanu PF "Iron Lady" of Masvingo, and her mentor Hungwe are linked to the Lacoste faction in Zanu PF reportedly aligned to Vice-President Emmerson Mnangagwa in the fight for Mugabe's throne.
The other faction, Generation 40 (G40) which comprises Young Turks and reportedly enjoys the support of First Lady Grace, is strongly opposed to Mnangagwa taking over the reins.
Last Saturday, 20 Zanu PF legislators out of a total of 26 MPs from Masvingo handed a damning dossier to Mugabe that cited the two as the factional kingpins in the province and alleged that the two were no longer loyal to the 92-year-old veteran leader.
Mugabe had flown to the Lowveld town of Chiredzi to try and douse the factional fires that have consumed his party. His five-hour long meeting with the MPs and senators ended inconclusively and another meeting is on the cards at a date to be advised, according to Home Affairs minister and secretary for administration in the party, Ignatius Chombo.
The 20 MPs, linked to the G40 faction, recommended that Mugabe either fires or re-assigns the two seasoned politicians over their links to the Mnangagwa faction.
The legislators that signed the petition are provincial political commissar Jappy Jaboon, Daniel Shumba, Kalisto Gwanetsa, Tongai Muzenda, Paul Chimedza, Paradzai Chakona, Denford Masiya, Darlington Chiwa, Robson Mavhenyengwa, Kennedy Matimba, Walter Mzembi, Joseph Moyo, Ephraim Gwanongodza, Davis Marapira, Mathias Tongofa, Vincent Mawere, Angeline Chipato, Mafios Utete, Robert Mukwena and Samson Mukanduri.
Only six MPs that are believed to belong to the Lacoste camp did not sign the petition.
"Mahofa and Hungwe are behind the current wave of political instability in the province. It is imperative that His Excellency takes steps to nip this problem in the bud as soon as possible," the dossier reads.
"As MPs who were democratically elected by the people of Masvingo, we recommend the following to His Excellency, the President and First Secretary of Zanu PF: "There is need to immediately re-assign or remove the current Minister for State for Provincial Affairs in the interest of the party and government and replace her with a member who is loyal and obedient to the President and First Secretary of Zanu PF…. to ensure and assure a clean sweep of all seats in the 2018 elections," it reads.
The legislators also called for a stop to "factional distribution of land" in the province.
"The ongoing land redistribution should be stopped and offer letters issued should be immediately withdrawn to allow wider consultations with traditional chiefs and other stakeholders," reads the petition.
Mahofa has since described the allegations as "99,9 percent lies" coming from "over-ambitious and power-hungry" political greenhorns.
Sources said Mugabe has summoned Mahofa to Harare this week so that she explains the controversial awarding of cane plots grabbed from Tongaat Hullet to 196 Zanu PF members, traditional leaders and senior civil servants on alleged factional lines, a move that will leave 2 000 Tongaat Hullet workers jobless.
"She has been summoned to Harare by the president and if she fails to explain herself, that will be her end," a source said.
Mahofa could not be reached for a comment yesterday.
Mahofa and Hungwe have allegedly made known their political colours in Zanu PF. Mahofa reportedly objected to Grace Mugabe's presidential candidature ahead of the party conference last year, saying Masvingo Province only observed her (Grace) as the women's league boss and First Lady.
Soon after the congress, she was taken ill on suspected food poisoning and spent three months in hospital.
Hungwe, upon Mnangagwa's elevation to be vice-president, described him as "the son of man" and likened him to Jesus Christ, but was forced to make a U-turn following criticism from G40 members in the party, among them Higher and Tertiary Education minister Jonathan Moyo.