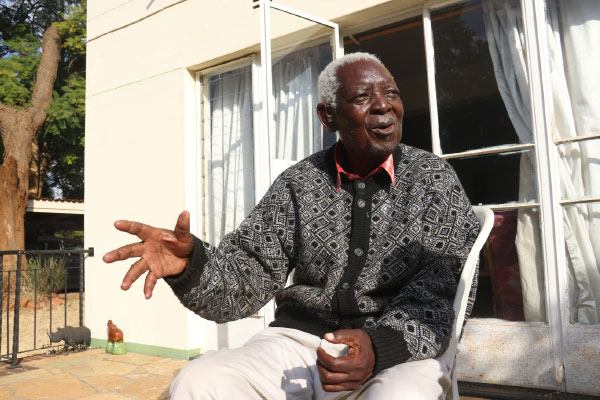 Former Zanu PF politburo member, Cephas Msipa says Zimbabwe's successive elections since 1980 have not been free and fair and has implored the authorities to change heart and try to pass credibility tests in future polls.
By XOLISANI NCUBE
In an exclusive interview with The Standard at his Gweru home recently, Msipa said since 1980, the electoral playing field has favoured President Robert Mugabe's Zanu PF party as the opposition has been denied entry into some areas.
Msipa is a close friend and relative of Mugabe and both men have confirmed their relationship publicly.
"There is need to improve our electoral system… it has never been free and fair," Msipa said. "There is room for improvement and I know we can do much better."
The former Midlands provincial governor — who quit his influential post following the bloody 2008 elections — said even the historical 1980 polls won by Zanu PF were not free and fair as his party, PF Zapu, then led by the late vice-president Joshua Nkomo, was banned from visiting some parts of the country.
"Even the 1980 elections were not free and fair. We had some parts that were no-go areas for us from Zapu. I was the election manager for Midlands and I could not access areas such as Mberengwa. One day I went to campaign there and I found some boys, Zanu boys, at a bridge and they said to me 'how can you impregnate an already pregnant woman… VaMugabe has already done that here," he said.
"I tried to pretend as if I could not understand what they were saying but they were very clear that it was a no-go area for Zapu. We had areas such as Murehwa, Mutoko and Mount Darwin, which were also no-go areas for us. So, really, we have to work on those things to ensure that our elections are credible."
Opposition parties have always accused Zanu PF of using violence and State machinery to instil fear and force people to vote for them in all successive elections.
Msipa said he broke ranks with his Zanu PF comrades in 2008 after they unleashed the army to campaign for Mugabe who had lost the first round of polls to MDC-T leader, Morgan Tsvangirai.
"I don't tolerate the involvement of the army in election management. That goes against every principle and belief that I fought for. It is one of the reasons why I resigned from being the governor for Midlands in 2008," he said.
"I told myself 'I can't stand and watch the people whom I sacrificed for being oppressed like this. Their freedom is curtailed by some actions and I will never allow that.' "Even in 2013, they came here and requested that I assist them in campaigning. I told them, 'so long as you will not allow the army to be involved in the area that you would have given me, I will help'. I campaigned in Zvishavane and we won. That is what I believe in."
On allegations about Zanu PF election rigging, Msipa said that probably happened at a very low level but during his time, there was no violence in areas in which he was involved with.
"I worked hard to ensure that we won without rigging and in a peaceful manner," he recalled.
The ex-Zapu secretary general left active politics in 2014 due to factional fights, which he said were tearing Zanu PF apart.
Msipa said during his stay in Zanu PF he was not involved in factional fights and believed Mugabe wrongly kicked out former vice-president Joice Mujuru on false allegations of seeking to topple him from power.
"When I went to tell Mugabe that I was quitting, I told him I could not stand to watch young boys doing what they were doing. I said I could not be entangled in factional fights. He asked me, 'do you belong to the Mujuru faction?' and I looked at him and said 'I hope you are joking'. I told him 'I support Mujuru because she is your deputy and if I don't support her, then I will not be supporting you'," he said.
"It's a lie that Mujuru wanted to kill Mugabe. Even Mugabe knows this. I have known Joice since 1980 when she was my minister and I was her deputy. She respected Mugabe. She used to tell me how good the man was and how he groomed her during the liberation struggle and for her to think about killing him is really unimaginable."
He said he believed Mujuru thought she was being genuinely groomed for the presidency and other senior members of the party thought so as well and the allegations against her came as a shock to them.
"These are the things that really made me go and become an ordinary party member. I believe in unity and I value that. I hate people fighting unnecessarily," he said. On his relationship with Vice-President Emmerson Mnangagwa, Msipa said the VP often misunderstood him.
"He misunderstood my objections to his preference of Larry Mavima to be the provincial chairperson ahead of Jason Machaya. People need to differ on issues and not personalities. I really believed that Machaya was good for the party and its grassroots support base. He thought I was against him but it was based on issues, not personalities. I hope he understands me. He is really someone I have nothing against and will not hate him at all," Msipa said.
After retiring from politics, the former governor — who this week turns 85 and has a big birthday party planned by his children — said he was now running a scholarship programme for underprivileged students who would want to enrol at universities.