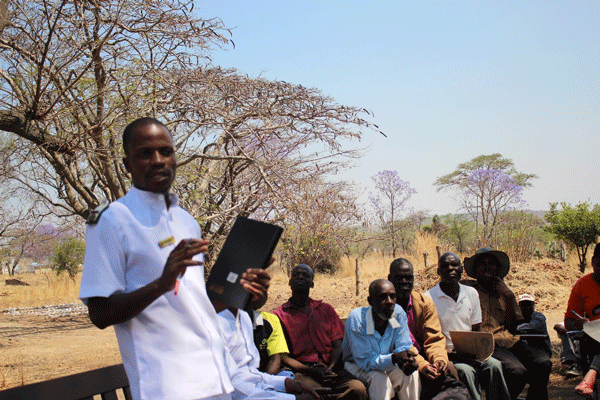 Zimbabwe has made strides in anti-retroviral therapy (ART) service provision and among other interventions, has adapted the community ART refill group (Carg) model which supports self-formed groups of clients, who are stable in accessing ART.
By Tadiwa Nyatanga-pfupa
The members of the groups usually come from the same geographical area. The overall goal of this model is to reduce the burden and challenges for both health care workers and patients in the provision and receipt of ART and improving adherence and retention in care and treatment.
People living with HIV in Mutasa district in Manicaland have hailed the introduction of this model.
In an interview with journalists who were on a National Aids Council (NAC) media tour of the province, members of Carg said the programme has been a cost-cutting measure as they can now send one person to collect their medicines.
Wisky Selami, a Carg leader, said in the past members used to fork out $6 each for transport, but now they are making contributions for transport for one person, which is cheaper. Selami added that the coming of Carg had improved adherence among people living with HIV because whenever they meet in their groups they educate each other on the importance of taking medication.
"There has been a great improvement on adherence since members are conducting peer-to-peer counselling on adherence," said Selami.
Charles Mushanya, leader of another Carg also pointed out that the programme helped in reducing work load for health workers since one person is now collecting medication for 15 people. Mushanya pointed out that in the past health workers had to attend to a group of people, which was time-consuming.
"More productive time has been created as members are now taking turns to visit the clinic," he said.
NAC chief executive officer, Tapuwa Magure said: "The rationale towards the adaptation of this model is the need to achieve the overall goal of the ART programme, which is to reduce HIV-related morbidity and mortality, improve the survival of persons living with HIV and Aids, improve the quality of life for persons living with HIV and Aids and reduce transmission of HIV from infected to uninfected individuals through expanded ART coverage and earlier initiation."
He added that the ART programme implementation in Zimbabwe continues to be undertaken in the context of a comprehensive care and support package that addresses medical, social and emotional needs of persons living with HIV and Aids.
The Zimbabwe National Network for People Living with HIV (ZNNP+) provincial coordinator for Manicaland, LIoyd Dembure added that plans were underway to roll out the programme in all the country's districts next year.
Dembure pointed out that the Carg programme had helped in reducing the number of defaulters in the province from 10% to 2%.
An individual who is HIV-positive and on ARVs who wishes to join Carg, needs to meet the following criteria: lHIV-positive patient willing to be a Carg member.
Be stable on ART (without any complication and severe opportunistic infections).
Be on ART for six months and more.
Have an undetectable viral load.
Currently not on treatment for TB or any other major opportunistic infections.
Be above the age of 15 years.
Not pregnant or lactating.
Access ARVs at the same health facility with other members.
It is hoped that the Carg model will facilitate the achievement of the third Zimbabwe National HIV and Aids Strategic Plan goals of strengthening community systems for supporting and sustaining integrated care and support services for persons living with HIV and Aids. It is also meant to help to promote creative and innovative approaches to increase retention of ART clients and reducing double counting of already registered clients during enrollment. In the process, the adherence and retention of persons living with HIV and Aids on treatment will be strengthened together with linkages between the health sector and community systems.
Tadiwa Nyatanga-Pfupa is the NAC communications officer.