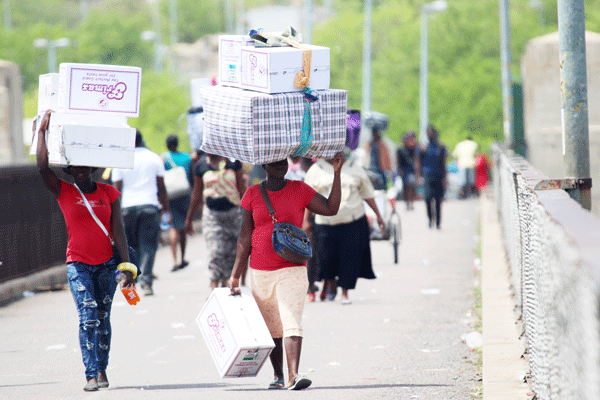 SMUGGLERS are now a common sight in Beitbridge, just like Harare's illegal taxi operators, commonly known as mushikashika that operate in daylight as police watch.
news in depth BY OBEY MANAYITI
A recent investigation by The Standard revealed that smuggling syndicates have mushroomed at Zimbabwe's busiest port of entry following a government import ban imposed in July.
While smuggling was common along the country's porous border with South Africa through illegal entry points, the syndicates now have the audacity to transport their loot through the heavily manned Beitbridge Border Post.
The syndicates are big and involve Zimbabwe Revenue Authority (Zimra) officials, police, state security agents, soldiers, traders and members of the public, our investigations revealed.
At illegal entry points along the Limpopo River, the illicit movement of goods has become so rampant that some villagers have set up businesses such as shebeens and tuckshops to serve the smuggling kingpins.
Various sources told this paper that the situation worsened after the introduction of Statutory Instrument 64 of 2016 in July.
The controversial law prohibits the importation of certain goods ranging from groceries, building materials and furniture without an import licence.
The government claimed the law would boost the local industry's production levels depressed by years of economic stagnation, but if the situation in Beitbridge is anything to go by, the move could have been an exercise in futility.
Cheap Chinese-made products and those bought from neighbouring South Africa, including those banned by Zimbabwe, easily find their way into the border town.
The bulk of the contraband is moved to major cities and towns in Zimbabwe and beyond despite a litany of police roadblocks.
The goods are then sold on the streets at much cheaper prices compared to those in shops.
Cross-border buses, the investigation revealed, are the major conduit of smuggled goods and a day trip to Beitbridge from Harare revealed how easy it was to smuggle goods from South Africa.
At Harare's Roadport terminus, "fixers" openly target travellers bragging about how they use their connections on the Zimbabwean and South African side of the border to smuggle goods in whatever form.
They also brag about how they are efficient in making the contraband arrive safely at desired destinations and how they are also connected to law enforcers in the whole process.
Although most of the "fixers" do not travel to the border town, they arrange with bus crews to line them up with their connections in Beitbridge upon payment of a fee.
In Beitbridge, there are more than 20 known illegal crossing points where goods of all types could be found. One such point is Maroi, about 20km outside Beitbridge.
In this area, people enter Zimbabwe through some farms near the South African town of Musina with their goods.
At Maroi there are people who would be waiting to ferry the smuggled goods to cross the dry Limpopo River to where the contraband is loaded into waiting vehicles.
So busy is the area that some villagers have erected shacks so that they operate 24 hours a day depending on demand for their services.
"We stay here. This is our working area and it's busy, as you can see. It's the festive season and there is more work to do here.
"If we use a donkey-pulled cart we charge R100, but if we have to carry the goods ourselves the charges change," said one of the villagers who identified himself as Temba.
"We cannot say we are making a lot of money but I believe we earn much more than those who are employed.
"A lot of items ranging from groceries, beer, furniture and even building materials pass through this point."
The place is a hive of activity and other enterprising people have set up canteens and shebeens to cater for both smugglers and those who help carry the goods.
The news crew observed big loads of goods, especially groceries, beer and petrol being brought into Zimbabwe through Maroi. The goods are then loaded onto Harare-bound buses.
One Shephard Moyo said they used illegal crossing points to avoid paying taxes.
"It's easy to smuggle things from South Africa. We pay police from both sides of the border so that we pass through uninterrupted," he said.
"The money we pay as bribes cannot be compared to the amount we pay to Zimra.
"We don't have to waste time at the border, but most importantly, we maximise on profits.
"You know there is no employment in Zimbabwe and you have to be creative to survive."
For those who do not want to go through all the smuggling processes from South Africa, there are organised syndicates who can buy the goods on their behalf and then wait for delivery at the illegal crossing points.
This crossing point is also being used to smuggle cigarettes into South Africa from Zimbabwe.
Across the Limpopo River on the Zimbabwean side, local police officers patrol the border with motorcycles hunting for smugglers.
Once they encounter the gangs, police officers simply ask for bribes before leaving the smugglers to carry out their nefarious activities.
Our news crew witnessed a uniformed police officer escorting a two-tonne truck that was being used to smuggle beds and groceries from South Africa.
At the border post, smugglers use bicycles to transport their contraband from the South African side into Zimbabwe. Law enforcers and Zimra officials at the border pay little attention to those transporting goods on bicycles and as a result many people have resorted to the cycling gangs.
"You will be surprised that it doesn't take a whole day to smuggle, say cooking oil, from a fully loaded haulage truck using bicycles.
"But it's not like officials don't know what is happening, sometimes they facilitate," said one of the cyclists who requested anonymity.
"We are so many and we work in groups. If those at the border post are too strict, we use a route behind the duty-free shop from where we connect with some roads that lead to Beitbridge town.
"People will come and collect their goods in town, but to be safe you need to carry a few rands in case there are police officers who will demand bribes."
He added: "The situation is the same on the South African side of the border post.
"Officials there do not bother clamping down on smugglers. The difference is that on the Zimbabwean side, we pay more in bribes than on the South African side.
"We pay something like R20 on the SA side and on the Zimbabwean side they don't take less than R100."
Some smugglers use different routes at the border to smuggle goods depending on their relationship with officials manning the border post.
Groceries, tomatoes and beer are mostly smuggled using bicycles.
Some cyclist smugglers claimed to be living better lives than those who are employed as they owned houses and vehicles.
The Beitbridge bus terminus is a hive of activity, evidence of the thriving illegal importation of goods.
Some smuggled goods are taken to the bus terminus where crews will be in charge of ensuring that the contraband arrives safely at desired destinations.
The smuggling syndicates bring their goods and they work with the bus crews to ensure that the banned items arrive safely with limited interception from law enforcers.
For those who would not have made prior arrangements, the crews repeatedly warn passengers to pay what they term "toll gates", euphemism for bribes at police roadblocks on the Beitbridge-Harare highway.
"If there is anyone who knows that he or she has "hot" things [contraband] and wants us to help them, make sure you see the conductor so that you pay.
"We don't want trouble on the road," shouted one of the members of the bus crew as the cross-border traders encouraged other passengers to pay to avoid inconveniences.
People pay between $5 to $10 as protection fees and at checkpoints bus conductors will rush to bribe Zimra officials and police to avoid being searched.
At the Beitbridge Border Post there were hordes of buses that were detained after passengers refused to contribute to bribe money.
Along the way, buses pick up people with smuggled goods who would have come through other illegal crossing points that are away from the border post.
Matabeleland South police spokesperson Philisani Ndebele said he would only comment on specific smuggling cases where perpetrators are arrested.
"We cannot rule out cases of smuggling as long as there are illegal crossing points. However, we only talk of specific cases where people were arrested," he said.
The entire Beitbridge police force was a few months ago transferred to other stations countrywide due to rising corruption and failure to contain protests in July that were sparked by the import ban. But this has not stopped smuggling.
Zimra board secretary and director for legal and corporate services Florence Jambwa said they were working on numerous initiatives to curb smuggling and corruption within the organisation.
"Reports have come to the attention of Zimra pertaining to the use of undesignated and illegal entry points along the border line to smuggle goods into the country, especially across the dry Limpopo River around Beitbridge," she said.
"Measures have been put in place, in collaboration with law enforcement agencies, to combat these illegal activities."
She said Zimra was working with police to stop the criminal activities that were on the rise.
"Zimra works closely with law enforcement agencies to curb smuggling through holding joint roadblocks and border patrols to deter use of undesignated and illegal crossing points," Jambwa said
"In addition, several strategies have been put in place to curb all underhand dealings such as corruption, tax evasion and smuggling, which you have alluded to in your questions."
According to Jambwa, some of the strategies include roadblocks in collaboration with law enforcement agencies, border patrols, post-importation audits to verify whether proper customs clearance procedures were followed and the use of non-intrusive inspection equipment (scanners) at ports of entry and exit to identify any contraband.
Confederation of Zimbabwe Retailers president Denford Mutashu said smuggling was now a threat to the country's manufacturing sector.
"What this matter does is it affects the manufacturers who are actually in a way supported by the statutory instrument because they still have to compete with those goods smuggled without paying taxes," Mutashu said.
"The smuggler can afford to sell the goods at a price lower than those who import through the normal channels. This has distorted pricing on the market."
He said some of the banned products were now costing half their normal price on the streets.
"This is actually a serious challenge. It affects the contribution by the manufacturers and the retailers to the fiscus because it will be difficult to compete with smugglers who don't incur costs of a formal business," Mutashu said.
Zimbabwe loses billions of dollars in potential revenue due to rampant smuggling.