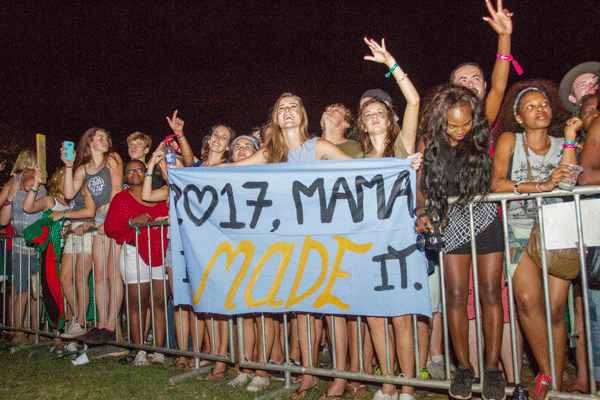 The first time I was introduced to the Jameson Victoria Falls Carnival was in 2012; the following years have come as a tradition with me celebrating my New Year's eve in the tourist town.
Global Citizenship with Gilmore Tee
When December comes, I pack my small luggage, which usually comprises two pairs of shorts, a trousers, one pair of chuck tailors, a pair of flip flops, maximum of four T-shirts, a pair of dark glasses, toiletries and of course, my passport. Being an avid traveller, I always carry my passport, especially when I am going to be in a border town as you never know what will happen.
Packing for the carnival is one of the easiest tasks I do annually. it is not as complicated as packing for Mozambique Fashion Week or the MTV Africa Music Awards; you need to understand that Victoria Falls as a town is extremely hot in the period of December; hence your choice of clothing should be light and comfortable. For those that like dressing skimpy and in tiny clothing, this is your great escape as no one will judge you for that; everyone becomes a tourist during that period.
Friday December 30, my friend Allistar and I left Bulawayo at 6am headed for Victoria Falls. We left the cold and windy Bulawayo, only to arrive in Victoria Falls at 12 noon to a blazing 35°C sun. In my entire life, I have experienced five extremely hot weather conditions in Dakar, Abu Dhabi, Maputo, Berlin and Victoria Falls; you need to be mentally ready for the heat in these places.
On entering Victoria Falls, one could not miss the billboards and branded placards that were dedicated to the carnival. The atmosphere itself was full of excitement, with people on the streets walking in coloured wrist bands branded "Vic Falls Carnival". When you talk of marketing, outstanding organisation and branding, Vic Falls Carnival will always top Zimbabwean events.
Because of this co-ordination, accommodation and tickets get fully booked during this period of the year. The carnival presence can be felt from afar without one being in Victoria Falls.
Our first activity for the day was the train trip to Jafuta, a secret bush location where we all partied till 2am. The reception by the train station was exceptional, with the trip in the train being superbly put together with music and cash bars. The train constantly made trips to and from the city centre, allowing easy movement.
The last day of 2016 was billed by a live concert featuring award winning acts such as Good Luck, Sulu Chimbetu, Sketchy Bongo and other outstanding acts from across the continent. Held at the Victoria Falls Primary School, the stage, lighting and branding of the festival is one many of our fellow festival and event organisers ought to take note of. Unfortunately, I did not see as many familiar faces from the creative industries as I would have loved to.
The Vic Falls Carnival is not just an event, but it is an entire experience from when you enter Victoria Falls to when you get into the toilets at the allocated venues, till you party through into the New Year. With guests coming from as far as Brazil, USA, Germany, Namibia, South Africa and Cameroon, the order called Victoria Falls Carnival is one we ought to embrace and learn from as creatives in Zimbabwe.
Gilmore Tee is a social entrepreneur, global citizen, curator, publicist and host, who works within the Zimbabwean creative industry, with a strong bias towards fashion. He is the founder of Hunnar Management Agency
www.gilmoretee.com Facebook|Instagram|Twitter: Gilmore Tee