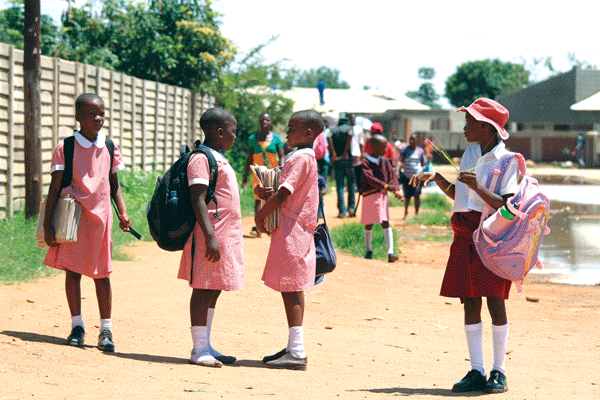 . . . as new term begins
Parents and guardians are struggling to raise school fees and buy essentials for their children as schools open on Tuesday amid massive job losses and failure by many companies to honour salary obligations.
By Phyllis Mbanje
"Years ago, we used to balance our finances with extra cash in the form of bonuses. It gave us a bit of a breather and flexibility," Boris Mhazi from Westgate in Harare said yesterday.
Although many schools have complied with a government directive to not increase fees, parents are too hardpressed by the current economic crisis to afford the fees.
On average, secondary boarding schools charge around $500, while most day schools are pegged at $150-200 per term.
While government has always maintained that no school should chase away pupils for non-payment of fees, most schools, especially boarding schools, will not be admitting students without proof of fees payment.
"Bring proof of payment from the bank before your child can be admitted into hostel," one communication from a boarding school in Mhondoro–Ngezi read.
A parent from Ruwa said: "Government must take its position in the lives of people, not by encouraging people not to take responsibility in paying fees, but to create for them means through which they will be able to work and meet their obligations."
For parents of Form 1 pupils, the amount is usually higher as schools normally ask for a once-off payment for a variety of issues, including building of more blocks.
Many schools also require that the parents buy all the required uniforms at once, including the winter uniform.
"I have spent over $1 000 on fees and uniforms for my daughter who is going to Monte Cassino for Form 1," a parent who was buying linen at a shop in Harare said.
But this is despite the fact that the Education minister Lazarus Dokora has said there was no policy compelling parents to buy uniforms before schools opened.
"There is no policy that children must buy uniforms before schools open," Dokora said.
Business was low at most shops that sell school uniforms as most parents preferred cheaper alternative vendors.
Some were buying from backdoor tailors whose uniform prices are negotiable.
However, the cash crisis has made it difficult for parents to buy from these small shops and vendors as they do not have point-of-sale machines.