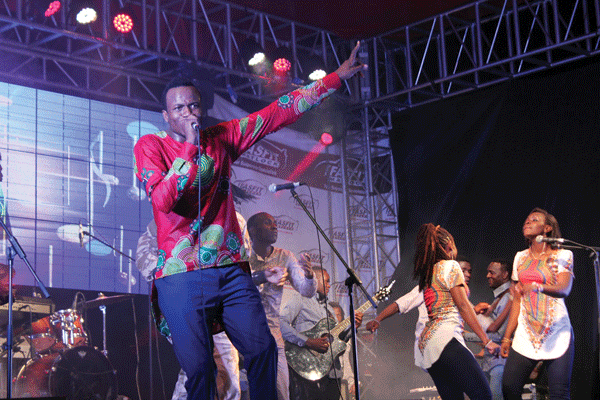 UPCOMING contemporary musician Sam Dondo will launch his second album titled Game-Changer on January 27 at 7 Arts Theatre, Avondale.
BY STAFF REPORTER
The launch, which had been slated for The Odyssey in Kadoma in December last year, was pushed to end of this month to allow the production team time to polish the 11-track album.
However, The Impala Subway Crooners frontman will be reconnected with his Kadoma folk on January 28 when he performs in the town where he spent the better part of his childhood. Dondo grew up in the gold mining town of Kadoma before he left for Botswana.
"Everything has been put in place for the launch of the album. It will take place at 7 Arts Theatre," said Thompson Dondo, who is handling the logistics of the launch.
Unlike in April when Sam launched the album Dyara Minamato at an event that was graced by some of the country's top performers — Oliver Mtukudzi, Alick Macheso, Jah Prayzah, Sulumani Chimbetu and Winky D — this time Jah Prayzah and Ammara Brown would be the supporting acts.
Game Changer is a potpourri of danceable songs overlaid with powerful vocals, buoyant lyricism and a tasty sprinkling of Zimbabwean beat. However, he incorporated one reggae track on the album. The gangly Afro-fusion artist said the album was produced by Munya Viya at Vialy Studios while Oskid did the mixing and mastering.
"In Kadoma, we are still considering Jah Prayzah and Killer T to be the supporting acts," Dondo said.
"We are doing rehearsals and the team is ready for the big day," he said. "I am looking forward to giving a polished act and hopefully the people of Kadoma will come in their numbers to support one of theirs."
Dondo grew up in the gold mining town of Kadoma before he left aged 22 for Botswana where he met his producer Munya Viya. He said his "music marriage" with the producer started in Gaborone and gave credit to Viya for his success.
"I owe my success in the music industry to Munya. We met in Botswana years back, but we reconnected after seven years and came up with this project. He has done a lot for me and I believe his input has gone a long way in building my career," Dondo said.
"The songs are good and appeal to all people. There are reggae tracks, Afro-fusion danceable tunes and of course, songs for the mature," Dondo said.