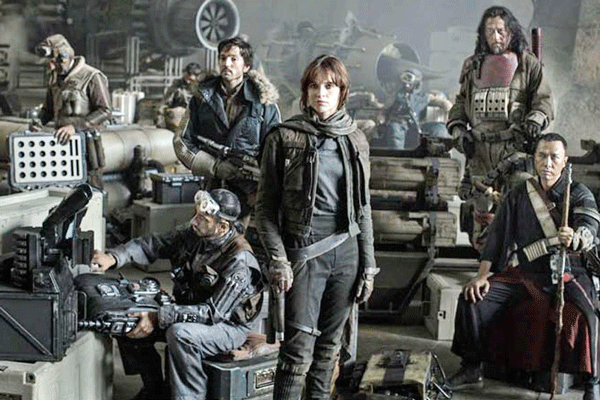 ROGUE One: A Star Wars Story has catapulted 2016 to become the highest grossing year at the United States box office in the history of film with a mind-blowing $11,3 billion, helped by a slew of other box office hits from Walt Disney studios.
movies with Tatira Zwinoira
Ster Kinekor Zimbabwe also had an impressive year as it showed 18 of the top 20 biggest films of 2016, excluding the rest of the many top films it screened. However, the number goes way up when considering all the films Ster Kinekor screened to local audiences.
As such, Ster Kinekor is adequately keeping local film watchers salivated with the biggest global hits.
Last year also saw Walt Disney record its biggest year at the United States box office with the top three films belonging to the studio, that is, Finding Dory ($486,29 million), Rogue One: A Star Wars Story ($440,9 as of Monday), and Captain America: Civil War ($408,08 million).
Walt Disney will become the first studio in the history of cinema to reach $7 billion in a single year at the global box office.
Globally, Rogue One: A Star Wars Story box office haul was $801,9 million as of Monday, with the film expected to cross the fabled $1 billion mark in the next three weeks or less.
As such, Rogue One: A Star Wars Story is set to become the biggest 2016 release both in the United States and globally.
Tomorrow, Rogue One: A Star Wars Story will become the top film of 2016 in the United States.
Box Office Mojo, top international box office tracker, said 725 films delivered the over $11,3 billion wherein studio champ, Walt Disney, led with over 16 films, delivering over $3 billion in domestic revenue.
"As such, it's only fitting a Walt Disney title ended the year as the number one film at the weekend box office, with Rogue One: A Star Wars Story taking the weekend crown for a third weekend in a row as its domestic total climbs to nearly $440 million after 18 days in release.
We will have a complete look at both December as well as all of 2016 over the coming weeks, but for now let's take a quick look at this weekend's performances," Box Office Mojo said.
Globally, the 66 films which earned $100 million+ had a combined box office total of an eye-popping $22,63 billion.
I know this is a movie review but when numbers are this impressive, these figures should be highlighted.
Coming back to Walt Disney — the biggest winner of 2016 — no doubt its management are doing victory laps at these numbers.
Walt Disney has six films that over-performed in the United States top 10 films, with the same films duplicating that feat at the international box office.
Since 2008, with Walt Disney introducing its mega superhero franchise the "Marvel Cinematic Universe" (MCU), the studio has been dominating the box office on a year-on-year basis.
Previously, Warner Brothers studio was dominating the box office with its Christopher Nolan directed Dark Knight (2005 to 2012), Lord of the Rings (2001 to 2003) and Harry Potter (2001 to 2011) film franchises.
Lord of the Rings was produced by New Line Cinema, which was a Turner Broadcasting System subsidiary in 1994 before Turner merged with Time Warner (parent company of Warner Brothers studios) in 1996. As such, New Line Cinema was in the same group and later joined with its larger sister studio Warner Brothers in 2008.
Currently, its films are distributed by Warner Brothers, which is why I included the Lord of the Rings film franchise in the list.
The Dark Knight trilogy earned $1,18 billion during its run, Lord of the Rings $1,03 billion and Harry Potter being the cash cow with $2,59 billion in the United States. Globally, just these three franchises alone earned Warner Brothers about $13,82 billion.
Interestingly enough, Warner Brothers DC Extended Universe (DCEU) of DC comic superheroes is already outpacing the MCU when it started at around the same level.
Warner Brothers DCEU is currently outpacing the MCU with over $744 million.
What Rogue One: A Star Wars Story grossing has shown is after the MCU, Disney will have a lot more franchises to offer movie goers. The Star Wars franchise is now a sure box office hit for Walt Disney in the years to come.
In the years to come, the box office is set to be a battle between Walt Disney and Warner Brothers, but for now the former can claim 2016 victory!