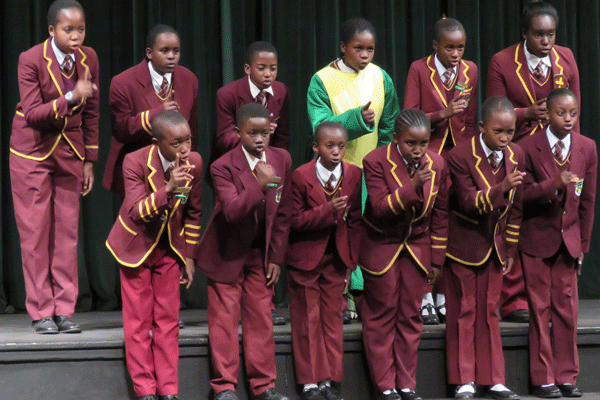 The National Institute of Allied Arts (NIAA) Speech and Drama Festival kicked off in Gweru last week and runs till July 22.
By Rosie Mitchell
With over 2 000 entries, an increase on last year's, the festival promises to offer many opportunities to the art-loving public to go along and enjoy performances by budding young actors and dancers. Sessions cost only $2 to attend, while a season ticket affords entry to any sessions that appeal throughout the festival, for just $10.
Still going strong over a century since it was founded, the NIAA exists to nurture artistic talent across the spectrum, with children participating in its four annual festivals from a very young age right through their school days, and even into adulthood. Through the hard work of preparation and rehearsal with their teachers and by testing their skills before adjudicators, participants develop proficiency, mastery and enjoyment in their chosen art forms, which they carry with them through their lives. The public can then look forward to the next generation of artists to entertain and inspire us, make us think, and uplift us with art in its many forms.
This year's speech and drama adjudicators Rory Kilalea and Gilian Barnard began their work in Gweru on July 3, accompanied by festival director Gavin Peter, where they enjoyed three days of performances by participants from the Midlands, Bulawayo and Masvingo provinces.
Harare junior adjudications got underway on July 6 at Prince Edward School Music Centre, where they continue up to July 14. Senior adjudications begin tomorrow in the same venue, with Shakespeare and Improvisation on July 15 and 16 respectively, followed by three more days of senior work in the Beit Hall at the same school.
Choral Speaking takes place in the Twin Rivers School Hall from July 17 till lunchtime July 21, and the dance adjudications will be held at the National Ballet Centre on July 14 and 15, adjudicated by Yeukai Zinyoro-Chandiposha and June Cloete. The Final Concert takes place in the Twin Rivers School Hall on July 22. This is an event well-worth attending, showcasing a selection of the very best and award-winning entries to the festival.
Kilalea is well-known to many in the Zimbabwean artistic community. An award-winning writer, film-maker and theatre director, he has worked in education, feature film, theatre, animation, advertising, television and radio for most of his life. With credits in acting and producing in feature films with Denzel Washington and Reese Witherspoon, as well as in award-winning commercials, he currently devotes most of his creative energy to education. Mentoring workshops all over the world, he is qualified in writing for film and stage, acting for film and theatre and improvisation. His passion is allowing students to discover their own creative voice.
Barnard, well-known teacher of speech, drama and communication over many years, has adjudicated numerous public speaking events and speech and drama competitions. She holds the Licentiate qualification in speech and drama from Trinity College of Music and Dramatic Art and the Associate in public speaking qualification from the London Academy of Music and Dramatic Art.