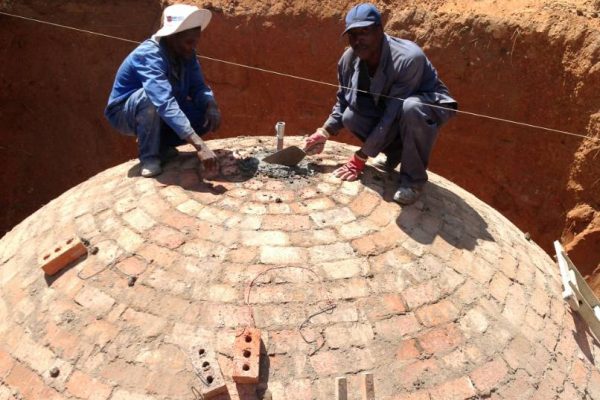 After enduring unending power cuts at the height of Zesa's so-called load-shedding, Cannon Msimanga was inspired to make a difference in Zimbabwe's energy sector. He is now living his dream as the director of Songo Power Tech, a Bulawayo-based renewable energy company, a venture that specialises in the installation of biogas digesters.
by Mthandazo Nyoni
Msimanga (CM) told our reporter Mthandazo Nyoni (MN) in an interview that with more support from government and financial institutions, upcoming entrepreneurs like him could solve Zimbabwe's power problems. Below are excerpts from the interview.
MN: Who is Cannon Msimanga?
CM: Cannon Msimanga is a family man with two children. I grew up in various areas of Matabeleland, but mainly in Bulawayo.
I got my education at Mpopoma High School before working for several pottery companies as a hand decorator.
I then moved to South Africa where I was employed by a company, which had exited Zimbabwe due to political strife.
I then joined a construction company where I got trained in plumbing and tiling.
I can do anything in terms of hand work and I believe I am very talented.
It was easy for me to diversify into masonry. I then realised that there was a gap in terms of energy in Zimbabwe because the country imports everything from electricity to fuel, but we have untapped renewable energy resources.
I was also inspired to venture into the renewable energy sector by the untapped natural gas in Lupane. I thought there was an opportunity to compete with LP gas suppliers because LP gas is expensive in Zimbabwe.
MN: Can you tell us more about your project and how long you have been working on it?
CM: We construct biogas digesters for households and institutions.
Biogas is used for lighting, cooking and running of generators, among other things.
I started thinking about this business long back. I used to ask myself why there was load-shedding and realised I could play a part in finding solutions to the problem.
In September last year I joined a certain man in Johannesburg, South Africa, who was producing gas from municipal waste and I was with him for a year.
We built about three digesters in South Africa and that is where I gained some experience to build biodigesters.
MN: What challenges did you encounter when you started your business?
CM: I did not want this business to start this small. I was aiming higher, but I faced many challenges.
I even approached Bulawayo City Council to say I want the sewage to produce biogas or for electricity generation, but my proposal wasn't approved, even though they say it is still being processed.
In Zimbabwe we have a challenge in that we do not have an energy fund. When I approached the Ministry of Energy, they said there was no energy fund or a scheme to assist budding entrepreneurs like me.
The government is doing well in terms of supporting independent power producers, but it does nothing for small players.
Zimbabwe needs to invest in people with ideas but have no money to venture into business in order to address the electricity deficit.
We get most of our electricity from Mozambique and South Africa, but there will come a time when those countries are not able to supply us and if we don't invest in alternative energy sources load-shedding will return.
MN: What projects are you currently involved in?
CM: We have just finished constructing a biogas digester at [Home Affairs minister] Dr Obert Mpofu's homestead in Nyamandlovu.
The owner is happy because he is now using clean energy. He is using it for cooking, lighting, and running a generator that powers his incubators for chickens.
MN: What is your vision?
CM: My vision is to have a plant, which will be producing gas for electricity generation and install biogas digesters in rural areas where they are needed the most.
Installation of biogas digesters will help stem deforestation, which is one of the causes of climate change. Three or four bio digesters can be built in each village and this will empower our people to venture into income-generating projects.
Women, who spend most of their time fetching firewood, will also get an opportunity to do other things that enhance the quality of their lives. It is my vision to see Zimbabwe prioritising clean sources of energy.
NM: How many people do you employ?
CM: Currently, we are two permanent workers. Both of us are masons and I am the director. I am the one who did business management.
The other guy is in the field doing construction. When we get contracts we employ people from that community on a short-term basis.
NM: Have you ever received any state assistance or funding to date?
CM: The only assistance we get is from the Zimbabwe Energy Regulatory Authority [Zera]. I'm a registered service provider.
I'm looking for strategic partnerships with international companies as well as local universities for research and development.
NM: How much do you need to run a sustainable business?
CM: I need close to $20 million to build digesters and reactors that come with storage tanks to be able to set up a plant that can generate six to 13 megawatts that can be pushed into the grid and solve Bulawayo's electricity shortages.
The political and economic problems that Zimbabwe faced over the years made it difficult to attract foreign funding for the project.
NM: What are your plans for this business going forward?
CM: My dream is to open branches in Victoria Falls and Harare because there are few businesses that construct biogas digesters in Zimbabwe. Our business at the moment is mainly in Matabeleland because of the availability of cow dung. Matabeleland is a cattle area.
NM: Can you describe the state of your industry? What opportunities are there?
CM: Opportunities are very wide, but the challenge is that we have to compete with the government, which controls a lot of resources. The government should not be a player and referee at the same time. For a digester to be approved, the government has to carry out an inspection, but they are also my competitor.
Construction of biodigesters is also expensive yet the people who need them the most are the rural poor.
NM: Do you import some of your raw materials?
CM: We buy the raw materials locally but prices are very high. If you want to build a 20 cubic metre digester you have to spend something like $3 000 to $4 000 on materials alone.
The government needs to get involved by opening up the sector.
NM: How can government assist entrepreneurs like you?
CM: The government has to come up with a scheme to support entrepreneurs with funding.
The electricity we are producing can be used for things such as lighting, tractors, incubators for chickens, water pumps and for cooking.
There must be awareness among government officials that biogas digesters are the solution to our electricity problems.
NM: Is the environment conducive for business? If not, what could be done to improve it?
CM: if you look into it yes it is, but finance is a challenge. We can't get loans from banks.
For this business, I need about $5 million but to get a loan, banks say I need collateral. It does not matter that I have a bankable project.
However, I have received support from Zera. Zera helped me exhibit at the Zimbabwe International Trade Fair last month and they have been trying to create awareness about biogas.
NM: If you were to meet President Emmerson Mnangagwa, what would be your message to him with regard to the business environment in this country, and what needs to be done to boost your business and others?
CM: If I meet the president, firstly, I will praise him for opening Zimbabwe for business. Zimbabwe is a big and very important country in the world, but it was isolated. It was out of everything and corruption killed it because most of the people were working for their pockets.
I will say Mr President, is Zimbabwe open for business for us citizens or it's open for business for foreigners? If it's open for foreigners, where is our corner? I will say open for us first before you open for foreigners.
I will say change the financial policies in terms of support. We need an environment whereby when foreigners come in, they do so to partner local businesses.
You find that our products would sell at 10c each but foreigners can afford to sell theirs at 2c. So, there will be no competition.
So, we want the foreign investors to invest in our businesses. Entrepreneurs are dealers in hope and as dealers in hope they have an insight into business.
Entrepreneurs are very innovative and they are ahead in terms of technology.
If those foreigners invest in our businesses, we will go somewhere. As much as we want to be employed, we also want to be employers.
NM: What advice would you give to young people that want to venture into business?
CM: Business starts as a vision and a dream. They have to know that being in business means hard work.
As the business owner you work harder than employees. So, it starts with a vision, followed by a plan and then putting those things into action.
Once one gets started, resilience is a requirement in business because even big businesses go through rough patches but they remain standing.