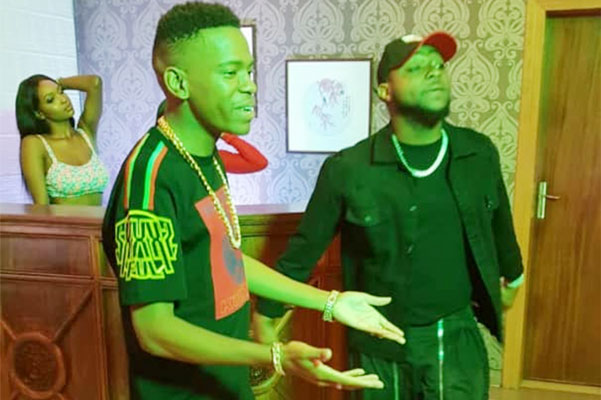 According to Nielsen Music's 2017 year-end report, for the first time ever, R&B/hip-hop surpassed rock to become the biggest music genre in the United States in terms of total consumption and upcoming local hip-hop star King 98 believes the trend will cascade down to Zimbabwe.
By Style Reporter
Born Ngonidzashe Dondo, King 98 has vowed to revolutionise local hip-hop music with the support of the continental powerhouses. He harbours ambitious plans to conquer Africa and believes it's possible.
On April 27, King 98 will launch his debut album titled Francesca, a dedication to his mother, at a glamorous event in Harare that will feature South Africa's crème de la crème of hip-hop Nasty C and Nadia Nakai as well as locals DJ Silence Dosh, Union 5 and Tammy Moyo.
Just before Christmas, the former Watershed College student engaged top Nigerian singer David Adedeji Adeleke, aka Davido, whom he met in South Africa to produce a single titled Bad Vibes which will be released before the end of February.
"It's all happening this year. I have collaboration with Davido on a song which is coming out in February," King 98 told The Standard Style on Thursday.
"Working with Davido is just amazing; he is a humble person. He listened to the song when we met and it did not take him 30 minutes to master and record. Ali Keyz produced the song."
King 98 said the single would be accompanied by an equally good video.
Apart from the collaboration, King 98 believes there is a lot to learn, especially from the "big boys".
"I learnt that the best in Africa are concerned about uplifting others and they are always willing to go out of their way to help. What makes it special is that I am not even Nigerian, but Davido really loved the song and my vision," he said.
Davido also offered to assist King 98 to realise his dream.
"After presenting my vision to him, Davido engaged his management team and one of the guys under his stable, Sam Frank, who is based in Lagos, will manage my affairs in Nigeria. Frank also manages another Nigerian singer Mayorkun," said King 98.
However, King 98 views the launch of his 12-track album in April as an opportunity to calibrate to the demands of the arts industry.
The album launch event, which is being put together by his father Thompson Dondo, is running under the theme Francesca Debut Album Release Concert.
"It is going to be a triple album launch, which will start with a Harare concert followed by South Africa and Nigeria," said Dondo.
"King 98 is talented and deserves the best support from his parents. I will give him the support so that he realises his dream. Engaging with some of the continent's big names in music is one way of exposing him to the world. He enjoys it.
"I have also arranged that he pursues a degree in Music and Arts at the University of Pretoria which I believe will help him develop."
The album Francesca is a potpourri of ideas coming from different artistes and producers. The album will carry a song which features Nasty C and was produced by the continent's best including Ali Keyz, GT Beats and Gemini Major of the famous Family Tree Records in South Africa.
King 98 said the title track emanates from his mother's name because she is the reason why he is pursuing his passion.
"My mom should receive the recognition she deserves for all of the amazing things she has done for me in my life. I can't thank her enough for all she has done for me and this album is a dedication to her," King 98 said.
"My mother knew that I was into music, but she kept it a secret from my dad until I completed high school. She engaged my father and both agreed that I get support to do what I desired the most."
King 98 made his debut on the mainstream music scene in style when he launched his single titled Defeat on the regional urban music channel MTV Base in July last year.
A month later he flew to Canada where he shared the stage with Zimdancehall sensation Winky D and DJ Silence Dosh at the Impala Car Rental Africa-Canada Summer Festival in Toronto.
The young rapper, who is under the tutelage of DJ Sims in Zimbabwe and Frank (Nigeria), also gave a vintage act when he warmed the stage for Nasty C in August last year, considering that it was his maiden performance on the big stage.
King 98 performed four tracks Man Dem, Duce, Defeat and Flex on the night sending the packed Wingate Golf Club into a frenzy.
"I can't rate myself, but from the feedback that I got from my friends, on social media and family, I gave a good show. Even some people who did not know me before reached out complimenting me on the performance," he said.
"My fan base has grown, thanks to the Nasty C show. In South Africa where I launched my single Defeat last year, I have already connected with a lot of people and I hope to cast my links with fans from all over the world."
Dondo said the album launch, which will be powered by his company — Impala Car Rental — will be held at Harare International Conference Centre.
"We have started preparations for the event. After this event we would like to do other launches in South Africa and Nigeria," he said.
"I want to see Ngoni realise his dream and there is no way he can grow if we don't engage with the continental boys. He now has a manager in Zimbabwe and Nigeria and we are in talks with someone to run his affairs in South Africa. The boy has the potential and he needs support."