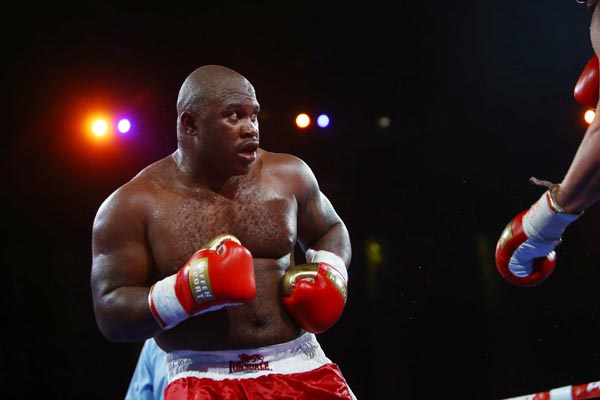 BY FORTUNE MBELE
SOUTH Africa-based World Boxing Federation (WBF) Africa heavyweight champion Elvis "The Bomber" Moyohas bemoaned the state of the sport in the country and has expressed his desire to return home on retirement to promote young boxers.
The 35-year-old Bulawayo-born boxer and Mixed Martial Arts (MMA) star said he was saddened by the lack of support for local boxing, something which he pointed out as the main reason he had not received any financial rewards from the sport despite his success in the ring.
"Back home the sport is literally dead," Moyo told The Sports Hub in an interview from his South African base.
"It's very unfortunate that like most sporting disciplines, boxing in Zimbabwe has no sponsorship and no sound promoters. We are very poor, but I will keep fighting to keep the country's flag flying high.
"My talent is literally sponsored in South Africa. There is so much talent back home and when I retire I intend to come back home and jump into promotion, management and help those boys. I have got so many contacts now and I hope to come down and do some small tournaments to promote the upcoming boys," Moyo said.
Last Sunday, Moyo underlined his growing status as one of the country's flag bearers in the sport after beating South African heavyweight champion Ruann Visser in a unanimous points decision at Sun Arena in Pretoria, South Africa.
It was Moyo's sixth successive victory in the heavyweight division since losing to South African Danie Venter in July 2013 and he improved his record to nine wins, five defeats and two draws in 16 professional fights.
Moyo said he would be a much more successful boxer if he received the same support as his opponent last Sunday.
"Look at it this way; from 2008 to date I have only managed 16 professional fights. That is 16 fights in 10 years. Visser gets 15 fights in less than two years. In America and Britain for one to become the best in the world, you have to get a fight every year and two or more fights as extra stepping stones," he said.
"I am already 35 and that leaves me with a few more years of fighting. I will keep fighting for now. I love fighting but there is no way I will get rich from fighting so my other option is to retire into management back home," Moyo said.
The heavyweight boxing star, who has previously challenged Zimbabwe-born British heavyweight Dereck Chisora, said he was disappointed by Visser's failure to step up to the required level during their fight last Sunday.
"He (Visser) is an ABU [African Boxing Union] silver and South African heavyweight champion, but on Sunday, he was at school. He was learning boxing. I always tell them these heavyweight boxers are overrated. Most of them are never at my level. In 39 minutes, Visser only managed to land just one right-hand punch and what does that say? Here in South Africa it's just that they have the resources and the facilities," Moyo said.
Moyo is a product of legendary boxing trainer Philip "Striker" Ndlovu, who also trained former World Boxing Association Pan-African and Zimbabwe heavyweight champion Thamsanqa Dube at Tshaka Youth Centre in Mzilikazi in Bulawayo.
Moyo and Dube were sparring partners.
The Bomber is the latest boxer to put Zimbabwean boxing on the map after former World Boxing Council (WBC) silver welterweight champion Charles Manyuchi.
Manyuchi, who now runs a boxing academy in the country, lost his title to Uzbekistani fighter Qudratillo Abduqaxorov in Singapore two years ago.
His efforts to make a winning comeback on the international stage suffered a blow after he lost to Russian Magomed Kurbanov in an International Boxing Federation super welterweight non-title fight in Ekaterinburg, Russia, last year.