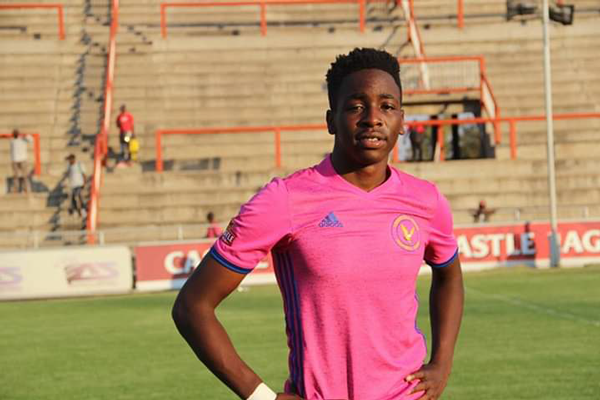 BY MUNYARADZI MADZOKERE
How many professional footballers in the world have had a chance to line up in the same team with their father?
Just a few names come into mind.
Brazilian great Rivaldo and his son Rivaldinho (then 19) for Brazilian side Mogi Mirim in 2013 and Swedish legend Henrick  Larsson made his final bow at Swedish fourth-tier team Hogaborgs BK playing with his 15-year-old son, Jordan.
Instances are few and far apart.
But local premiership side Herentals has a father and son as teammates in club owner, 47-year-old striker Innocent Benza and 2018 Castle Lager Premier Soccer League Rookie of the Year Tinotendaishe (18).
Tino Benza scored three goals, including a contender for goal of the season last year, and provided seven assists.
The young forward has stirred interest in Europe and is set to move during the mid-season break.
But how does he address his father when calling for the ball during a match?
The Sports Hub caught up with the teenage sensation, who spoke about his dream to reach the heights, which young French superstar Kylian Mbappe has attained, as well as playing in the same team with his father.
"It's fun and enjoyable because when your dad has the ball, there is no way he is not going to pass the ball to you," he chuckled.
"In some teams senior players do not trust young players like me, but at Herentals we are all a family and I enjoy playing with everyone. And having my dad around is just an added advantage."
But what does he call his father in the field of play especially here in Africa where tradition makes it uncomfortable to call your father by his first name?
"I don't call him 'dad' on the field of play. I usually call him 'chidhara' (old man) like everyone else. At first it was weird, I was like how can I call my dad this, but it's fine now I got used to it. He even calls me nicknames on the field of play like Zulu Boy," the former Peterhouse School student laughed.
While his father has been criticised for overburdening the team because of his age and lack of pace, Tino believes that his dad is one of the best players in the team.
"Most people do not understand, but my dad is an intelligent football player. He doesn't run a lot because he is someone with a football brain and makes those intelligent passes, so football is all about the mind. I would say he is an asset to the team," he said.
Tino, whose performances saw him receive a call-up to the national Under-23 team, is looking to move to the UK to pursue a football career in a few weeks' time.
"I am planning on going overseas soon where the pursuit of my football dream is going to start. I want to be as good a Kylian Mbappe and when I reach that stage, it would be my biggest achievement.
"Mbappe is my inspiration. "When I started watching him I was like this guy is 19 and he is already playing for PSG, so it motivated me. There is also Ousmane Dembele at Barcelona and this gives me the drive that anyone can make it into the English Premier League, Bundesliga or Laliga," he said.
"I think by the mid-season break I would have left for England. I have been getting offers from the UK, but the offers do not interest me that much, but I am hoping to choose anytime now."
Tino's older brothers Tafadzwa and Tariro used to play rugby, thus influenced his interest in the sport.
But his love for football developed with the growth of Herentals FC and he would make his debut against Ngezi on the opening day of the season last year.
Tino went on to become the youngest scorer at 17 in the history of the local premiership.