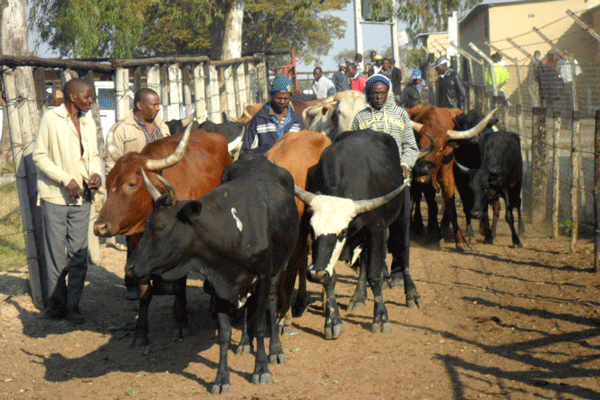 By NQOBANI NDLOVU
A serious shortage of pastures for livestock has brought more misery to villagers in Maphisa, Matabeleland South, who are already affected by the socio-economic impact of the Covid-19 pandemic The shortage has been further worsened by the drying-up of several water points in Matobo district, Artwell Sibanda, a Kezi communal farmer, said.
"We are in a catch-22 situation where we [humans] have to compete for water with livestock for survival," Sibanda says.
He said villagers are forced to drive their livestock distances of between 20 and 25km with hopes of finding pastures and water points since many have dried up.
Cattle traders have reportedly also descended on rural Maphisa to coerce communal farmers to sell their beasts for a song.
They buy a beast for as little as 3 000 rands for resale at more than double the figure after fattening them.
Whenever there is drought, the government urges villagers to destock to avoid losses due to cattle deaths.
However, destocking is a painful exercise for many who prefer to see their herds multiply as cattle are seen as a status symbol.
In 2019, over 21 000 cattle succumbed to drought-related deaths in Matabeleland South and North, according to reports quoting the Famine Early Warning Systems Network (FEWS NET).
Sibanda pleaded with private land owners to partner villagers for an outgrower scheme to produce stockfeed.
"An outgrower scheme farm where villagers can be partnered to produce lucerne is one way of ensuring a lasting solution to the issue of lack of pastures," he added.
Lucerne (Medicago sativa) is also known as "alfalfa", which means "best fodder" yielding a large volume of high quality hay that's rich in protein. Lucerne belongs to the legume family.
Chief Nyangazonke regretted that villagers have to watch helplessly as their prime investment is being decimated.
"We are pleading with private land [farm] owners to allow villagers to come and cut grass to save their livestock, or at best, to open up their grazing lands for a fee or through exchange for labour," he said.
Nyangazonke and Maphisa Rural District Council chairperson Sanders Siziba pleaded for supplementary feeding to save livestock belonging to villagers.
"We need supplementary feeding to save livestock. Over the years, we have seen some organisations coming in to assist and pray this will be the case again this year," Siziba said.
A 50kg bag of stockfeed is being sold for as much as US$50, an amount beyond reach of many.
The 2019/2020 Second Round Crop and Livestock Assessment Report 2019/2020 compiled by the Lands and Rural Resettlement ministry in May predicted that pastures would run out by July.
"Grazing availability is critical in some districts of Matabeleland North, Matabeleland South provinces, southern districts of Midlands and Masvingo provinces where it is expected to last up to July," the report reads.