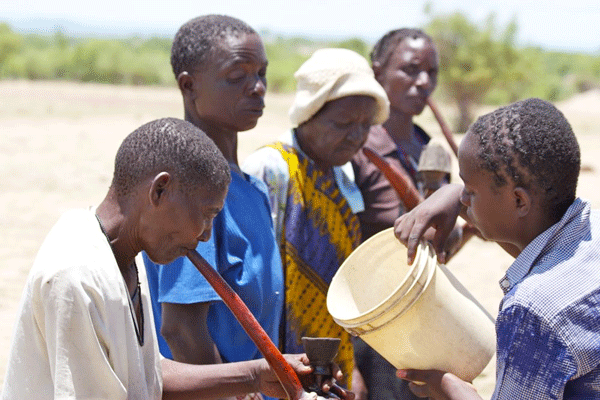 travelling & touring:with Burzil Dube
SOME four years ago there was a lot of media hype concerning the resuscitation of irrigation schemes in Makwa, Chezya, Chentali, Lambo and Lukosi as part of efforts to agriculturally empower Hwange district.
The move was meant to optimise crop yields and in the process enhance food security as the district is prone to low rainfall patterns.
However, some of the irrigation schemes are yet to be fully operational as they continue to face a myriad of challenges mostly centred on lack of funding.
However, this week's piece is not about the irrigation programmes, but emphasis will be on a few names associated with the exercise.
Most of these names are related to the early arrival of Tonga settlers in and around Hwange and some of them have proved to be major tourist attraction places.
Yours truly will specifically look at how the place called Chezya came into being and its relationship with Tonga history.
Following the tragic demise of Chief Singoma of the Tonga tribe, his nephew Muchela took over the reins of the Namabimba Ng'onzi people.
He later moved his capital from Jambezi and on the western bank of the Matetsi River mouth where it empties into the Zambezi River at some place called Kanandobela.
As earlier alluded in the previous article, Chief Muchela was of temperamental disposition and a strict disciplinarian who brooked no nonsense.
He could at times physically beat his subjects as some form of discipline.
The chief had a younger brother by the name of Nabunjebwa who became popularly known as Chezya.
It is said that during that time on the eastern bank of the Matetsi River mouth, there was another Tonga chief called Mulimba who had settled in that area.
Following the departure of Mulimba and his people, Nabujembwa was subsequently appointed Chezya the younger brother to be in charge of the eastern bank area.
This particular place has been known as Kwa Chezya even to this day and it was reported that some parts of the area were considered to be ideal for all-year-round farming activities.
So one can safely say that the Tonga were irrigation pioneers in and around Hwange.
During the early 1860s, Muchela was approached by Chilisa and his fellow Nambya tribesmen who were fleeing from the Matabele warriors seeking assistance to cross the Zambezi River to safety.
The Tonga tribe during that time were also known to be proficient in crossing huge rivers and the Zambezi was no exception as they were also swimmers of note.
Chilisa desperately wanted to be assisted in crossing to the northern side of the river into Zambia.
He was, however, advised by Muchela to proceed downstream the Zambezi River and engage Chief Mapeta who had enough canoes and might be of assistance.
True to Muchela's words, Chilisa and his Nambya followers were ably assisted by Chief Mapeta and the process is reported to have taken the whole day to be completed.
After a few days, the Matabele warriors were in hot pursuit of Chilisa who had fled Bumbusi and their (Matabele) first port of call was Muchela's chiefdom When it became apparent that the two Tonga chiefs were "complicit", the Matabele took some children belonging to both Muchela and Mapeta as hostages all the way to Mzilikazi.
Muchela's daughter by the name of Magudu and two sons called Nyanga and Siandyabwizu belonging to Mapeta were also taken as captives.
After the death of Muchela and his subsequent burial on the western bank of the Matetsi River mouth, his son Sitemeli Kayoba Ng'onzi rose to the chieftainship.
This was in blatant defiance of the Tonga matrilineal system of succession and this was reportedly done at the instigation of Banempango his mother who allegedly played a pivotal role in the whole chieftainship saga.
After being installed as Chief Ng'onzi, Sitemeli later moved from Matetsi and settled at a place known as Chikokozya along the Deka River and west of present-day Hwange town.
A few years down the line, he later moved downstream along Deka River and settled at a place called Sambumu or Nkwizizi.
It is at this place where the colonialists who were prospecting for coal used every trick in their cunning books and reduced Chief Ng'onzi to a headman.
This particular scheme was also done in the Gwembe Valley in Zambia were other Tonga chiefs were downgraded to senior headman while some were left intact.
It was sometime in 1931 when Chief Kayoba Ng'onzi and his Tonga followers were evicted by colonialists in the upper Deka area as the zone was later to be called a native purchase area.
Following his eviction, Chief Ng'onzi went back to his ruins on the west bank of the Matetsi River mouth while some of his followers settled in Kasibo, Gande and Kalusonde, among others.
Some went as far as Kanywambizi, Simangani, Siabumbe and Luseche.
Sianyanga decided to go eastwards and opted to settle adjacent to Gwayi River at a place that is also known today as Sianyanga.
Chief Ng'onzi died in 1933 and was interred at the west bank where Matetsi River empties itself into the Zambezi River.
Following the death of Chief Ng'onzi, his son by the name of Pikinini Simwimugonko became leader of the Tonga and built his homestead in Namafwaqu in the Sidinda area.
He died in 1950 and was buried at his homestead while his two brothers who were nominated one after the other for the chieftainship died mysteriously.
It is reported that various moves to try and revive the Ng'onzi chieftainship were continuously thwarted by the colonialists as the Tonga and some tribes were considered to be aligned to nationalists or freedom fighters.
l Comments always welcome on: dubebasill@gmail.com or Twitter: @DubeBurzil