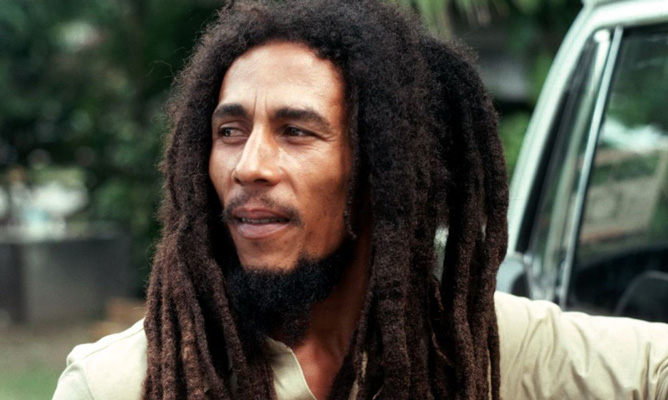 By  Fred Zindi
I have just finished reading the 2012 book titled Bob Marley and the Dictator's Daughter by Anne Sophie Jahn, a French journalist who wrote about Pascaline Bongo, the daughter of former president of Gabon, Omar Bongo, who had a passionate affair with reggae star, Bob Marley.
Pascaline (born on April 10, 1957) was 23-years-old when she first met the global superstar Bob Marley during her studies in the United States. The reggae singer was busy smoking  a large ganja joint when he spotted her. He went to her and said only one thing:  "Gosh! You're ugly."
Just like Zimbabwe's opthamologist, Solomon Guramatunhu, a strong advocate of the natural hair movement and passionately against black women wearing weaves and artificial hair, the comment from Bob Marley was in reference to the young woman's straightened hair, which Marley considered an unacceptable insult to his Africanness.
Many black women think that they look more beautiful when they wear weaves or artificial hair.
However, Pascalene's spirit was not broken by these words from Bob Marley. She even went backstage to talk to him.
Despite this embarrassing first introduction, the couple enjoyed a passionate love affair that lasted until the idol's death on May 11, 1981. Bongo even became close to Bob Marley's mother, Cedella Booker until she died on April 8, 2008.
Passionate, but almost impossible, admits Bongo herself in the book. It was in Libreville that their love story began.
From then on, Pascaline was often in Marley's company, travelling by private jet between Libreville and Los Angeles, where she was studying, as well as Kingston Jamaica where Bob Marley lived.
The singer, although not very affectionate in public, appeared to be very much in love with his "African princess" with whom he dreamt of having a child.
It was within this context, between fascination and misunderstanding, that Marley and Pascaline's love story began. Despite their first abrupt exchange, the daughter of Gabon's president, who had come to attend the Wailers' concert in Los Angeles, suggested that the group finish off the evening at the luxurious villa she shared with her sister Albertine in Beverly Hills.
Marley and Pascaline spent a quiet evening together, with no flirting or excesses. However, the young woman suggested that the singer perform in Libreville in early 1980, an event that would end up setting so much in motion.
The king of reggae, who died at the age of 36, admitted to having 11 offspring from seven different mothers and about 25 others who claim to be of his blood.
Marley married Rita, who often performed as a backup singer for the Wailers, in 1966. However, he continued to have several affairs.
For instance, he had a great love affair with Cindy Breakspeare, who was crowned Miss World in 1976 and with whom he had a son Damian Marley, in 1978. Pascaline, on the other hand, was secretly using contraceptives, taking the pill to avoid getting pregnant and was well aware of the fact that they would never be able to be together because her father, the president of Gabon,  who was not too keen on rastas would never let his daughter marry such a "low-class" person.
Pascaline herself reveals in the book: "Bob used to say to me: 'Your father will never let you marry me', and I said to myself: 'No chance with all the women in his life… He was a rasta and his philosophy was to share everything. And it wasn't his fault that the girls jumped on him. They all knew he was married… but he was a superstar.'"
Because of the two lovers' personalities and backgrounds, the affair was never made completely official. "It wasn't hidden, but it wasn't public either," says Jamaican Junior Marvin, who played the lead guitar in Bob Marley's band, The Wailers.
It was during this romance that Pascaline decided to invite Bob Marley to go and perform in Libreville, Gabon in 1980 just before he came to Zimbabwe to give another performance at  the country's independence celebrations.
The performance in Gabon was at the instigation of Pascaline. She wanted to give her father a treat on his birthday.  Omar Bongo, the president of that country could not care less about the concert  and was wondering why she had chosen this group of singers from Jamaica when there were hundreds of equally competent musicians, if not better, from his own country.
President Bongo, who was hardly a fan of reggae, didn't see the point in giving an audience to these ragged, ganja-smoking Rastafarians. So he did not bother to go and meet them.
Posing alongside these guys with dirty hair and for whom the height of elegance seemed to be wearing tracksuits  draped in red gold and green colours  did not make sense to President Bongo. He chose to give these guys a miss. But Pascaline who had initiated their coming to Gabon was, and would remain, his favourite daughter. So he sent Ali, his son and Pascalene's half brother, to retrieve his guests.
This romance and the obstacles Bob Marley and Pascaline's encountered say a lot about the mentality of a part of newly decolonised Africa and the realities of life in Gabon at the time.
Above all, it reveals the relationship that the black populations of Jamaica, the Caribbean and perhaps even the US had with an idealised continent, which was fantasised about, but generally very little known. The reggaemen were surprised to discover a rather modern capital,  a modern infrastructure  with tall buildings and the latest cars in modern streets, thanks to the oil money that had been flowing in Gabon  over the past few years.
Bob Marley and the Wailers were ecstatic. For years they had been singing about pan-Africanism, declaring their love for their ancestors' continent, calling for unity — the cover of their album Survival, which was released in October 1979, was a patchwork of the continent's flags — but paradoxically, none of these Jamaicans from the slums of Kingston had ever set foot in Africa.
This trip to Gabon — which was followed by another to Zimbabwe, to celebrate the new independence of what remained known as Rhodesia until  April,1980 — was welcomed by the Wailers who had never seen the motherland they sang of. After being invited to play in Gabon, the Wailers did not stop to ask themselves any questions.
Even when they learned that they would be performing during the birthday celebrations of Omar Bongo, who they weren't sure whether he was the "king" or president, and didn't care, they still didn't ask any questions. They received a royal welcome, and their hosts were extremely attentive.
As the days went by, the Wailers also discovered a sadly unequal country, in which a large part of the population lived in abject poverty. They learned that the President had just been re-elected with 99,96% of the vote.
It later dawned on the Wailers that Omar Bongo was a dictator who oppressed his people.
"We didn't know that Omar Bongo was a dictator," said Marvin bitterly. "We were innocent, so happy to be invited to Africa."
Judy Mowatt, a backup singer, added that: "Although the Gabonese people weren't colonised, they weren't free. Gabon was simply  a neo-colonial country ruled by a black man." This did not quite  go down well with the ideals of a revolutionary Bob Marley, who the US Central Intelligence Agency (CIA) viewed at the time as a "subversive" figure to be kept in check.
However Marley was able to resolve this dilemma. Bob Marley was made to believe that Omar Bongo had offered asylum to Emperor Haile Selassie whom the Rastas referred to as the great King of Kings, Lord of Lords and the conquering Lion of Judah after he had been dethroned in Ethiopia.
When Bob Marley met Calistine, she said: "My father had been the only one to suggest that Haile Selassie move to Gabon after he was dethroned. And that the Rastafarians felt that this was a strong act that deserved their respect and admiration."
It was only much later after the performance when the Wailers were being questioned by politically conscious  activists why they went to perform for an African dictator  at his birthday celebrations that it later dawned on them that they had made a mistake.
However, this did not put a stop to Bob Marley's romance with Pascaline. The romance went on until Bob Marley died. Pascaline is now aged 65 and we are not sure why she had to wait all this time to reveal her passionate affair with the reggae superstar.
Feedback: frezindi@gmail.com
Related Topics