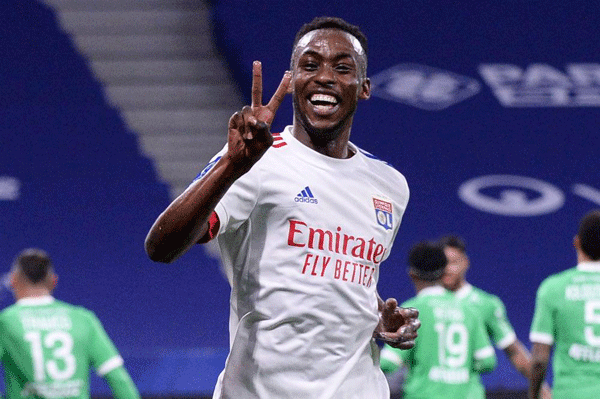 BY MUNYARADZI MADZOKERE
AFTER an impressive debut season in the French topflight league with Olympique Lyon, Warriors striker Tino Kadewere  had a busy offseason in Zimbabwe where he tied a number of deals to promote local companies.
Kadewere is one of the country's best football exports at the moment and has become a big brand in the game globally.
And unlike his predecessors in the wake of a big European break, Kadewere has decided to use his brand to promote local companies.
During the offseason break the 25-year-old attacker was appointed brand ambassador of remittance company Senditoo Zimbabwe and did some promotional work for the organisation.
Kadewere entered into agreements with clothing company 4May International and Mashwede Village while he was also appointed brand ambassador for the City of Harare.
He is also a Zimbabwe tourism ambassador and is keen to help promote more local companies.
"Tino being an influencer can be engaged to help push brands locally while playing in France, the whole idea is to have Tino's fans redirected through digital platforms," said Bernard Fato also known as DJ Iroq, who is part of the Tino Kadewere brand in Zimbabwe.
Fato is Kadewere's brand manager.
"Since the outbreak of Covid-19 the global village interconnection is broadening and it has no boundaries when marketing any brand as long as your target is within your reach. I can confirm that Tino is open to promoting more local companies if both parties agree on the terms and conditions," Fato added.
Kadewere's social media platforms, where he flights most of the promotional content, have been steadily growing as he commands over 150 000 followers on Facebook, 34 000 on Twitter and almost 90 000 on Instagram.
The former Harare City man joined Olympique Lyon in January 2020 for a € 12 million fee before he was loaned back to Le Havre for the rest of the season.
He was part of the Lyon squad for the 2020/21 season and was the club's third best scorer with 10 goals.
In 2020 Kadewere signed a lucrative contract with Olympique Lyon and one wonders if his promotion of local companies is for the money.
Fato explains.
"Tino Kadewere and family formed a foundation that does humanitarian work as well as sports aid to promote youths, so these organisations engaged work as sponsors to the Foundation.
"However there are other brands, who are not engaged with the Tino Kadewere brand who also sponsor the Foundation's donations. The ultimate goal is to have on board as many companies, even NGOs to increase our capacity to have greater reach to the needy in different ways possible," he said.
In service to his country Kadewere has also been pushing the Visit Zimbabwe campaign.
"Promoting the Visit Zimbabwe campaign to Tino comes as a pleasure. It's a role that comes with national pride and there is a need for him to persuade fans and friends from abroad to visit our tourist destinations," Fato said.
In the field of play Kadewere will have to fight for his place in the team following the return of Moussa Dembele after a short loan stint at Atletico Madrid last season.
Lyon face Angers this afternoon for the second match of the season.
Related Topics