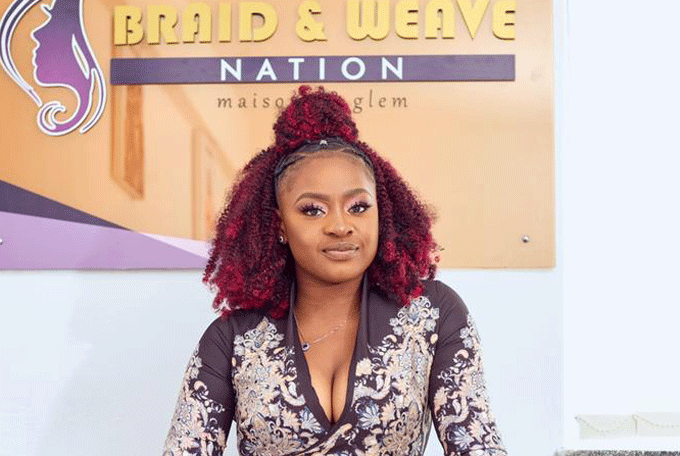 By Style Reporter
Social media celebrity and actress Lorraine Guyo wants to use her online popularity to grow her hair extensions business, Braid & Weave Nation, into a global brand, with a reputation for excellence and a customer base to match.
Guyo, famed for the video Ndinyengeiwo, in which she was asking men to approach her ahead of the 2019 Valentine's Day, has turned out to be a household name on social media, thanks to her skits online.
She has earned endorsements with a number of corporates and landed acting roles in a number of dramas and movies.
Recently, she opened a business in Harare's Avenues area, specialising in extensions, braids, custom wigs and hair pieces.
"From way back I used to sell things and trading is one of my passions. What mainly inspired me to do this business is because on my acting career side, days are not always the same. so I had to start a business in order to sustain myself because I have bills to pay and a little brother to look after," Guyo told Standard Style.
"The most unique thing about my braids business is that I import those that are not trendy in the country and I popularise them. I embrace the natural look lore and people these days tend to fall in love with natural things."
The businesswoman, who calls herself a brand influencer, wants to ride on her popularity on digital spaces to market her hair extension business and create a global brand.
"In the next few years, I see myself as the best braid supplier in Africa. We will have a very big warehouse," she said.
"I market my products through the Lorraine Guyo brand and I also use other celebrities' platforms including the ZimCelebs social media outlets."
The social media celebrity said she was not quitting acting to pursue her new business venture.
"Braid & Weave Nation is my company and it doesn't affect my acting career," Guyo said.
Guyo is expected to feature in a film titled The Bad Bishop, a Netflix production whose shooting is expected to start next month in Limpopo, South Africa.
She described herself as an entrepreneur, actress and model, as well as brand influencer.
Braid & Weave Nation runs an active Facebook page and Guyo said they will soon reach wide swaths of the world through digital spaces.
Related Topics