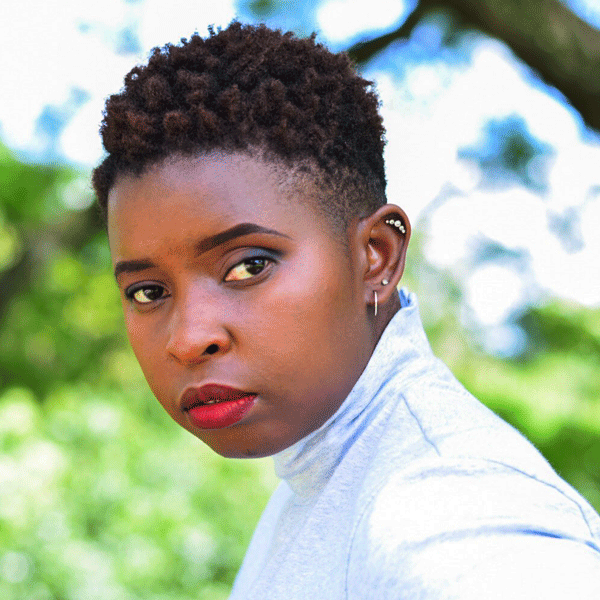 By Grant Moyo
When audiences sacrifice money to buy internet data in search of gratification, it is important to create compelling and riveting content that they will opt for over the rest being brought forth every second across the globe, says digital storyteller Thembelihle Zulu Whande , copiously challenging herself to be knowledgeable about current affairs and digital trends to incur resounding audience engagement and retention.
Keeping her fingers on the pulse of the algorithm, Zulu Whande acknowledges her ability to tell stories in a broad assortment of formats on different media platforms, as her unique selling point.
Zulu Whande was born in Bulawayo where she attended several schools listing Gampu Primary School, Mgoqo Primary School, Coghlan Primary School, Townsend High School, and Petra High School. She holds an Honours Degree in Journalism and Media Studies from the National University of Science and Technology.
In 2013, Zulu Whande co-founded Khura Agency (formerly Khura Arts), an artist to business agency aspiring to give creatives exposure that pays. In the same year, she established Girl Grandeur Zimbabwe, a social club for girls and women brought about in response to the fact that women and girls do not have enough social spaces to spend time in, which has led to social ills and an increase in teenage pregnancies. One of Zulu Whande's first jobs was working as a programme assistant at the Miss Earth Zimbabwe pageant.
She was then appointed chairperson of the Bulawayo Bin-It initiative, where she got involved in the clean ups and sourcing of bins for the city. Thriving as an intuitive blogger, Zulu Whande got her big break in advertising as a copywriter at Corporate24 Branding, and built her career working for some of Zimbabwe's top advertising agencies such as The Jupiter Drawing Room Harare and C2 Digital. Besides being an assistant editor for Induna Magazine, she had a stint with ZiFM Stereo as an assistant producer. Closely affiliated with broadcasters like Ruvheneko Parirenyatwa, Tshila, the late Zororo Makamba, and Farai Mwakutuya, Zulu Whande produced  talk time shows that included Culture Talk, The Platform, The YZone, Mining Matters, Backstage, Our Story, Impact, Enterprise Zimbabwe and Health Matters. Being selected to take part in the Mandela Washington Fellowship for young African leaders in 2019 is one of her top achievements.
"My creative career started while I was in school. I entered a writing competition for the Umthwakazi Arts Festival and was shortlisted for the audio anthology," Zulu Whande.
"Film director Kudzai Chikomo, who was at Radio Dialogue at the time, gave me the support required to explore writing skills. There was also a creative meet up called the Echoes Of Young Voices at the British Council, run by the former regional director of the National Art Gallery of Zimbabwe in Bulawayo, Butholezwe Nyathi.
"We would meet there and learn about art on weekends. That's where I was shortlisted for my first ever published work in a short story anthology. I even performed a poem at the book launch. What Kudzai Chikomo and Butholezwe Nyathi did for me as a young creative, inspired me to do the same for creatives younger than me at both Girl Grandeur Zimbabwe and Khura Agency."
Girl Grandeur Zimbabwe (GGZ) is currently a virtual community of over 500 women and girls. Through GGZ, Zulu Whande is ensuring that females have safe spaces to work, play, learn and build. The vision is to build a physical space which is accessible to women and girls with the amenities they require to be productive.
Zulu Whande teaches females how to blog and tell their own stories, in response to the self-censorship that they go through as a result of patriarchy.
"I'm a firm believer in the power of digital media, the creative industry has what it takes to alleviate societal issues such as women and youth unemployment," she said.
"The entry capital is flexible and anyone can start making content. Most content creators in Zimbabwe are self-taught and don't have any formal training in media production. So, I have devoted some of my time to teaching women and girls how to tell their own stories through blogging.
"We (Girl Grandeur Zimbabwe) won a grant to implement the #SheNspiration project which will equip over 240 girls and women across Zimbabwe, to learn how to blog. Digital storytelling is an income generating skill which is easy to acquire. Diversity in voices and opinions in the Zimbabwean narrative will assist in developing the creative industry, making content creation a viable career option."
The digital storyteller said Khura Agency wants to facilitate a more developed feasible arts ecosystem in Bulawayo, where all the creatives can make a living from their talents. The agency is throwing a #ByoMusicStreamingParty next month, to boost the number of views and subscribers on the YouTube channels of artists who hail from the city.
Since creating music videos is costly and artists deserve to see a return on investments, the agency hopes that people will discover Bulawayo's talented musicians and help them grow their fan bases. Khura Agency will also be launching an online directory for Bulawayo creatives where masses will be able to find the city's talent in one place.
Zulu Whande admits that the internet has been the most instrumental tool in her career after her work ethic.
She has found opportunities and built a vast network of contacts through cyberspace. The digital storyteller has been very strategic with how she presents herself online.
Her mentor is a brand builder with content on social media that has taught her so much about personal branding in the digital age. Zulu Whande stressed that empowering youths with expertise and resources that they require will revolutionise the world.
She said to ensure sustainability of their innovative solutions, youths need critical skills such as digital, financial and communication literacy which can be imparted to them through workplace readiness programs.
"Social media platforms are now a digital Curriculum Vitae, and recruiters are watching. When I was working in advertising, clients would ask for influencers' references," Zulu Whande said.
"We'd throw together social media links and send without ever having a conversation with the influencers in question. Word of mouth is still powerful in these modern times and an individual's social media must represent them well. This strategically positions them for more opportunities.
"We are all global citizens now with no help from the digital divide. As a freelance copywriter, I am able to take on writing jobs from anywhere in the world. The internet has shown us that there are endless opportunities available for youths out there.
"New media has made collaboration and communication across geographic boundaries easier. We can learn from one another and bring change to our respective communities. When I partook in the Mandela Washington Fellowship, the networks I built and the new ways of thinking that I was exposed to helped me to become a better leader with more impact in the work that I do. I believe Africa has bright minds to improve our standard of living and the world around us.
"Everyone has a role to play despite their age and social class. We have creative ideas, energy and technology to solve problems in our respective communities and even the world over, but we need the support from policymakers to effect any real change."
The core strengths of being strategists and learners ensures that digital storytellers are always on trend and able to cascade their expertise to audiences. Flexible enough to adapt to any demographic and communication channel, Zulu Whande says the high cost of data is the biggest hurdle which prevents her from being able to create as much content as she would like. While her target audience cannot afford to often buy data to consume the content that she creates, the consolation is that the secondary target audience has access to it from anywhere in the world, and that is what makes her agenda stick.
Follow Grant Moyo on Twitter: @TotemGrant
Related Topics