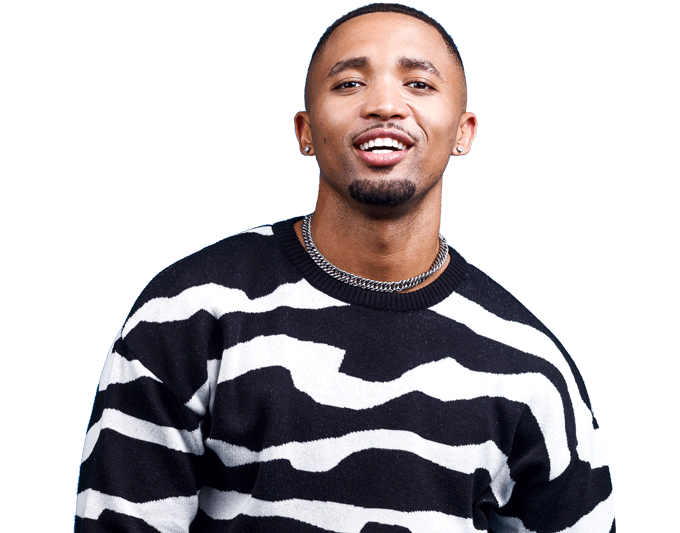 By Grant Moyo
Multifaceted soulful South African singer-songwriter and established motion picture actor Sandile Mfusi, affectionately known as Masandi, has officially dropped a brand new song titled Amagate, a Zulu word meaning gates.
Foraying into big euphony moves, the rhythm and blues singer returns to the music scene with a potential chart-topping banger, after a hiatus of self-discovery and introspection.
The beautifully crafted musical composition that features sing along melodies is the first single which covers Masandi's new-sprung auditory communication approach.
Masandi, who has been described as a gifted and versatile vocalist capable of collaborating and working with any artist in the world, was born and raised in Durban, KwaZulu Natal.
He began performing at church and local talent shows at the age of seven. He was also the lead trumpeter in the school brass band.
It was while pursuing a Degree in Social Sciences at the University of KwaZulu Natal, Howard College, majoring in Marketing Management and Media, that Masandi's career as a model and actor set about.
His music calling officially kick started in 2009, in an all-male hip-hop collective called Niche Fam, which opened for American rapper and record executive Lil Wayne at his I Am Music Tour (2011).
The ensemble also garnered a gong for Music Group of the Year at the Ikusasa Awards, which was no small feat as they were nominated alongside renowned musical front runners that included Afro-fusion band Freshly Ground, electro hop music duo Locnville, synth pop duo The Arrows and hip-hop collective Cashtime Fam.
2014 was the year that marked the beginning of Masandi's solo music career, after the release of his first single Bring It Back.
The hit single attracted the attention of rapper KO, who is also the co-founder of Cashtime Life. After a studio session with the seasoned rapper, the hit single One Time was born. In 2016, Masandi established his own record label and dropped his multi-chart topping track titled Ngane Yabantu. This was followed by his first body of work called Escalation EP in 2017, where he worked with musical heavyweights such as Kwaito music group Big Nuz, Malawi-born record producer Gemini Major, singer Aewon Wolf, recording artist Awgust Rush, musical artists Nana Atta, SpiritBanger, Skatta and Captain Blu (Nigeria).
As part of "Team Durban" that comprised of record producer and Kwaito artist DJ Tira, Gqom music duo Distruction Boyz, musical artist Duncan as well as actor and musician NaakMusiq, among other artists, Masandi clinched the Redbull Culture Clash competition title. The singer-songwriter also featured on Duncan's hit song Change For Nobody alongside multi award winning rapper Kwesta.
Having penned a global deal with Warner Music South Africa in 2020, Masandi's latest offering Amagate is clear testimony that if he maintains consistency and great work ethics, he will become a global phenomenon in the entertainment industry.
With summer upon the Southern hemisphere, Amagate sees the artist borrow auditory sensation from Afro sounds to give audiences a summertime smash hit about longing to dance.
The song is also a metaphoric expression of Masandi's decision to break out of Afro-pop and move into the sacred space, following a pact he made with God after a life forbidding car crash which left him beseeching for his life.
"The lyrics of Amagate loosely translated are about having the 'gates opened' by easing lockdown restrictions caused by the upsurge of the Covid-19 global pandemic, so that people can forget about the difficult times by going out to have a good time. In essence, the song is about the masses getting back to living and experiencing normal life to its fullest. It's about good times, good vibes and simply making the most of our freedom," Masandi said.
Sculpting his own niche with a crunchy mixture of soul as well as rhythm and blues, Masandi's music career spanning over a decade has afforded him with lifetime opportunities to elevate to great heights.
Not only has the musician had a stint with the Fifa World Cup (2010) and South African Traditional Music Achievements (Satma) Awards (2011), in 2015 Masandi opened for American singer and actor Trey Songz at his Trigga World Tour and shared the stage with American rapper, songwriter and record executive Rick Ross at the second edition of the Annual Youth Hip-hop Festival. Poised by a vibrant entertainment industry and spurred on by his desire for reel, Masandi has also been a part of the cast of popular South African telenovelas. His film credits include Isibaya (2013), Sugar Mama (2014), Love Lives Here (2017) and The River (2019).
Grant Moyo is a prolific writer, innovative media personality, entrepreneur and a creative artist who is passionate about using his creative mind for the betterment of society. Follow him on Twitter: @TotemGrant
Related Topics