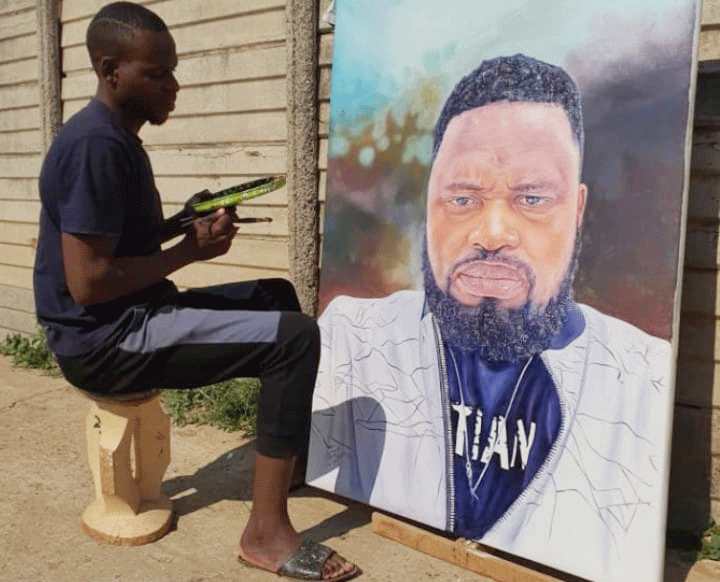 BY ALFRED TEMBO
Visual artist Keith Zenda has created an opportunity for young artistes in the Midlands province by opening a dedicated arts space in Lower Gweru and Shurugwi.
Zenda said the development of such facilites would help young artistes find dedicated places of belonging.
"I am building an arts centre in Lower Gwelo and soon another project will start in Shurugwi," Zenda told Standard Style.
"As of now, I'm using a house in Mkoba as an art studio to mentor young artist in the city.
"Due to limited space, the house only accomodates a few artists.
"I am hoping that on completion of our centre in Lower Gwelo, I would help scale up our activities."
Zenda said the centre will be used for various artistic activities to support anyone that would want to develop their skills and those in need of work spaces.
"Currently, l am mentoring 30 artistes and I did a Grassroots Art Workshop with the National Art Gallery in Bulawayo in April at the Zenda Art Centre in Lower Gweru to help the young people gain knowldge from other established arists," he said.
"In my planning, we will use this centre as art studios and gallery. It is mainly aimed at uplifting the art industry in the province."
Zenda recently organised an exhibition for Gweru artistes at the National Military Museum in collaboration with the Youths, Sports, Arts and Recreation ministry and the National Arts Council of Zimbabwe.
"We organised the exhibition ahead of Peripheral Chronicles, a group exhibition to open on November 25 this year at the National arts Gallery of Zimbabwe (NAGZ)," he said.
Zenda has an outstanding record, having won an award at the National Art Gallery in Harare Masked exhibition and competition (2021) and has three other accolades earned at the Gallery Delta in Harare and the National Art Gallery.
The young artist has also exhibited his art in South Africa and Tanzania.
NAGZ (Bulawayo), acting manager Silenkosi Moyo, expressed confidence in the work of artistes from the Midlands province.
"During my administration l would also want to strengthen relations with artists from Midlands, build long term and strong relations.
"Many of the artistes I met are so passionate and confident in their artistic ventures and that alone is enough motivation," Moyo said.
Related Topics