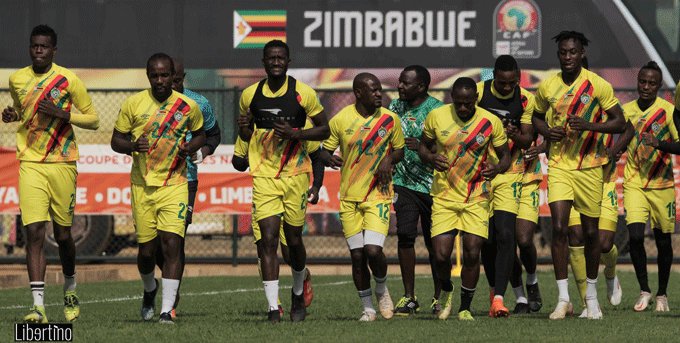 By Burzil Dube A DISMAL performance by the men's national soccer team during the ongoing Africa Cup of Nations in Cameroon continues to hog the limelight with football enthusiasts still at sea on how an exit door was abruptly shown to them at this lucrative soccer jamboree.
The same old song clamouring for sound junior policy was once again played from wherever it was shelved and brought into the fore as part of efforts to pacify restless soccer lovers who seem to have lost confidence in the entire team.
The Warriors, as they are affectionately known in soccer circles, were in the same group  with Senegal, Malawi and Guinea where they were somehow "taught" how continental football competitions are played leaving the nation including Yours Truly  seething with anger and frustration.
Various jokes immediately started to trend depicting the team in bad light where our Warriors were deemed to have beaten Zesa (read electricity) on being restored (also read coming back)  earlier than the scheduled time. This expression does not need any form of simplification.
Talking of electricity, there has been anxiety among the general populace that the country's power utility would not resort to its "regular" unannounced load shedding antics during this continental showpiece especially when the Warriors would be on desperately on the prowl in Cameroon.
However, this was not to be in places like Dete due to absence of electricity and water in this upcoming business centre despite assurance from responsible authorities.
Dete is a sprawling business centre situated about 60km northeast of Hwange and a stone throw away from the country's largest game reserve-Hwange National Park, home to the fabled Big Five, namely elephant, lion, rhinoceros, buffalo and leopard.
It is believed that the whole country, touted as favourite hunting ground for King Mzilikazi of the Matabele tribe, had to be guarded jealously from any form of intruders whom today are classified as poachers.
Back to the Dete issue whose inhabitants nearly missed the Afcon 2021 opening match featuring Cameroon versus Burkina Faso due to intermittent power cuts that had been experienced for two consecutive weeks much to the chagrin of a number of Deterians.
Yours Truly once wrote in a number of news articles about this particular business centre that it is poised to grow and be on the same wave length with Victoria Falls in terms of  and resort places.
If the town of Victoria Falls grew to what it is today because of the world famous Falls whose natural wonder has created downstream leisure and adrenalin  activities such as bungee jumping, whitewater rafting, helicopter flights, boat cruises, rainforest adventure, game viewing among others.
The same applies to Dete, which has seen a proliferation of various companies and organisations whose activities are one way or the other related to the magnificent Hwange National Park which is among the top 10 largest animal sanctuaries within Southern Africa.
Some of the companies that fall within Dete include, Miombo Safaris, Elephant Eye, New Game Reserve Hotel, Gwango Elephant Safaris, Ganda Lodge, Hwange Safari Lodge, Douglas Eland Vocational Technical College, Vintage/ Iganyana Lodge, Sable Sands, Sikumi Tree Lodge, Ivory Lodge and Painted Dogs Company among others.
Yours Truly has in the past visited New Game Reserve Hotel, Gwango Elephant Safaris, Painted Dogs Company and Hwange Safari Lodge. As for extolling these particular places virtues, it is ideal to leave it for another day.
To the uninitiated, the above mentioned Douglas Eland Vocational Technical College is the sole institution within Dete that offers an array of tourism related courses from professional guides to hotel and catering.
The institution does not need any further explanation as it is situated deep within the tourism hub hence has an edge over other similar colleges scattered around the country.
However, residents and organisations in this sleeping tourism giant had a near "horrendous" Christmas Day and New Year experience due to intermittent power cuts for close to two weeks which also resulted on scarcity of water supplies.
Such a scenario does not need a soothsayer or rocket scientist on ramifications that later affected downstream tourism players who Yours Truly believes are still counting their losses.
However, kudos to the Hwange based Zimbabwe Electricity Transmission and Distribution Company (Hwange based) and the Zimbabwe National Water Authority which had to endure all forms brickbats. These two public institutions kept those in and around Dete in the loop in terms of information dissemination.
At the time of writing this article, someone (name supplied) whispered to Yours Truly that the biggest hindrance to the growth of Dete is its dilapidated sewer system that needs a complete overhaul by relevant authorities.
Why Dete of all the places?
Those in the know how might be fully aware that more than 20 years ago, this place was nearly turned into the provincial capital of Matabeleland North as the necessary infrastructure was already in place during that particular time.
However, the rest is history.
Yours Truly loves Dete and may you continue watching this space.
Till we meet again in the next column.
Comments always welcome on: dubebasill@gmail.com or Twitter@DubeBurzil
Related Topics