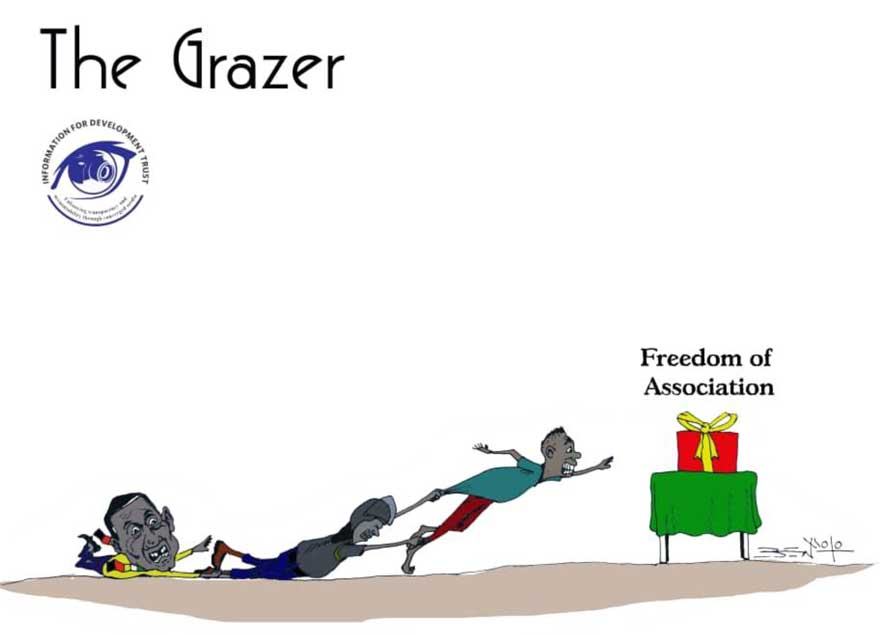 BY TAWANDA MAJONI
There are things that Zanu PF and its successive governments have done and do over and over again yet they don't work, don't make sense and have far-reaching results for the ordinary citizen.
Do you remember that time long, long ago when the Zimbabwe Unity Movement (Zum) was formed, becoming the first opposition political party to be established post-independence? We already had PF Zapu and Zanu Ndonga. The UANC had fizzled out along the way. You can't talk of the Conservative Alliance of Zimbabwe as a post-independence party because it was merely a re-incarnation of the racist Rhodesian Front.
While Edgar Tekere, the Zum leader, had been Robert Mugabe's sidekick for a long time, he became increasingly disillusioned with the route Zanu PF was taking. He didn't like the fact that corruption, nepotism and impunity were festering as Mugabe pushed for a one-party state. So he broke away to form Zum, a party that gained instant traction ahead of the 1990 elections.
Tekere's Zum spooked Mugabe and Zanu PF so much so that they slipped into rabid mode. Its supporters became level one targets of brutal attacks by Zanu PF supporters and other tormentors. They were abducted and killed. State security agents were involved. Like in the case of Patrick Kombayi who escaped an assassination attempt in Gweru but suffered life-long injuries, yet his CIO attackers, who were convicted for the attempted murder were immediately pardoned.
Previously, PF Zapu had been the primary target of Zanu PF brutality. Its supporters were attacked, maimed and killed. Its leaders like Joshua Nkomo, Lookout Masuku and Dumiso Dabengwa were jailed or hounded out of the country. Notably, key state agencies such as the judiciary were used to persecute the opposition.
With Zum losing energy into the mid-90s, there was some sort of crawl-back on politically motivated violence and persecution of critics. But only for a short period. Because, you see, with Esap and growing discontent among the people, Zanu PF found itself in a tightening corner towards the new millennium.
The economy was on a free fall, costly decisions such as paying war vets US$180 million of unbudgeted compensation funds and entering the DRC war, then that Black Friday when the Zimbabwean dollar tumbled like cliff debris on November 14. 1997.
That created conducive ground for a new political party, which came in the form of the Movement for Democratic Change (MDC) in late 1999. The MDC was clearly the strongest opposition party Zimbabwe had witnessed since independence in 1980. And the Zanu PF reaction was predictable. Its government launched the fast track land redistribution programme, which as violent as it was chaotic and populist.
Things didn't end there. Opposition supporters and leaders were hunted like summer rabbits, beaten up, maimed and even killed. State security agents, again, were used in that violent scheme, and so were the courts and quasi-military units like the Green Bombers.
This streak of madness persisted beyond 2008, when we had our next elections. Interestingly, the run-up to the first round of elections in March 2008 was generally quiet. But the demon came down from the mountain when Mugabe lost the presidential poll to Morgan Tsvangirai in March. The period up to and after the June 2008 run-off was just crazy, you know that. There was state-sponsored violence against perceived or real supporters and leaders of MDC. Opposition rallies were disrupted or banned. People were forced to attend rallies at torture bases. It became such a scary thing to be associated with the opposition.
Mugabe won the run-off as a sole racer after Tsvangirai slid out of the race at the last moment and took the gap for Botswana, fearing an assassination. But what did that help besides just retaining Mugabe in power? Zimbabwe became a full-grown pariah state.  Even comrades in the region didn't like how Mugabe had reclaimed power, and that forced a marathon—though sometimes crooked—diplomatic offensive led by then South African president, Thabo Mbeki. Finally, there was the government of "national unity" in early 2009.
Then there was another lull in violence up to the 2013 elections. Once Mugabe and Mugabe went out on their own after what many people thought were rigged polls, things started slipping again. But it wasn't as though the situation was as bad as in 2008 or before.
Fast forward to the post-2018 election period. There was brutal violence. The Motlanthe Commission said soldiers killed people — innocent citizens — when protests against alleged election rigging broke out on August 1.
Fast forward to now, just under a week before we hold by-elections. Some opposition supporters—to mean CCC supporters—have already died. Some have been thrown into the cooler for any or no reason. Just about every rally that CCC has held has been banned or disrupted, and people have been beaten up pink and gray. Same old script, just different times.
You don't want to go about assuming that all those people in Zanu PF are dunderheads. There must, surely, still be some smart people left in that party. People who must know that persecution of the opposition never works, especially in this day and age.
There is no scientific evidence to prove that banning opposition rallies helps the ruling party in any way. Look at what happened in Zambia last year. Edgar Lungu's PF pulled all the stops to suffocate Hichilema's UPND. Lungu banned UPND rallies, used militias to terrorise opponents, denied the opposition party media space, and so on. But where is Lungu now? Where is the PF?
As they say here, it's easier to rid of what's in the palm than what resides in the heart. If people are fed up with you, they are fed up. You will not gain their support, love, faith or loyalty by beating them up or banning opposition rallies. Come to think about it, the Zanu PF government is actually giving Nelson Chamisa and CCC a good profile. It's natural to sympathise with the victim rather than the bully.
Instead of losing them, CCC is actually gaining more sympathisers and supporters because of the victimisation it is suffering at the hands of Zanu PF, the police and the other usual culprits. In fact, if the CCC does the right thing and mobises enough numbers to register to vote and then vote next year, there is a big chance that the Zambian effect will repeat here.
And, as all this madness sprints, it's Zimbabwe that is suffering the most. Which serious investor would like to come to a country like this, where people are persecuted for their conscience? Who will want to give aid to a government that is so intolerant and is also seeking to effectively ban the activities of NGOs?
If you want to remain in power, don't try to do that by throttling your critics. They have a good reason to be your critics. Instead, do what you must do as a leader. Do things right. By the way, Zimbabweans don't exactly care who is in power or not. For as long as the one that's in power is doing the right thing.
Tawanda Majoni is the national coordinator at Information for Development Trust and can be contacted on majonitt@gmail.com
Related Topics