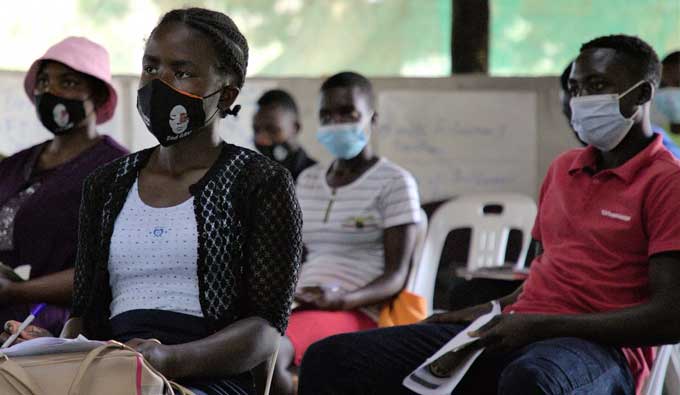 BY JAIROS SAUNYAMA
Sixteen-year-old Charlotte Makarange wore a smile as she narrated how her life changed for the better after years of hopelessness. Her parents have been unwell for some time, resulting in her facing challenges enrolling at school.
Like any other disadvantaged young learner, Makarange had no option, but to drop out of school and perhaps look after her ailing parents.
Fortune, however, smiled at her — thanks to the Dreams (Determined, Resilient, Empowered, Aids-free, Mentored and Safe) project that has benefitted a number of young girls and boys in parts of the country.
"All hope was lost but I met  someone who facilitated my move to join the Dreams project," said Makarange.
"I am now in school with all the essentials like mobile phones and data, among other things."
The teenager is a Form 4 student at Dangamvura High School in Mutare where she is majoring in science subjects.
"My dream is to become a neurosurgeon," she said.
"Because of the assistance I am getting through the Dreams programme, I am destined for greater heights.
"During the peak of the Covid-19 pandemic, we never stopped learning, we benefited from mobile phones and data hence we would do our virtual lessons regularly."
Family Aids Caring Trust Zimbabwe (Fact) has been leading in rescuing young girls in Mutare, Chipinge, Makoni and Masvingo districts through the provision of learning packages like school fees, ICT gadgets and uniforms among other things.
Speaking during a media tour in Mutare, Fact education and parenting co-ordinator, Victor Nyakanda, said the retaining of the school girls is meant to reduce the chances of the young girls' contracting HIV.
"The OVC and Adolescent girls who had dropped out of school or were at risk of dropping out were enrolled, retained and progressed in school through the provision of a school package." Nyakanda said.
"The school package included payment of school fees, provision of uniforms and stationery, smart phones and airtime for virtual learning.
"The objectives of the programme are to ensure that all school going aged Orphans and Vulnerable Children (OVC) and Adolescent Girls and Young Women (AGYW) in the identified communities are enrolled, retained and progress in school so as to reduce opportunities for them to indulge in behaviours that put them at risk of contracting HIV."
Since the outbreak of Covid-19 in March 2020, a number of young girls dropped out of school with some getting pregnant due to stagnation.
In 2020, the Children Tariro Programme, with support from PEPFAR through USAid, came to the rescue of 15 002 education assistance beneficiaries by procuring and distributing textbooks worth US$670 660,58  to help them learn while at home.
A total of 11 890 learners benefitted from simple smart phones at a total cost of US$349 570 to assist them in conducting virtual lessons.
Dangamvura High School phsycho-social support teacher Oppah Zisengwe said empowering a girl child would result in them staying away from harmful activities.
"Girls are more vulnerable, hence empowering them will see them staying away from dangerous activities like sex work,  among others," Zisengwe said.
"They do not need to roam the streets and become prey to illegal taxi drivers and touts.
"The fact of them being empowered through ICTs will see them focusing on their education."
Apart from the ICT gadgets, the learners are benefitting from radio lessons.
About 200km away from Dangamvura, there are close to 20 beneficiaries at Meadowlands Secondary School in rural Chipinge.
Despite the school being in a rural setup, the learners own gadgets and participated in virtual homework groups.
Amalgamated Rural Teachers Union of Zimbabwe president Obert Masaraure said the Covid-19 pandemic exposed inequalities in the use of ICTs in the education sector.
"Zimbabwe doesn't have a comprehensive education-centred ICT policy to promote the efficient utilisation of the limited ICT resources available and promote the acquisition of more ICT tools," Masaraure said.
"The Covid-19 pandemic exposed the inequalities in the education sectors, less than five percent of our total learner population managed to continue with education effectively using ICTs.
"The majority of schools have no electricity, ICT gadgets and internet connection. The teachers also lack the technical capacity to fully utilise resources."
Mutare urban district schools inspector Edison Mapungwana said the introduction of ICTs among other resources had a positive impact on the area pass rate.
"With gadgets and data available during the Covid-19 era, our pass rate wasn't affected that much as anticipated," Mapungwana said.
"If you leave a child idle anything can happen for example drug abuse and early marriages. However, such interventions in keeping them busy through virtual learning is recommended and we will definitely have few school dropouts."
About 5 000 learners from 164 schools in Mutare district benefitted from ICTs, uniforms, textbooks and school fees as a way of keeping them in school.
Fact Mutare education and parenting officer Tsakani Nyakureba said there was need to identify more vulnerable children and empower them through various means in their education as part of the HIV and Aids response programme.
Today, Makarange is working towards fulfilling her dream of being included in the medical profession, thanks to the Dreams project that gave a number of young vulnerable girls a soft landing.
Being in school at the right time and with all the necessary resources including ICT gadgets will see her and colleagues realising their childhood dreams.
Related Topics