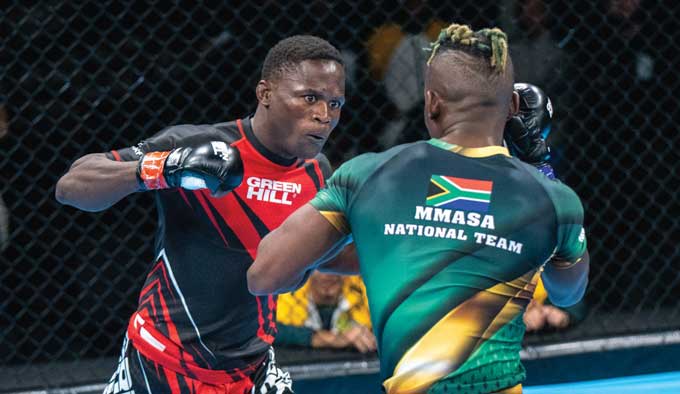 BY MUNYARADZI MADZOKERE
SOUTH AFRICA-BASED Zimbabwean mixed martial arts athlete Lewis Mataya wrote his own piece of history when he won the 2022 International Mixed Martial Arts Federation (IMMAF) Africa Championship lightweight in Johannesburg.
While it may have come as a surprise for many, for the 24-year-old fighter who was orphaned at the young age of seven after losing both parents, he knew that he was going to win.
And last week's title victory in the developmental competition was just a step towards achieving lofty goals and Mataya's eyes are firmly fixed on winning the world title.
But still the IMMAF world championship is not the destination for the fighter who dreams of dominating the money spinning Ultimate Fighting Championship (UFC) one day as well as starting an orphanage in Zimbabwe.
"I feel like I am on the right path because it's something I have dreamt about for a while as part of the process because it's a long journey. I have very big goals, which I need to achieve and to see myself achieving the smaller goals it's comforting. Winning this one means there is a bigger one coming," Mataya said in an exclusive interview with The Sports Hub.
Winning things is not new to Mataya, who started off in taekwondo in Zimbabwe and claimed a number of titles including the Zimbabwe national championship, the Mozambique Beira-Chimoio championship and Mozambique Chimoio championship in 2017,  among many others.
Mataya also won the PFC (Professional Fighting Championship) lightweight championship in mixed martial arts, in South Africa and the African Jiujitsu Championship.
And going into the IMMAF Africa Championship as Zimbabwe's only representative in an event that attracted over 60 athletes from across the continent he knew he was going to add to his trophy cabinet.
"I do not fight battles that I know I am going to lose. I fight hard battles and I make sure I prepare for them, so I can win.
"It's a very tough sport and people think it's a tough-men sport, but it's a thinking-men sport, a smart-men sport. I fought against this man who was really tough in the final and I dominated him because I was out thinking him, so I knew I was going to win," he said.
He spoke about his goals in the mixed martial arts.
"My goal in MMA is to grow as a person and inspire people as well as be a beacon of hope to everyone, especially the people of Zimbabwe and everyone that surrounds me, including South Africans.
"Winning this championship set me up for bigger things. I am to go to the World Championships and I am going to win the World Championships. For me to go there I needed to win the Africa Championships. Now we are going there, we are going to touch more hearts and punch more faces and we are going to make more victories and add to our legacy.
"This year I want to win the World Championship now that
"I have bagged the Africa Championships and from there we are going to build a brand and we are going to be professionals by next year. The goal is to dominate and sign up with the big organisations such as the UFC and be a world champion there. That's the goal, to fight professionally at the highest stage in the US. We are going to get that UFC belt.
"And since I grew up in Zimbabwe as an orphan it has always been my dream to look after kids, who have not had the opportunity to grow up with parents and to give them a better life," Mataya revealed.
His journey in mixed martial arts began only by chance on a day he had skipped school and in a library studying at  Manyame Airbase in Zimbabwe where he lived with his sister.
"This one day when I was in Form 5, I was in the library at Manyame since I had not gone to school that day and I heard noises coming from the next block. I went outside to check and there were these guys practising kicks and I asked to join, that was in October 2014 and I have never stopped training," he said.
After winning a number of competitions Mataya decided to move to Capen Town, South Africa and started training jiu-jitsu under an international gym called SBG where he has won titles in Jiu Jitsu, mixed martial arts and muitai.
Mataya's upbringing was far from rosy after losing his father at the age of six and his mother when he was seven, growing up in the rural areas.
He was born in Changazi, Manicaland before migrating to Deure in Birchenough and also stayed in Chegutu on a farm before his sister took him in following the death of his mother.
And today he is an African champion who is set to fly the country's flag at the World Championships later this year.
Related Topics