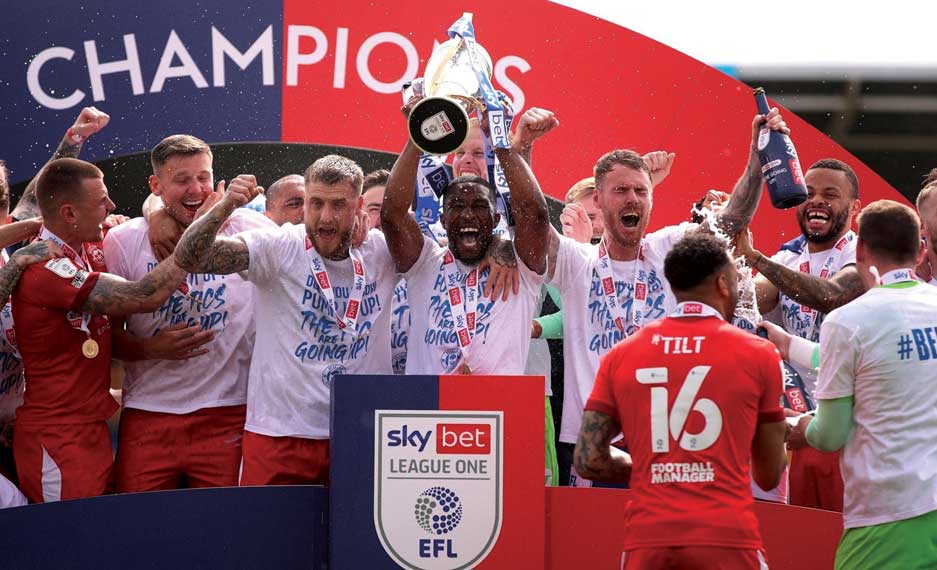 BY MICHAEL KARIATI
THE whole country is happy, so they say, when Dynamos wins, but this time, the happiness is not about Dembare but about Jordan Zemura and Tendai Darikwa as well as Zimbabwean football as a whole.
For the first time in months,  Zimbabwean football has attracted attention for good reasons and not for the administrative upheavals that had become Zimbabwean football's daily life, and in the process,  invited the wrath of Fifa.
Zemura and Darikwa's  success with Bournemouth and Wigan Athletic is echoing in all the four corners of English and African football and whenever they are talked about and so too is the name Zimbabwe.
Some might argue that this is the English Championship or the English League One but one only needs to look at the crowds that attend these matches and the television coverage they receive just to realize the attraction and weight they carry in English football.
What those critics should also be reminded of is the fact that Zemura will be playing EPL football come the 2022/23 season while captaining even a non-league side in Europe is an honour of the highest order.
In fact, some are wondering what could have been of the Warriors had it not been for this Fifa ban with Zemura and Darikwa driving the machine from their wing back positions.
While the success of Zemura and Darikwa is the talk everywhere, the players back at home are asking themselves whether they will be able to reach such levels or even get that opportunity considering the situation here at home.
They are asking themselves whether their careers will one day take them to Europe's top clubs as Tino Kadewere has done as the cloud hovering over Zimbabwean football is getting darker and darker by each passing day.
They are wondering whether one day, they will be able to feature in the English Premier League like Bruce Grobbelaar, Peter Ndlovu, Benjani Mwaruwari and Marvelous Nakamba have done and like Zemura will do.
Even those in the academies are wondering what their future holds with the question marks that are hanging over Zimbabwe's international football future.
Surely, there is a lot of talent in Zimbabwe right now but their door to South Africa and Europe has been closed by a football political game of chess whose roots they do not even know.
The ban from international football has deprived the players of the opportunity to attract international attention to further their careers abroad and also make money to make a living after football.
The easier path to Europe has been blocked as Zimbabwe is out of Chan, Cosafa, Afcon, the Africa Youth Championships, and the Caf Champions League where football scouts, coaches, clubs, and player agents identify talent to take to South Africa and Europe.
In fact, the Cosafa Cup had become the easiest route to play in South Africa and sometimes later on to Europe as was the case with Mwaruwaru and later on Knowledge Musona and before that Kennedy Napoli who went to Santos in Brazil.
Unlike other leagues like the one in Zambia and Ethiopia, Zimbabwean football no longer enjoys the privilege of international television coverage as was the case in the past, making it even harder for talented young players to be seen.
Surprising, in all this, those in charge of Zimbabwe's football destiny do not see anything wrong contending that Zimbabwe should stay banned as a way of cleansing the game.
This is despite the fact that the players are eager to take part in Afcon 2023 while the fans on their part desperately want to watch their beloved Warriors in action.
Those who play abroad like Zemura and Darikwa are also missing the chance to come and show off what they are made off in the colors of their own national team.
There is only one week left before the Caf ultimatum expires, and Zimbabwe needs a concrete decision as to where the country stands with regards to participating in this Afcon competition — is Zimbabwe in or out ?
What the ordinary football fan knows is that football is being played at Castle Lager Premier Soccer League level but does not have the slightest idea as to what is happening at national level.
The reason being that there is no football leadership in Zimbabwe right now and everything is being done haphazardly and with no sense of direction at all.
The question is : Has there been any communication with Caf and Fifa with regards to the May 15 Caf ultimatum and what is the current position ?
The nation is waiting for an answer.
For your views, comments, and suggestions mkariati@gmail.com or WhatsApp on 0773 266 779.
Related Topics