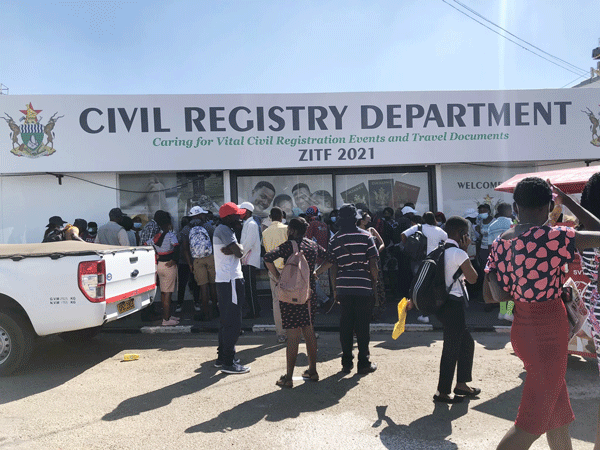 By Sindiso Dube Assigned male at birth, for Bulawayo transgender woman, Stewie La Savage, accessing public services that require her to produce a national identification has become a torrid moment that always leaves her with an egg on her face.
Rather, her new-look "face".
Transgender is a term used to describe people whose gender identity differs from the sex they were assigned at birth.
Born 26 years ago, real name Steward Chikuni, Stewie, who uses pronouns she/her/hers, is sometimes denied access to services because her physical look does not match her documentation.
"There was a time when I was barred from withdrawing money from a money transfer outlet after officials there demanded the presence of the real Steward whose face is on the national identification card," she said.
"I tried to convince them that the documents belonged to me and I am the rightful owner of the money that had been sent, but they decided otherwise" he said.
"Not that they didn't know that it was me, but they wanted to bully and embarrass me in front of other customers.
"Those are some of the instances I have come face-to-face with transphobia."
Stewie, who resides in the high-density suburb of Pumula, said her family does not talk about her sexual orientation.
"It's like one of those ignored topics at home," she said.
"I have always wanted transition, but it was a hard decision to make.
"So, I started the whole process during  the first Covid-19 lockdown.
"I am a musician and poet and I face a lot of discrimination in my line of work where I am not booked for some gigs because of my sexual orientation.
"However, I want to work harder to get to a point where they don't have a choice, but to work with me.
"I also face hate speech and hate crimes mostly from people who know me because those who don't know me personally don't have anything against me."
Sexual minority groups have been advocating for transgender people, to be issued national identity cards reflecting their unique status.
This would enable them to exercise their right to vote in the upcoming 2023 harmonised elections, and beyond.
Stewie appealed to the government and the Civil Registry Department to acknowledge the existence of "trans-women" and "trans-man", as well as lobby for inclusive gender markers.
Gender markers are pronouns referring to a person as either "male" or "female".
"The main issue is the gender markers, transgender people's documentation doesn't match their appearances and some (Transgender people) did not vote in the recent March 26 by-elections and I foresee an impending problem in the forthcoming 2023 harmonised elections," she said.
"I was lucky to have found people who knew me personally at the polling station, hence I managed to cast my vote
"Re-documentation and changing gender markers for the transgender community is the answer to all these problems."
Sam Ndlovu, executive director for Trans Research Education Advocacy and Training echoed the same sentiments with Stewie.
He said there was need for re-documentation of transgender people.
"Trans persons whose ID does not match their appearance struggle with every process needing the use of ID and voter registration is just one of them," Ndlovu said.
"Firstly, the struggle to explain one's appearance versus the ID whereas changes for one transitioning or as an adult may alter appearance over periods as short as one  or two years depending on the individual, significant enough for their appearance to be doubted as well as their gender marker not adequate for their navigation of public life although degrees of this experience vary.
"I think it is important even for the census that these issues are taken into account to ensure data accuracy and that every citizen is afforded the opportunity to exercise their right."
Related Topics