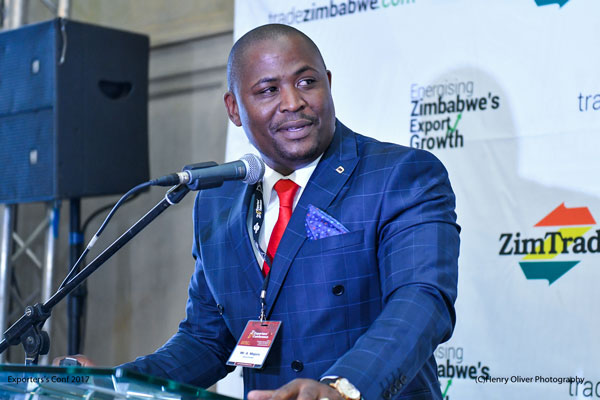 By Mthandazo Nyoni
IN a bid to grow local exports, ZimTrade has been assisting exporters to develop, promote and facilitate trade with other countries.
Our business reporter Mthandazo Nyoni (MN) had an interview with ZimTrade chief executive officer Allan Majuru (AM) who disclosed that the effort has started bearing fruits.
Below are excerpts from the interview.
MN: ZimTrade has been trying to assist Zimbabwean exporters to develop. What is your assessment of your efforts?
AM: Last year our exports were around US$6 billion and the target is US$7 billion. So for us, it's quite progress on our side and we feel that with the pressure that we are putting on export growth, we believe all things being equal, we might get there in terms of reaching our target.
The idea is to make sure that we also grow the contribution of value-added exports.
That is our thrust and looking at efforts that we have been doing, our focus is on the exportation of value-added goods and services.
At the moment, we are quite happy with what we have done.
MN: You have tried to capacitate small-to-medium enterprises to venture into the export market. What have been the results?
AM: It's a journey, it's not an event and for us I think we are quite happy with the progress that we have made.
Remember, we launched Eagle's Nest programme to help youth-led enterprises and those are predominantly start-ups small-to-medium enterprises (SMEs) and quite recently we launched the  NextSheExporter to support women-led enterprises in Zimbabwe. These are initiatives that are going to make sure that we capacitate our SMEs, not only to do business in Zimbabwe but for them to have export focus.
MN: Companies have been complaining about export permits.
AM: That's a very pertinent issue that has been on-going. I am happy that the government through the Office of the President has taken a deliberate effort to look into these matters.
There has been some progress that has been made and there is more that can be done to make sure we streamline exports.
It's not just about permits, but the documentation you need to export and the number of offices you have to go through.
We have looked at countries like South Africa and Zambia.
They seem to have less documentation in terms of people who are involved into the export business.
We are trying to make sure that we align because these are our competitors.
What we have been advocating for as ZimTrade, like what has happened with investment, is that we need a one-stop shop for exports.
So if we put a single electronic window for exports, that single electronic window can also be used to facilitate imports.
So it can be a gateway for both exporters and importers when it comes to the export business and it also reduces the time spent by people who move from one office to another.
MN: This year, what measures have you put in place to assist companies to venture into export markets?
AM: We have launched the NextSheExporter programme. We have also started Season Two of the Eagle's Nest.
The drive is to capacitate and develop start-ups to become export-oriented.
After we have done with capacitation, we have to go and do promotion.
We have started with Dubai where we had a business forum.
Going forward, we will have outward missions to Democratic Republic of Congo, Botswana, South Africa and Mozambique, just to mention a few. We are also going to be bringing buyers from Botswana and Dubai as a follow up to the Dubai Expo.
They will come to see what Zimbabwe has to offer in terms of business.
We are also going to be doing the same for Zambia.
MN: Sometime in 2020, you launched an online shop, which is a market place for exporters and buyers. How has it been performing?  
AM: We have got an online shop called Shop@Zim, which we are putting our companies in.
You know, Covid brought the need for us to highly digitise.
So we are using it as a platform to market our Zimbabwean companies, but we have now begun a process to try to make sure that it's not just a marketing platform, but also a platform whereby people can see what they want and they can even do transactions online.
So we are hoping that by the end of the year, everything being equal, we would have converted that platform to be an interactive platform.
MN: What is your budget for this project?
AM: The investment is not something that really we need to worry about because the issue is what business it will generate.
That would organically feed itself to make sure that it stays alive.
It depends how we approach it, but I think the issue is not the money because it can be a build-operate transfer, that kind of thing.
MN: Are you getting enough funding from the government? We have realised that a number of government institutions or departments are struggling to operate due to lack of funding. 
AM: The issue is, yes, we are getting support from the government but you know everyone wants more than what they are getting.
Money will not be enough but for us, what we ask is what we get because you have to be factual.
What you also do as an organisation to remain viable is to form strategic partnerships and alliances so that whatever you do, everyone that comes through is feeding into the vision that has been laid by the President in the National Development Strategy 1.
Related Topics