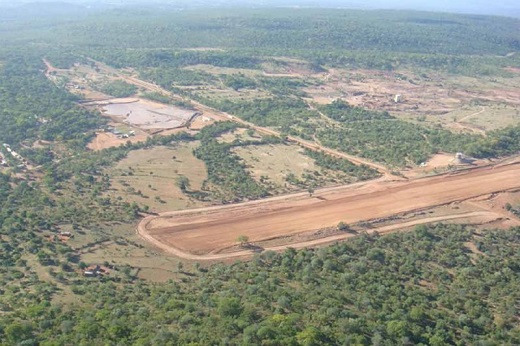 BY KENNETH MATIMAIRE
A SENATE committee is investigating alleged gross human rights violations, including child labour, in the Chiadzwa diamond concession, it has emerged.
Members of the thematic committee on human rights visited Chiadzwa a week after The Standard published an expose' of sexual abuse cases perpetrated by state security agents manning the protected area.
The expose was part of an investigation supported by the Information for Development Trust (IDT) – a non-profit making outfit that probes bad governance, which was published a fortnight ago.
The investigation gave an explicit account of human rights violations as well as crimes perpetrated by state security agents, which range from harassment, arbitrary arrests, detentions, extortion, bribes and sexual abuses.
Though the thematic committee anticipated to gather  evidence on child labour and related issues, it was however, laboured with inter alia, gross human violations exposed by the investigation.
Clive Gore of Amalgamated Chiadzwa Development Community Trust (ACDCT) argued that the Sydney Sekeremayi-led committee could not limit its scope to child abuses while there were broad human rights violations in the area, which the committee conceded to.
The villagers took turns to inform the committee that there were broad human rights violations with sexual abuses coming tops with  state security forces again identified as perpetrators.
They laid the blame on diamond dealers better known as gwejas – whom they say gained entry into the protected area by allegedly paying bribes to state security agents.
The committee was informed that most of the state security personnel and gwejas spent time away from their spouses, and tended to target local women, mostly school girls to quench their sexual craving.
"Police and soldiers are impregnating our children and we have had to look after these (grand) children," said Aleck Tarindwa after he was given the platform to address the committee.
"Most girls go out to sell various wares to gwejas. But the truth is, these people are predators (who abuse children).
"The majority take months to return back to their wives and they target our children, but even old women are abused," said Innocent Muusha of Makotamo village in Chiadzwa.
Observations by The Standard during the visit by the senators were that the few secondary schools were far, which makes the girl child vulnerable to the "predators."
It was also observed that most of the women and school going girls were sent off to sell wares at business centres where they are exposed to the gwejas.
Along the way they pass through check points manned by soldiers and police officers where they are also sexually exploited for free passage.
Manicaland Chief's Council chairperson, Chief Mapungwana, who was part of the committee, said "some of the issues fell under ( the purview of the thematic committee on) peace and security, but we will also act on the other concerns you raised since they also revolve around human rights issues."
It was also gathered that The Standard expose' rattled feathers within the ruling party as it fears that the investigation might cost Zanu PF its Mutare West constituency that encompasses Marange.
This has been followed by a severe onslaught on sources that were featured in the initial investigation published by The Standard.
It has since been gathered that unknown and known assailants, including some ruling party councillors have either intimidated, harassed or assaulted some of the sources of information.
A female victim, who featured in our earlier investigation, said she was assaulted for speaking out to the media on the molestation by security agents.
"I was beaten yesterday (Wednesday).
"The person (identified) said I'm spreading falsehoods in newspapers.
"So, I'm actually coming from the police station right now (Thursday) to file a report," said the woman, who cannot be named for fear of further victimisation.
Another local activist was warned against publicising information on the assaults while Jay Kasakara, chairperson of ACDCT, was summoned by a named councillor over the contents of the story.
Chief Chiadzwa said there was need to call a spade a spade on the alleged human rights abuses.
"The truth is the truth and it must come out," Chief Chiadzwa said.
"We usually sit down with police and army when they have just been deployed discussing how they can relate better with the community.
"But these are young boys and they often overdo things."
Chief Chiadzwa  implored state security agents to abide by their agreed community code for the betterment of both operatives and villagers.
Experts have also called for state security agents to undergo human rights based training before they are deployed to the vast diamond concession.
A 2020 report by the Zimbabwe Consolidated Diamond Company (ZCDC's) protection and surveillance services (PSS) department indicate that the trainings are essential as they "inculcate a culture within its employees of adhering to human rights principles."
According to the report, ZCDC on September 12 2019, hosted a four-member delegation from the Zimbabwe Environmental Lawyers Association (Zela), which conducted a Kimberly Process Certification Scheme (KPCS) human Rights Training program at the State miner's Old Washing Plant offices in Chiadzwa.
"The training was meant to conscientise attendees on various KPCS human rights requirements. The training was attended by heads of departments, PSS management and operatives as well as State security agencies," reads the report in possession of The Standard.
In addition to the human rights training by Zela, ZCDC indicated, the PSS Department also initiated an ongoing gun handling refresher course for its details.
"As a department, we aim to continuously improve the way our details conduct their operations though training, bearing in mind the sanctity of human life," f reads the report.
Chief Chiadzwa said similar human rights based training was essential for state security agents before deployment.
Related Topics