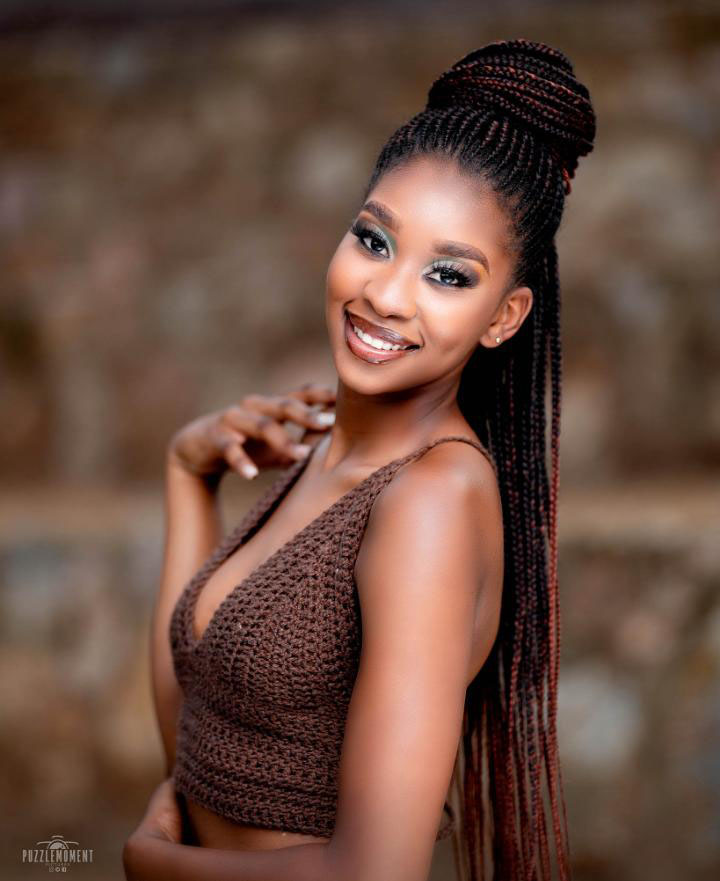 Raymond Millagre Langane Everyone has a hobby, which is an activity usually done during leisure time. Hobbies have a therapeutic effect on individuals as they help to facilitate the process of relaxation and elicit joy.
In essence hobbies can also be channeled into a passion that can actually bring fruition and growth on individuals; especially those that are engraved in art and craft.
Crocheting, for example, is one hobby we have seen our grannies do, and I recall when I was young how my granny would crochet gloves, knit jerseys and even bed covers out of wool for me.
Unfortunately, in our generation the crochet culture has become almost extinct and is considered archaic. Young people now spend most of their time on social media.
But there are still some young individuals who are creative and they are reviving the crotchet culture through innovative designs and fashion.
One of the designers is
One of the designers is Kimberly Ndlovu from Southworld, Bulawayo, who is a model and former Miss Truth 2021 is an example of the few young entrepreneurs who are using their crocheting skills to come up with different fashion designs.
who is a model and former Miss Truth 2021 is an example of the few young entrepreneurs who are using their crocheting skills to come up with different fashion designs.
Ndlovu represents a generation of individuals who are using skills and hobbies to make money.
"People now call me Kim 'Krochet' because I am always crocheting," Ndlovu said.
"The craft of crocheting was taught to me by my grandmother as she did it for a living.
"Even though she is old now she still does crocheting at a lesser scale where she creates door mats using leftover pieces of cloth.
"When I was a little girl, she taught me the skill and using the skill I started coming up with beautiful dress designs."
For Ndlovu, what started as a hobby has been transformed into a brand called Krochet ZW.
"My aim is to invigorate the lost crochet culture among the youth," she said.
"It is now being viewed as archaic by young people."
As a craft or hobby, crocheting can be therapeutic. The repetitive motions of making individual stitches and counting rows can make the Ming more relaxed and free from anxiety.  It is also a hustle and one can make a living through the craft.
Any craftwork can be a rehabilitative activity which even prisoners are encouraged to partake in.
Crocheting or knitting used to be a course in home economics and fashion and fabrics, which girls would study in primary and secondary schools.
As a male student at Marist Brothers, I personally studied food and nutrition.  I learnt to be creative as we were taught to set the table in an attractive manner and to present our food well.
We had a choice to do food and nutrition, woodwork or motor mechanics and some girls broke gender stereotypes and chose to do motor mechanics.  I hope they are making money out of these skills.
Psychologists concur that the tactile pleasure of the yarn, the rhythmic nature of the crochet stitches, and the combination of relaxation and focus, and the connections it offers all combine to create benefits that relieve a variety of conditions, including mental health conditions.
As we celebrate mental health month, we need to think of the value of art and craft as this can be pivotal in promoting physical and mental health.
Hobbies such as crocheting, and others kept people mentally alert during the Covid-19 lockdown periods.
Psychologists state that crocheting adds to the natural pain-relief properties of the craft's serotonin release by breaking the ruminating cycles of the mind, with crocheting adding to the reduction of depression.
Kim "Krochet" said whenever she experienced stress, anxiety, or was overwhelmed by negative thoughts; she picks up her crochet and focuses on the project.
"This has helped me to grow my passion into a brand," she said.
"There are times when business is very low and there are very few clients.  I face many challenges like the high cost of wool; especially silky wool, which is imported.
"Due to economic problems in this country, several wool manufacturing companies in Zimbabwe closed shop, and most of the wool that I used for crocheting is ordered from South Africa.
"I wish to pass on the crocheting skills to other young girls, especially those in marginalised communities such as rural areas so that they can make a living through the craft.
"Skills such as crocheting are not only therapeutic, but can be money making schemes for the unemployed youth."
Crafts like crocheting do not take a lot of energy.  One can do them on the bus, sitting on the bed – just anywhere with little energy.
It allows a lot of creativity in a person, and the result is beautiful functional items that can be worn, used as gifts, or can be sold for money.
In Kadoma, some women are making a living through crocheting tablecloths and cover beds.  Some of their creations can actually be exported, and can be a source of foreign currency into the country.
Some of the skills or crafts that our parents used to do as hobbies can actually be a source of living for the unemployed youth if they cared to learn them.
This includes sculpture, clay pots, jewellery making and several other crafts.  A good example of people that know how to make a living through crafts are the Vapostori sect who make metal pots, buckets, and other utensils, and it is a source of living for most sect members in a country where unemployment rates are very high.
 Raymond Millagre Langa is a musician, orator, poet, writer and founder of Indebo Edutainment Trust.  Follow Raymond Millagre Langa on Facebook, Instagram @Millagre Ray L, email: indeboedutainmenttrust@gmail.com and/or millagrepapaito@gmail.com
Related Topics