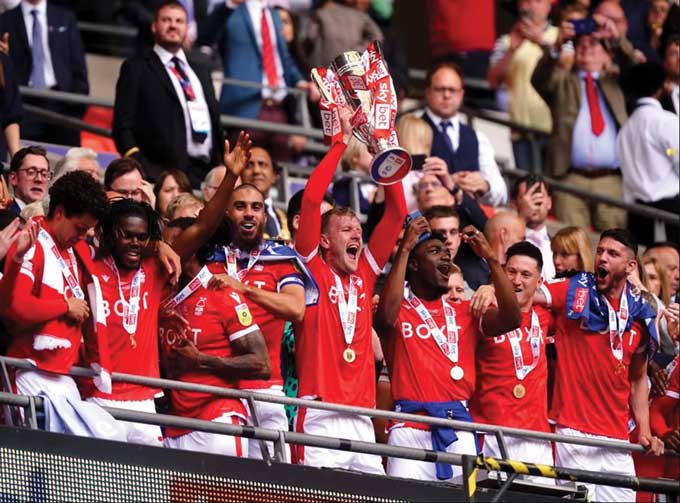 BY ZAK HAWA AS the English Premier League welcomes Nottingham Forest back to its fold after an absence of 23 years, I thought it would be fascinating to go down memory lane to remind us all of this club's truly remarkable legacy.
For that I'm going to go back in time to the 28th of May 1980. Zimbabwe had only just recently attained its independence, we were being thrilled by Michael Jackson, our favourite television show was Dallas, and Cold Power was the washing powder of choice!
In the Zimbabwean sporting scene, our golden hockey girls were preparing to conquer all at the Olympic Games, Langton Schoolboy Tinago was schooling all before him as a Commonwealth boxing legend while on the soccer front, John Rugg was bringing early success over Zambia at the Independence Cup to a newly formed Zimbabwe team brimming with talent in the form of Oliver Kateya, Sunday Marimo, Shacky Tauro and George Rollo to name merely a few. On the airwaves, meanwhile, we were privileged to hear Tommy Ballantyne splendidly bringing the game to us in our living rooms as if we were literally in the VIP seats at the stadium. Those were some of our unbelievably special early Zimbabwean sporting memories.
Meanwhile, on this day in Munich Germany, an unfashionable and somewhat unheralded English club Nottingham Forest had just created history by winning the prestigious European Cup (what we refer to nowadays as the Champions League )for the second year running. In a performance of magnificent bravery and courage of stunning defensive skill and superman levels of fitness, Forest had against all the odds defied their lowly status, turned into Robin Hood and stolen from the big boys a title and record that will never ever be eclipsed or matched for as long as the game is played.
Forget Leicester's astonishing EPL title success in 2016,ignore the ingenious efforts of manager extraordinaire Jose Mourinho in guiding Porto of Portugal to a truly unlikely Champions League success in 2004,and disregard the sheer utter Viking defiance and brawn in Denmark's 1992 European success. What Forest accomplished and in such a short space of time was success at an altogether different higher plane and needs to be seen and appreciated for the sheer utter brilliance and uniqueness of the achievement.
Their journey to fame, stardom and the history books began to unfold in January 1975 when languishing in the lower depths of the English second tier, the club took on the rather ambitious and some would say at the time, foolish choice to hire Brian Clough as manager. Clough was widely known as being brash, outspoken, controversial and a most difficult manager to play under.
Following an unspectacular but solid start, Clough was joined in the summer of 1976 by his erstwhile deputy and lieutenant Peter Taylor. The partnership galvanized Forest, providing the spark and catalyst that the team needed. What they proceeded to produce at the club over the next few seasons not only surpassed all the wildest dreams and expectations of the fans and the ownership, but is in the opinion of this author, the greatest footballing miracle the world will ever see.
It's important to make it absolutely clear that Forest had no real financial backing and, therefore, Clough had no money chest to channel towards transfers.
Taylor scouted and unearthed unknown uncut gems cheaply while Clough knew exactly how to turn them into diamonds.
This was the era before the advent of the Premier League where club revenues stemmed largely from gate receipts. There was also none of the massive injection of television money from SKY TV and it was also way before the big Eastern European and Middle Eastern oligarchs ploughed their petro dollars into the Premier League.
They wasted no time in developing a winning formula with a side that was largely inherited and at the end of the 1976/1977 season, Forest had been promoted. Forest entered the season in Division 1 with modest expectations and most bookies and pundits predicted that they would struggle.
Clough though had other ideas and with the team gelling so effectively from day one, they were starting to get noticed. A comprehensive 4-0 thrashing of Manchester United before Christmas (United boss Dave Sexton commented that Forest seemed to play as if they had 16 players on the field! I'd say he probably felt like most teams who come up these days against Klopp's Liverpool!) was followed by an unbeaten run right through to the end of the season resulting in a most extraordinary title triumph.
They continued their unbeaten run into the following season setting a new unbeaten top flight record of 42 league games, a record only surpassed years later by Arsenal's invincibles of 2003/2004. Clough, meanwhile, became only the third ever manager in English history to win the title with 2 different clubs(the other being Derby County in 1972)and the last manager to do so with a newly promoted club!
What followed was even more outlandish. Forest brushed aside reigning European champions Liverpool in the First round of the European Cup in 1979 before reaching the final and triumphing 1-0 against Malmo of Sweden.
To then repeat that fantastic feat the following year in the final on 28 May 1980 against Kevin Keegan's German club Hamburg was nothing short of epic and guarantees that Forest will forever remain in European football folklore.
Over a period of five years Forest had risen from the depths of the Second Division to become not only the champions of England in 1978 but the greatest team in Europe in 1979 and 1980.To add a little perspective to the narrative, it's worth pointing out that Nottingham Forest had in successive years won Europe's premier prize as many times as Manchester City, Arsenal ,Chelsea and Spurs have won combined in their entire history.
It's also worth mentioning that Nottingham Forest are the only team in history to have won the continent's biggest prize more times than their domestic top prize!
Over the next 13 years they enjoyed moderate success in the top flight winning a number of Carabao Cups as well as mounting some decent title challenges before plunging back down to Division 2 in 1993. That was the end for Clough and he retired from soccer management after 18 action packed years in charge of Nottingham Forest.
Ultimately he put them back where he had found them! Sadly he died in 2004, a broken bitter alcoholic, a man acknowledged as being better at managing others than managing himself. A life size statue of Clough was erected in the city of Nottingham in 2008 paying homage to the life and career of the greatest manager England has produced.
Forest, meanwhile, returned to the top flight briefly twice before going down in 1999 where they have remained until now! No matter who they have at the helm this time, there is little chance of them repeating their historic accomplishments. They will in the short term have to contend themselves with Premiership survival and I suspect that come the end of next season if that is secured, then they will be absolutely delighted!!
Feedback: zak.footballwhiz@gmal.com
Related Topics