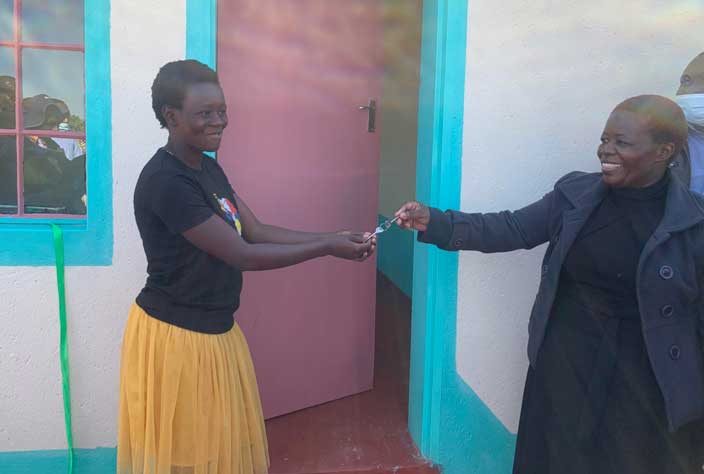 BY SHARON SIBINDI THE world had collapsed around Hidla Ncube (72) from Matobo district of Matabeleland South when Tropical Storm Ana hit the area in January this year.
Before the storm, Ncube's only two thatched huts already had cracked walls, beaten down by years of lack of refurbishment due to poverty.
Ncube, a widow from Hlababomvu already struggling to put food on the table to feed her grandchildren, said she could not stomach the pain of seeing the storm demolish her only dwellings.
Ncube says it is a miracle that she did not suffer any stroke.
"Before the cyclone, we were struggling and the destruction of the hut worsened things as I lost everything including a few blankets I had," Ncube said.
"My husband died five years ago and of the nine children I had, four died and others are based in South Africa.
"I currently live with five grandchildren, but I cannot even afford to take them to school or give them food because I am old."
Tropical Storm Ana hit parts of Zimbabwe early this year, leaving a trail of destruction and victims without shelter.
More than 3 000 people were affected by the heavy rains and flooding which damaged schools, bridges and roads.
The tropical storm first hit Mozambique before it washed away many homes in Matabeleland South and Manicaland provinces.
In Matobo district, more than 100 households were affected.
"We were left with nothing at all, but today is one of the happiest days of my life," Ncube said.
"At last I now have a proper structure to my name after so many years of struggling.
"Before Cyclone Ana struck, my two huts were already dilapidated but that's all I had with my grandchildren."
Ncube is one of the recipients of two-roomed houses constructed under the Zimbabwe Resilience Building Fund (ZRBF) Sizimele project targeting the cyclone victims in Matabeleland.
The ZRBF Sizimele project is being implemented by a group of seven non-governmental organisations whose interventions are aimed at helping rural communities withstand disasters.
A total of 13 houses were handed to victims in Matobo, six in Insiza and another six houses in Lupane district a fortnight ago.
Speaking during the handover ceremony, Matobo district development coordinator Obey Chaputsira said the project had brought smiles to faces of many cyclone victims.
"We are grateful for the intervention to address disasters that have been experienced in this district.
"We appeal for funding to help the affected build toilets as we could not do so due to resource constraints," Chaputsira said.
"The other challenge is that villagers are suffering from drought and we hope that the drought relief, which President Emmerson Mnangagwa spoke of recently will address that."
Matobo ward nine councillor Ottoe Dube said: "We are happy for Gogo Ncube and grateful to her neighbours, who have been feeding her from the day she lost her hut.
"The same neighbours were kind enough to provide food to the team that put up this structure.
"We appeal to well-wishers to chip in and help this woman with food now that she has a home."
Team leader for the ZRBF Sizimele Diego Matsvangi said their programmes were aimed at uplifting the worst affected communities during times of natural disasters.
"We also have other key pathways that we have been following, including increasing productivity, diversification and also systems change for resilience," Matsvangi said.
"So this has been the backbone of our project, foundation of all activities that we undertook over the last five years, culminating in us also responding to different shocks and disasters like cyclones that we have been seeing in all the years."
Matabeleland North Provincial Affairs minister Richard Moyo while officiating at the handover of ZRBF houses in Ndimimbili Ward 7 in Lupane said the projects feed into the Sendai Framework for Disaster Risk Reduction, National Strategic Plan and Vision 2030.
"The Sendai Framework focuses on the adoption of measures which address the three dimensions of disaster risk (exposure to hazards, vulnerability and capacity, and hazard's characteristics) to prevent the creation of new risk, reduce existing risk and increase resilience," Moyo said.
The United Nations Sendai Framework provides Member States with concrete actions to protect development gains from the risk of disaster.
It was endorsed by the UN General Assembly following the 2015 Third UN World Conference on Disaster Risk Reduction (WCDRR).
It recognises that the state has the primary role to reduce disaster risk but that responsibility should be shared with other stakeholders including local government, the private sector and other stakeholders.
Getrude Mpofu (64) from Ndimimbili village was left overjoyed after receiving keys to her two-roomed house built under the ZRBF Sizimele project.
"I am so happy, I feel like I am now in Canaan. I am now out of hell. After cyclone Ana struck my home on February 5, I used to stay in the kitchen and also use it as the bedroom as well.
"I lost everything and I have been struggling," Mpofu said.
"I am smiling now and it's all because of Sizimele who helped me out with my five grandchildren and the other one who is not well."
Related Topics