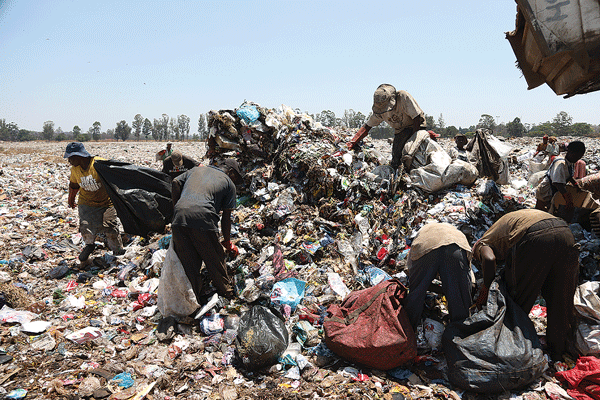 BY KENNEDY NYAVAYA
AN overwhelming odour, hatch of flies and trickling streams of slimy mud mark the characteristics of Ngozi Mine, a dumping site located 12km from Bulawayo's central business district, on a wet summer morning.
During heavy downpours of rain recorded earlier this year, used diapers, a wide range of plastic material and other non-biodegradable waste could be seen wantonly flowing into streams near the city's largest landfill.
For a city long touted as one of the cleanest in post-independent Zimbabwe, at Ngozi lies evidence that Bulawayo, just like other cities and towns across the country, is fighting a losing battle when it comes to waste management.
But, despite the unpleasant stench, scores of men and women spend hours searching through the dirt for a silver lining. Unperturbed, they probe for anything to repurpose or sell to recyclers.
"It is not the same as being unemployed because whatever small thing you get here is profitable and the benefits depend on how hard someone works," says Mlilo, one of the trash scourers who see opportunity on the piles of fetid garbage.
Wearing a stonewashed black T-shirt inscribed "Just Do It", matching trousers and cap, the 57-year-old's job of picking plastic bottles for sale to recycling companies is quite simple yet taxing.
"This is a business that needs patience, you cannot sell them (plastic bottles) the same day you pick because when few, their value will be insignificant," he says while weighing and loading a six-week stack into a truck.
Afterwards, one can see a smile through his muddy stained surgical mask as he counts a handful of ZW$20 notes received from a recycling company's truck crew.
But, the joy is short-lived because a total of ZW$600 (about US $5) for over 300 kilograms of plastic bottles is, even by his admission, "not enough for the toil endured over the weeks". In fact, he says, "it feels like a huge rip-off except I have no choice".
In Zimbabwe, there are not many job opportunities particularly for individuals without professional qualifications in what has led many citizens to turn to innovative ways of making money.
For urban citizens determined to make an honest living, picking trash – especially plastic — for recycling has become one of the quickest ways to subsist without monetary capital.
Plastic bottles, old clothes and scrap metal are most of what is picked for repurposing or resale. This means that despite low returns, most of what urbanites throw away as waste has a potential to be turned into profit.
This fits into a concept environmentalists have termed circular economy, a model aimed at eliminating waste and influencing continual use of resources mainly to avoid strains on the environment.
Worldwide, there has been a constant outcry around excess plastic waste ending up at water sources to the detriment of aquatic  life. Plastic waste is also known to cause a host of air and land pollutions.
As the entire world struggles with devising solutions on how to deal with the damage, a question has arisen on whether recycling or repurposing of waste could be a multifaceted panacea to local woes.
"Recycling is definitely a solution to waste management challenges, but it must also be understood as only being part of a means to an end, not the end solution in its entirety," says Cliff Chivanga, deputy director of Zimbabwe Sunshine Group (ZSG), an organisation that promotes sustainable waste solutions.
Recycling, Chivanga adds, may be integral to the waste management value chain but it requires infusion of several other elements "in order for it to be a holistic and sustainable solution".
"For recycling to be effective there is need for a major mindset shift on the part of the waste generator (users of product), the regulator (local authorities) and the producer (manufacturers)."
"The three must have a fair distribution of responsibilities, that is, the generator is responsible to act in the understanding that post-consumption materials without value to them have significant value to others and therefore preserve that value through source separation and proper disposal.
"The regulator has to enforce compliance and establishment of policies that are responsive to industry and ecological needs, the producer has to assume the responsibility for ensuring the generator realises value for acting responsibly," he said.
In other countries like Germany, recycling concepts like the flaschenpfand have seen people earn a partial refund and grocery vouchers when they return plastic and glass bottles. This has encouraged individuals to think twice and act more responsibly as they can earn from what they used to call trash.
Locally, there is hardly significant incentives for recycling waste and that is perhaps aiding the wanton throwing-away of waste. Those committing time to search through waste for something valuable, like Mlilo, are not getting meaningful benefit off it as well which makes it not worthwhile unless one is really desperate.
Adding to it, cities are overwhelmed by a rise of population and lack in resources to deal with the resultant waste in what has led to burning or dumping on open spaces.
In an interview with Heart and Soul radio late last year, Environmental Management Agency publicity manager Amkela Sidange maintained that there was urgent need to nurture a culture of separating and recycling waste among citizens.
"We really need to go full force into the communities to try and effect this change in mindset because we still have a culture of throwing things away, so we need to work on that until people understand that this is not waste at all but a raw material and something that can be brought back to life," said Sidange during an interview on the Green Business show.
According to Sidange then, the country discards close to two million tonnes annually and 90% of it is recyclable, biodegradable or compostable, meaning "we just have a minute 10% that can be destined for landfilling, again after thorough analysis".
"It is very possible to have a zero waste status whereby there is nothing discarded into the environment, everything that comes out of one system becomes of value to the next," she said.
In big cities like Harare it has become normal to see young men and women carrying huge sacks, scouring through uncollected refuse in a bid to get recyclable plastic.
A random survey by this publication, however, proved that this occupation may be enough to secure the next meal but not eradicate poverty. In the same vein, current scales of recycling are barely solving the country's waste management puzzle.
This is largely because the efforts are at a small scale and largely uncoordinated.
According to ZSG project manager Claris Mandoreba, recycling can contribute immensely in turning waste to wealth if there is "adoption of a comprehensive, adequately financed waste management system and model".
"We (ZSG) have been implementing waste management projects for over 10 years now in different communities and we can confirm the existence of some of these opportunities in employment, livelihood support and health benefits, among others," said Mandoreba.
She also said implementation of a circular economy has to be inclusive and multi-sectoral as well as ensure that benefits trickle down to all members in the cycle.
"The transition needs to be handled as a priority to ensure that we do not further inequality and poverty for those who are supposed to be beneficiaries of a robust circular economy implementation," Mandoreba said.
At the moment, plastic material picked from landfills and dumping sites as well as uncollected dustbins is finding its way to factories, mostly Chinese-run, where it is used to manufacture shoes, dishes and toys, among other products.
Ironically, to trash pickers like Mlilo who sacrifice a lot including their health, these are luxuries as they can barely afford the basics of daily life.