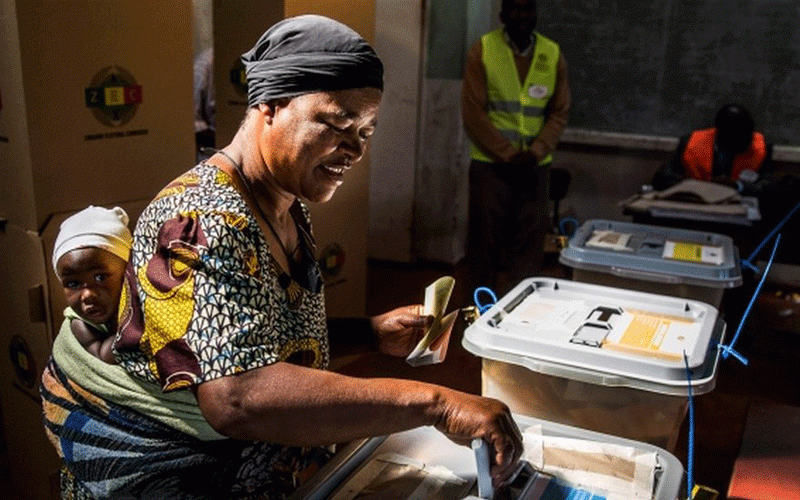 WHEN the Electoral Amendment Bill comes for debate in Parliament, we hope our legislators have prepared well to contribute meaningfully to legislative changes and other important parliamentary business to be carried out before Parliament closes for the last time before the 2023 elections.
We hope all progressive legislators across the political divide will find their way back to Parliament after the 2023 elections
We have read that the Zimbabwe Electoral Amendment Bill will be brought before Parliament.
We write to encourage all parliamentarians and senators to raise the need for the diaspora vote as expressed by President Emmerson Mnangagwa during his maiden trip as President to the United Nations General Assembly (UNGA) in 2018.
While addressing Zimbabwean citizens living in the diaspora prior to the 2018 elections, Mnangagwa said there was not enough time and resources for the country to prepare for the diaspora vote for the 2018 elections, but encouraged those who could to return to the country to vote.
He later announced his commitment to work towards putting in place mechanisms to allow Zimbabweans to vote from their domiciled countries in 2023 during a meeting with Zimbabweans on the sidelines of the UNGA in September 2018.
The informal sector has been disrupted, thus forcing many households to depend on the support from their loved ones abroad. It is thus critical for our financial services institutions to adapt their operations to the new emergency situation.
Diaspora support also made a difference during Cyclone Idai. An article by Ryan Lenora Brown of 26 March 2019 titled It has to be us: How a diaspora rushed to raise aid after Cyclone Idai chronicles how Zimbabweans living in the diaspora mobilised resources to assist during the disaster.
An assessment we made proves that every constituency in Zimbabwe has citizens living in the diaspora, hence diaspora support covers every constituency of Zimbabwe. Every legislator should, therefore, acknowledge that support which, in some cases, has helped resolve some potentially catastrophic situations.
Those disenfranchised citizens who have rescued those situations are playing an important national role and deserve the opportunity to vote. Parliament has the responsibility to create the necessary legislation that ensures all citizens can vote.
We expect all legislators to proactively push for appropriate amendments to the Electoral Act and the Constitution if necessary to enable citizens in the diaspora to vote. Item 1(2) of the Fourth Schedule of the Constitution specifically states that The Electoral Law may prescribe additional residential requirements to ensure that voters are registered on the most appropriate voters roll, but any such requirements must be consistent with this Constitution, in particular with section 67.
The Electoral Act should, therefore, be amended to include citizens residing in the diaspora. Some people have argued that the Constitution also needs to be amended, and using precedence where Parliament has amended the Constitution to retain Women Proportional Representation Members of Parliament, introduce Youth Proportional Representative Members of Parliament and do away with the Presidential Running mate clause, the same Parliament can similarly amend what has to be amended on the Constitution if the provisions of Item 1(2) of the Fourth Schedule of the Constitution are inadequate.
Zimbabwe is a member of the Southern African Development Community (Sadc) which, through the Sadc Principles and Guidelines Governing Democratic Elections, article say that Sadc member States shall adhere to the principle of ensuring the full participation of the citizens in the political process (2.1.1.); and provide all citizens with an equal opportunity to exercise the right to vote and be voted for (2.1.6).
The Principles and guidelines also mandate Sadc member States observing elections in member states to observe if constitutional and legal guarantees of freedom and rights of the citizens are being observed in the election (4.1.1).
The African Union (AU) reaffirms the need to promote and protect people's rights in accordance with the African Charter on Human and People's Rights and other relevant human rights instruments (Constitutive Act of the AU 2000 Article 4d).
The African Charter on Democracy and Elections (2007 articles 3(7)) supports "effective participation of citizens in democratic and development processes and in governance of public affairs".
Diaspora voting in Africa is fast becoming the norm. Most Sadc countries have mechanisms in place to allow their citizens living abroad to vote, or are in the process of implementing mechanisms to do so.
Angola, Botswana, Eswatini, Mozambique, Namibia and South Africa now have mechanisms in place for their citizens in the diaspora to vote in elections in their countries. Zambia is in the process of implementing similar mechanisms. Zimbabwe, which has a Constitution that grants universal suffrage to its citizens, needs to urgently amend the Electoral Act to comply with provisions of the constitution.
We expect parliamentarians and senators across the political divide to support the call for the diaspora vote in all the ways they can. We may be forced to campaign against any candidate for the constituency who does not take positive action in support the call for diaspora vote, irrespective of which political party they belong to. - Rosewiter Mangiroza
Lithium deposits should lift Goromonzi district's status
AS social and economic justice activists (Sejas), we have a responsibility to shed light on injustices.
The press is one such means of disseminating key information. Concerning our locality, we have written articles in the Zimbabwe Independent to disseminate information on what is happening in Goromonzi in terms of resources allocation in line with the Goromonzi Rural District Council (GRDC) strategic development plan.
Goromonzi is a peri-urban rural district with a population of around 350 000 people, but the current scenario is not tallying with service provision.
GRDC is falling to provide basic health services, education, energy and social infrastructure while the area is endowed with lithium.
Zimbabwe is rated number six globally because of the lithium deposits that are in ward 13 of the district, but there is no secondary school in this ward.
Schoolchildren are travelling long distances to attend lessons in adjacent wards namely 12, 14 and 16, but there is the Arcadia lithium project being run by miner Prospect Resources.
As for corporate social responsibility, for one, they must build a school so that they plough something back in the community of ward 13.
As Sejas, we are pushing for 66 mining companies in Goromonzi to be developmental partners so as to facilitate infrastructural development. The district ranks among the top 10 in terms of early child marriages, among other social problems.
The poverty prevalence rate which is around 72%-74% is catalysing school dropouts, drug abuse and child sexual abuses.
GRDC must improve in terms of revenue collection from these mining companies' unit taxes from 1% upwards so that the council facilitates development using funds from mining companies and devolution funds.
In line with National Development Strategy 1, mining is a pillar of economic development and it is the duty of council to monitor extraction of minerals in Goromonzi district and see to it that environmental impact assessments are done properly.
Employment should benefit locals as first preference and this mining company should embark on value-addition rather than exporting raw materials, which is more beneficial to the district.
Part of our Seja work is to advocate for illicit financial flows to be stopped or the system itself to be eradicated, as well as address water pollution, corruption, tax evasion and illegal exploitation, which are some of the ills here.
Lithium deposits should go a long way in raising Goromonzi district's status since its demand globally is high. - Zimbabwe Coalition for Debt and Development
Prioritise varsity students' transport
WITH an imploding economy and a continuously closing democratic space in Zimbabwe, students at State universities and the University of Zimbabwe (UZ) in particular, are faced with an array of challenges that they have to confront in their everyday life.
Admittedly, the nature and degree of challenges faced by students differs across gender and social groups (males, females, the haves, the have nots and students with disability.)
However, this letter serves to bring out some of the common issues affecting students at UZ.
The most besetting challenges that have characterised everyday struggles at UZ include limited access to on-campus accommodation, transport problems, poorly developed online service system, securing industrial attachment in a collapsing economy and captured student' representation.
Arguably, students' life and the challenges they face at UZ are a micro-commentary of the state of the economy and politics in the country.
One of the most defeating challenges that defines everyday student life at UZ is lack of access to on-campus accommodation.
UZ has an average student population of over 18 000, but can only accommodate about 6 100.
This leaves above two-thirds of the students' population as non-resident students.
Generally, the university prioritises university on-campus accommodation to first and final year students and students with special needs (those with disability and those enrolled in programmes like medicine).
While the prioritisation is rational, more than two-thirds of students will have to figure out how to travel between campus and wherever they reside, putting pressure on their times to study and to attend to lectures efficiently.
The downside of the current accommodation allocation system is that it is a random selection system among the priority groups, which does not decipher the specific accommodation needs of the targeted groups of students.
Previously, while accommodation was reserved for first and final years, further priority was given to those who came from outside Harare.
This would minimise pressure on those who did not have homes in Harare or at least relatives who could accommodate them.
With the current random selection system, there is a high probability that the few who are allocated accommodation are those who ordinarily reside in Harare (mostly so because they have better access to online accommodation application platforms than those from outside Harare), depriving those who come from further to access accommodation.
Lack of accommodation puts transport pressure on students. Getting transport to and from campus is such a huge hustle that non-residence students face on a daily basis (except very few who are picked up by their parents, spouses or partners). With an underdeveloped public transportation system comprising largely Zupco buses and mishikashika (illegal shuttles), students spend an average of two hours waiting for transport to be ferried to or from campus during peak hours. - Zimcodd
Related Topics