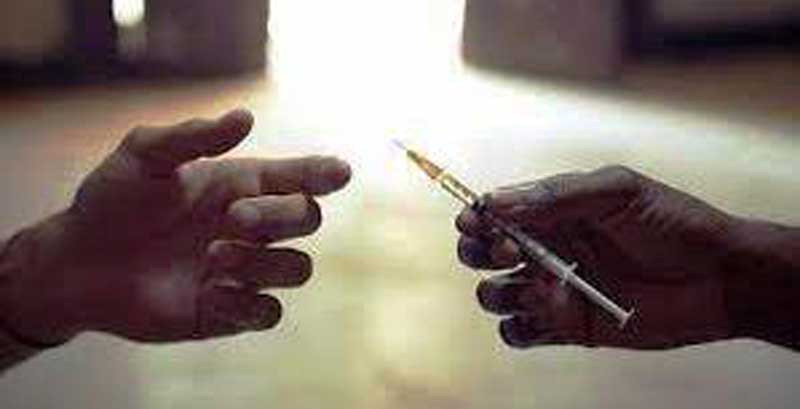 Zimbabwe is facing a serious illicit drug use problem amid revelations that public health facilities have become a major source of prescription drugs being sold and abused by addicts.
This investigation has also established that drug leakages — involving health workers — is rampant in Zimbabwe where sale of stolen drugs now represents a big source of income for health workers, who in most cases are underpaid.
Although there is no official data on drug or substance use because a population size estimate has never been done, anecdotal evidence points to a lot of illicit drug use on the ground in the country.
It is estimated that 60% of young people aged between 16 and 35 years could have used or are using drugs or substances.
Sixty percent of admissions to mental institutions are linked to drug and substance use.
The high demand for illicit drugs in the ghettos is creating incentive for corruption that of late has seen an increase in on-the-job drug theft by health workers in public hospitals.
As such, non-medical use of drugs such as Diazepam, Ketamine, Chlorpromazine, Fentanyl, and pethidine, among others are finding their way into Harare's high-density suburbs through well-orchestrated drug syndicates that involve people who work in public and military hospitals as well as drug lords, popularly known as Bouyaman in drug trade circles.
Transparency International Zimbabwe (TIZ) estimates that close to US$2 billion is lost in Zimbabwe yearly to corruption and findings from TIZ's 2021 research titled, Corruption in the Public Health Sector in Zimbabwe indicated that a large chunk of medication supplied by stakeholders such as the National Pharmaceutical Company of Zimbabwe (NatPharm) to public health institutions finds its way to the streets.
Fifty six percent of the respondents interviewed in the research stated that they had purchased medication that would normally be found at public health institutions on the streets
NatPharm spokesperson Munyaradzi Musiiwa said there was a likelihood of Diazepam being abused in communities because it is readily available in public health hospitals.
"Diazepam is one of the drugs that are readily available in public hospitals because it falls under the donor stock and is not in short supply," Musiiwa said.
"Under the Zimbabwe Assisted Pull System (ZAPS), we have drugs that come from our health development partners as well as local, regional, and international manufacturers of which Diazepam is one of them.
"NatPharm only procures, stores and distributes drugs, and we are not part of what happens at public health institutions because they have their own drug inventory systems."
Musiiwa said his organisation had improved its security at procurement, warehousing, and distribution levels by developing a cocktail of robust mechanisms.
He said drugs such as morphine, which are also used as recreational drugs, were in short supply in public health institutions, which might limit their abuse in communities.
In-depth-interviews carried by The Standard with people who use and inject drugs in Harare confirmed that public health institutions were the major sources of the drugs.
A University of Zimbabwe student who preferred to be identified only as Shelton said they were getting the drugs, especially Diazepam from health workers at Mt Darwin District Hospital, 200km away.
"We take turns with my friends to go and collect our stuff at Mt Darwin Hospital," said Shelton, who is into injecting drugs.
"We buy the drugs, syringes and needles from health workers at the hospital."
Tsitsi, a sex worker in Caledonia, northeast of Harare said she didn't care knowing the name of the drug.
"We go to Rasta's house where we are injected, but I don't know the name of the drug," she said.
"If I get this drug in my body, I can be high for several days and do my work without fear.
"The guy, who supplies Rasta, works at Parirenyatwa Central Hospital and also brings syringes and needles."
Tsitsi said Rasta charges US$7 for a shot and if you want him to administer the injection, he needs an extra US$3.
Apart from drugs, cartels operating mainly in the high-density areas also sell syringes and needles, and in some cases give shots to those who would want to be injected, at an extra fee.
"I get my shots of Diazepam or pethidine for US$10 from a man called 'Musoja' who lives along First Street here in Mbare," said Munford, who injects drugs.
"He is called Musoja because he works at a military hospital and specialises in selling these kinds of drugs.
"We don't know where he gets them from, but he is familiar with drugs."
Munford said Musoja charged US$7 for a shot and adds an extra fee if he is administering the drug.
Diazepam, which comes in the form of an injection or pills (referred to as Mangemba or Maragada in street lingo), Ketamine, Chlorpromazine, Fentanyl, and pethidine are the drugs of choice in the ghetto.
"Diazepam is used mostly in mental health departments and is prone to diversion by health workers through well-organised syndicates in the psychiatric unit," said a nurse at Harare Central Hospital.
"The nurses can falsify the number of patients to be prescribed a certain drug and its either they administer it to the patient, skip or replace the drug with water while they pocket the drugs for sell.
"There are cartels that include doctors, nurses and pharmacy staff who pass the drugs to their runners in the ghetto for resale.
"False referrals and fake prescriptions can be created, and drugs are collected from the public hospital pharmacies at giveaway prices."
A shot of Ketamine or pethidine costs around US$2 at a public hospital and the price is quadrupled on the streets.
The same modus operandi is being used to divert drugs from major public health institutions — Chitungwiza Central Hospital and Parirenyatwa Central Hospital — as well as other public hospitals.
Community Working Group on Health executive director Itai Rusike said drug diversion was a cause for concern at a time when most drugs were out of stock at public health institutions.
"The problem with such activities is that they are unregulated, making it difficult to ensure appropriateness of drugs, avoid side effects and complications," Rusike said.
"While the practice is at low level, it is a problem that requires close monitoring and communities can assist in monitoring the availability of vital drugs, particularly at clinic level where supplies have fallen drastically.
"They can whistle blow on leakages, theft, improper use of drugs and unregulated markets."
Rusike called for the advocacy for stronger penalties for people leaking drugs from public services into communities for profit.
Health expert and medical doctor Johannes Marisa said it was possible that drugs such as Diazepam were being abused in communities.
"It's not surprising that Diazepam is being abused in communities because it's not classified under the dangerous drugs and its actually put in trolleys in casualties and outpatient departments during emergencies unlike drugs like morphine and pethidine," Marisa said.
"So, Diazepam is one drug that is easy to steal in public hospitals and easy easily available at any hospital or pharmacy hence the abuse in communities."
Marisa said when one decided to abuse Diazepam recreationally; they were opening themselves up to several harmful effects.
"When Diazepam is abused, the risk of death is heightened considerably," he said.
Marisa said problems that came along with injecting opioid included increased incidence of blood-borne infections such as hepatitis B virus and hepatitis C, HIV and bacteria that caused heart infections.
Patients bear the brunt of drug diversion, according to social commentator Dorothy Chirwa-Tumbo.
"Drug leakages and theft affect patients the most as they are compelled to undergo certain medical procedures and post-surgical recovery without pain relief," Chirwa-Tumbo said.
"It's beyond belief that those people trusted to save lives are the ones putting patients' lives at risk."
In 2021, the Supreme Court confirmed the forfeiture of a Ruwa house belonging to a former Parirenyatwa Central Hospital pharmacy stores controller, Tatenda Mwenye, which was believed to have been built from the proceeds of stolen drugs and medical accessories.
However, Zimbabwe Anti-Corruption Commission (ZACC) spokesperson John Makamure said the anti-graft body was yet to receive reports of drug diversion at public health institutions.
"We haven't received such reports, but we strongly urge whistleblowers that have the information to come forward so that we make investigations," Makamure said.
Social accountability expert Olivia Gumbo said the ZAPS could not detect such activities within public hospitals and called for robust drug inventory systems.
"It's difficult to detect such kind of theft through ZAPS, but public hospitals should improve their own drug monitoring systems," Gumbo said.
"Basing on allegations without evidence will not solve this problem.
"There is a need to come up with community watchdogs, which will monitor these activities and bring evidence to institute proper investigations."
She said empowering community systems was the panacea to curbing drug diversion in public health institutions.
Health and Child Care ministry's public relations communications manager Donald Mujiri said he wanted to confirm with CEOs of the public health institutions first before he could comment.
"I am yet to get such a report from the hospitals, but can you put your questions in writing so that I engage the CEOs of the said hospitals," he said.
Questions sent to Mujiri had not been responded to by the time of going to print.
In an effort to tackle the issue of illicit drug use, President Emmerson Mnangagwa early this year set up an inter-ministerial committee, which is overseen by Public Service, Labour, and Social Welfare minister Paul Mavima.
Police on the other hand have had numerous operations targeted at drug dealers and according to a Zimbabwe Vulnerability Assessment Committee (ZimVac) report, 1 058 people were arrested between January and July this year with drugs valued at $24,7 million recovered.
Zimbabwe Civil Liberties and Drug Network (ZCLDN), an organisation that advocates for the effective strategies for addressing problems associated with drug use in the country, carried recent research which shows a sharp rise in the use of psycho-active substances among youths.
The research also showed that there is a high prevalence in the use of both hard drugs and injections with evidence pointing out to abuse of position by some rogue health workers who are injecting youths..
"Substance and drug use is a problem that has ravaged many communities in our country," ZCLDN projects executive director Wilson Box.
"Corruption has been a big challenge especially at public health institutions and ports of entry where these drugs are being smuggled from."
Box said the existing legal frameworks such as the Criminal Law (Codification & Reform) Act, Chapter 9:23 (57) and the Dangerous Drugs Act Chapter 15 were outdated and do not sufficiently deal with the importation, exportation, production, sale, distribution, use, abuse, and trafficking of drugs.
He said the Zimbabwe National Drug Master Plan (2021-2025), adopted by the government in September last year, would provide a clear roadmap to addressing the cross-cutting drug use problem in the country.
The story is published under the Voluntary Media Council of Zimbabwe Investigative Journalism Fund.
Related Topics