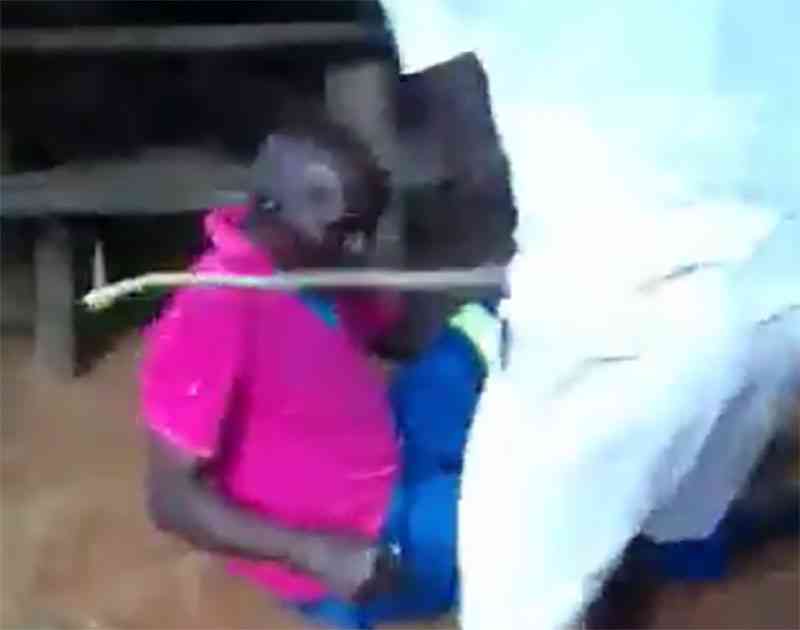 SEVERAL villagers in Murehwa were over the weekend left nursing bruises and sore limbs after suspected Zanu PF members reportedly attacked opposition Citizens Coalition for Change (CCC) supporters in the district.
The villagers, mostly elderly, were gathered at the homestead of a party member only identified as Seremani, according to information by CCC spokesperson Fadzayi Mahere.
The incident was exposed in a video that has gone viral on social media, sparking public outrage as many cases of political violence in the country's rural areas escalate ahead of this year's general elections.
In the video, alleged Zanu PF youth militia, with flog sticks are seen questioning the elderly villagers why they were gathered to support CCC at their old age before severely flogging them.
The matter has been reported to the police, who have since confirmed the incident and have instituted an investigation.
"The Zimbabwe Republic Police (ZRP) has taken note of a video which has gone viral on social media on alleged political violence in Murewa North. Investigations are now in progress. More details will be released in due course," national police spokesperson Assistant Commissioner Paul Nyathi said.
Zanu PF director of information Tafadwa Mugwadi, however, described the Murehwa violence as political "spin".
"I have just seen a violent and horrible scene in a video circulating, targeted at some villagers. This should be condemned by every sober human being created in the image of God and all our eyes should be on the next steps ZRP takes to deal with this matter. I condemn this conduct unreservedly. The culprits should be brought to justice," Mugwadi posted on his Twitter page.
"What I, however, find irresponsible is when desperate clueless political upstarts begin to drive and wage misleading narratives that the perpetrators should be referred to as Zanu PF supporters. This is needless and regrettable. There is nothing in statements uttered or visuals shown which identifies the culprits as Zanu PF supporters.
Zimbabwe will hold general elections at a date yet to be announced, but human rights defenders have red-flagged escalating political violence against CCC members, saying this could jeopardise the poll.
Top CCC officials led by Marondera Central legislator Caston Matewu, yesterday visited Murehwa in solidarity with the victims.
"We came here on behalf of the citizens. We are here to ensure that we take care of the citizens who were victimised and assaulted by Zanu PF members. We came to ensure that they get the clinical and psychological care they require.
"What we call upon is for the police to act decisively and bring the perpetrators of violence to justice. Every citizen, whether in the diaspora or not is protected under Chapter 2 of the Constitution on freedom of association and other basic human rights," Matewu said after the visit.
Last year, CCC activist Mbogneni Ncube was stabbed to death in Kwekwe by an alleged Zanu PF member at a rally that was being addressed by CCC leader Nelson Chamisa.
On several occasions ahead of the March 26, 2022 by-elections, CCC members and journalists were injured following violent attacks by suspected ruling Zanu PF party youths who were attempting to block Chamisa from addressing his party supporters.
Chamisa also survived several alleged assassination attempts after purported Zanu PF activists, in connivance with suspected State security agents set up roadblocks to block Chamisa each time he travelled to some parts of the country to address his party supporters.
In Insiza and Matobo ahead of some local authorities by-election, suspected Zanu PF youths left a violent trail of destruction that saw CCC Bulawayo metropolitan legislator Jasmine Toffa hospitalised.
However, as political violence and other electoral malpractices escalate, CCC is seeking the intervention of regional and international bodies such as the Southern African Development Community (Sadc) African Union (AU), and the United Nations (UN) to resolve the political crisis.
Chamisa told NewsDay in an interview that the party was optimistic about external interventions to ensure that elections were held in a free and fair environment.
"The world is fully briefed. We are in constant communication with all key bodies, Sadc, AU and the UN on critical matters affecting Zimbabwe. There is good progress on the engagements. They are understanding what the issues are," Chamisa said.
"Our focus is to make sure that we have a credible election, we implement the necessary mechanisms and reforms to have a credible election. (There may be resistance), but that is what Zimbabwe and the world want to see. There is good progress and we remain focused and optimistic that we will not disappoint the world and our forbearers who sacrificed so much in the liberation struggle."
Related Topics