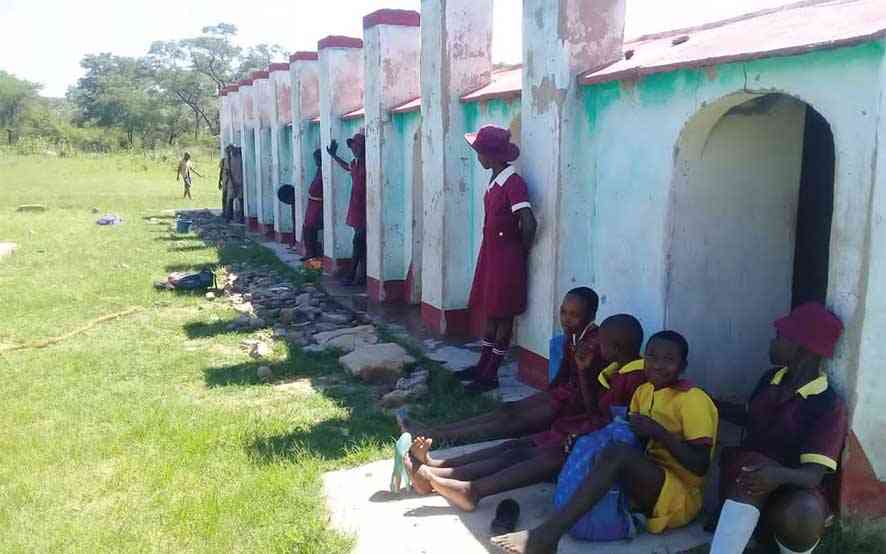 THE state of affairs at Somlimo Primary School in ward 10, Nkayi, Matabeleland North province, is a cause for concern for the community amid reports that pupils have to take shelter in the toilets when it rains due to the poor state of infrastructure.
The school reportedly has an enrolment of 450 pupils with eight teachers, and 12 classrooms. As a result, learners end up sheltering in toilets during bad weather.
This week, the Nkayi Community Parliament (NCP) discussed the situation at the school on its virtual platform, where concerns were raised about the vulnerability of pupils to difficult weather situations.
Pictures of pupils standing and sitting in toilets during hot weather conditions were posted in the group with the NCP members expressing their concerns over the sad state of infrastructure at the school.
"This is Somlimo School, things are not well at that place, can you all see the grass thatched hut? Can a Nkayi child pass learning in this environment?" one NCP member asked.
Another NCP member added: "There is a lot to be addressed in this school. What is really happening? There is shortage of classrooms and when the sun gets very hot, children seek shelter in toilets," he said.
"It's bad. Our areas are now shameful. Where can government stand or defend itself from this blatant failure to deliver education? I only bank my hope on prayers as we look for deeper solutions to these problems," Andreas Dube, an NCP member added.
"We need to vote properly because this is wrong, we can't stomach this. We hope a solution will be provided for this."
The NCP members said the school has a classroom block which has not been completed in the past 18 years, much to their chagrin.
Construction of the incomplete classroom block is said to have started around 2004.
Another NCP member Maxwell Masina, who is a former student at the school, said during colonial rule, roads in the country would be completed in less than two years.
"The class room block at this school has not been completed in 18 years. I know that since we have posted the classroom block online, soon we will hear that the Primary and Secondary Education minister (Evelyn Ndlovu) will be visiting the school. We need reconstruction of Skhobokhobo. As we speak, Skhobokhobo school construction is going on well and there is electricity now, but at Somlimo School, the classroom block has not been completed in 18 years."
He said other classrooms have developed cracks and pose danger to the learners, adding that as former students, they were trying to mobilise funds to develop the school.
Another NCP member said he learnt at the school and the situation was bad then, although now it has gone worse.
NCP speaker Nhlanhla Moses Ncube said Somlilo School was physically neglected, which suggests that teaching and learning were also affected.
"It speaks of an uncaring ministry, staff and possibly the community. This obviously puts the lives of the students in danger. The tiredness of the school could be demotivating to the students. As NCP, we call upon the relevant ministry, government and the community to do something to save our children," Ncube said.
Primary and Secondary Education ministry spokesperson Taungana Ndoro dismissed the claims of dilapidated school infrastructure in Nkayi, saying the pictures posted on social media platforms were framed.
"These pictures are framed chief, there is no hiding in toilets taking place here," Ndoro said.
Related Topics