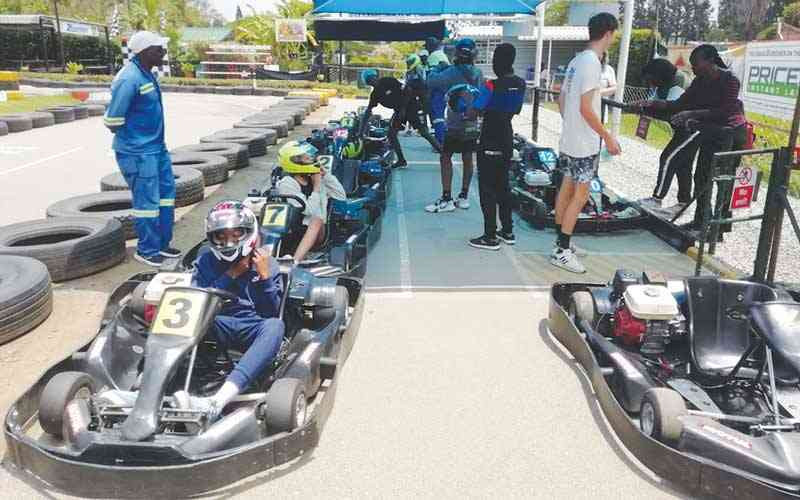 The recently completed kart track situated at the National Sports Stadium in Harare is expected to boost the growth of the sport in the country with a host of national and international events to be staged at the facility.
It is arguably the biggest development in local motorsport since the Donnybrook and it is already operational.
Karting enthusiast Kevin Dufty who is also the proprietor of Pole Position karts racing track in Eastlea is the brains behind the new development.
"The venue provides rental karting for the general public and also an international standard race kart track for owner drivers to compete in local and national competitions. We are able to supply race karts, karting equipment and spares for owner drivers, as well as all necessary safety gear," Dufty said.
"Experienced rental kart drivers will be excited to hear that endurance races and a variety of rental championships will be held at the venue in the coming months. We have also been approached to host a round of a global rental kart championship planned for 2024. Regional series are planned worldwide, culminating in a final that will comprise rental kart drivers from across the world
"The location reflects the importance of this new venue. It's physically located close to town, meaning that it is easily accessible to many people who would not usually be exposed to go-karting. It will be a 'one-stop kart centre'. More than this, though, we are able to provide friendly, professional information to anyone who wants to know more about go-karting," he said.
Dufty and his son Zac who has been racing for 10 years in Zimbabwe and in South Africa as well as at two ROK World Cup races in Italy and also in the UK will oversee operations at the track.
Dufty revealed the plan to take the lead in ensuring the growth of the sport in the country by way of reaching out to schools.
"We plan to reach out to schools as well. Rental karting is a unique opportunity for youngsters to try out motorsport in a safe environment. We envision hosting an inter-school's rental kart championship," he said.
The venue will be 'home' for a new kart club, called Kart Sport which is affiliated to Motorsport Zimbabwe.
Victor Shambare, who is the chairman of the club, encouraged people to come and join the club and learn the sport.
"Once the new race track was ready, we formed the new club to encourage existing and prospective owner drivers to experience this fantastic track and to encourage more people, especially children to take up this exciting form of motorsport. We are running classes for children aged six through to adults and we work closely with Kevin Dufty to source suitable race karts, spares and kit," he said.
Related Topics