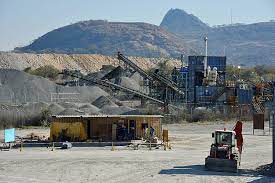 BY SILAS NKALA DISGRUNTLED contract workers at RZN Murowa Diamonds Mine Private Limited in Zvishavane staged a two-day sit-in at the company recently demanding their outstanding pay for the past five months.
Zimbabwe Diamond Allied and Mineral Workers Union (Zdamwu) secretary general Justice Chinhema told Sunday Southern Eye last week that the mine contracted a company called Capafare Investment to do general work in and around the mine.
"It employs about 82 workers. Recently Murowa diamonds terminated the contract of some of the workers, about 43 of them," he said.
"However, these workers have gone for five months without payment. So the workers said they cannot go out of the mine without being paid their dues.
"They stayed inside the mine premises from Wednesday up to Friday."
According to Chinhema, the workers were only moved out of the premises after the intervention of riot police.
Human rights watchdog, the Coalition for Citizens Advocacy (COCA) secretary Wilbert Ndiweni also confirmed witnessing the incident.
"Workers have gone for over five months without pay owing to Murowa's non-payment of their agreed payouts to this subcontracted company," Ndiweni said.
"Interestingly, COCA was told that on its part, Murowa does not fail to pay its own full time workers and everyone wondered why it had to be different when it came to contractors."
In a letter dated August 12 addressed to Capafare Investments, RZM Murowa human resources superintendent Munyaradzi Murowa admitted that the mining company owed contractors before announcing a staggered payment plan.
"Pursuant to the meeting held on August 12 between the management of RZM Murowa, Capafare and Capafare Investments employees representatives, RZM Murowa Diamond committed to make the following payments to Capafare Investments for outstanding invoices to date: Payment of ZWL$11 026 063, 76 for all submitted outstanding Zimbabwean dollars invoices, payment of all submitted outstanding US$ invoices totalling to US$112 874,50 as follows, US$60 000 on or by August 16 and the balance of US$52 874, 50 to be paid in full in two monthly instalments by no later than October 2022," the letter reads.
Murowa also threatened to file criminal charges against the protesting workers if they continued disrupting operations at the company.
"It must be highlighted that the once off measure has been taken in order to resolve the current impasse amicably.
"It is in no way a waiver of the company's rights to take legal action of a civil and or criminal nature as those actions by the Capafare workers are not only unprofessional but also illegal," he wrote.
"Any issues affecting Capafare employees are solely the prerogative of the contractor and must be directed to yourselves and in no way affect the company's operations."
The stand-off is still ongoing.