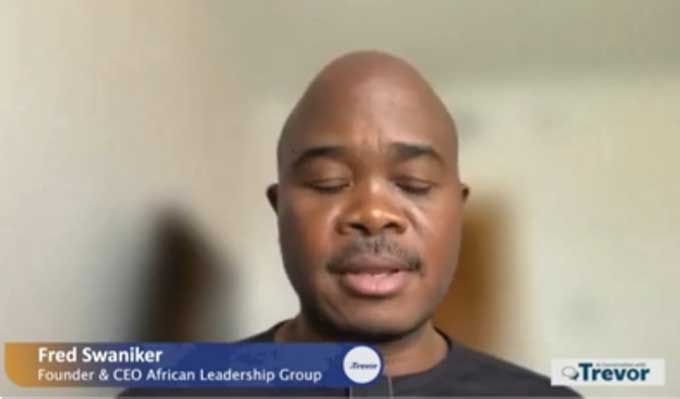 African Leadership Group founder Fred Swaniker says witnessing coups in two different countries while growing up inspired him to set up the institution to groom better leaders for the continent.
Swaniker (FS), who left his native Ghana at age four after a coup and was forced to flee The Gambia with his family six months later after another coup, told Alpha Media Holdings chairman Trevor Ncube (TN) on the platform In Conversation with Trevor that the upheavals in the two countries showed the importance of teaching leadership in Africa.
Below are excerpts from the interview.
TN: Fred Swaniker, founder and chief executive officer of The African Leadership Group, welcome to In Conversation With Trevor Fred.
FS: Thank you very much Trevor. It is great to be here with you today.
TN: Fred I absolutely love what you are doing with the African Leadership Group and I have been watching what you have been doing.
You might not know this Fred, I was invited by your campus in Johannesburg, a beautiful campus, to talk to some passionate young men and women who are doing amazing things and looking forward to be change makers on the continent.
As I was talking to those young people, I was inspired by the potential that the continent has.
I was then saying to myself, what made you do this Fred?
What made you start this? Talk to me about where the idea came from and how you started executing on the idea?
FS: Thank you Trevor. Thank you for visiting the campus and for inspiring our young leaders there. I know they enjoyed their interactions with you.
Perhaps to understand what motivated me and my colleagues to launch this movement to develop leaders, it is important to go back to my upbringing, the beginning.
I was born in Ghana, I am a Ghanaian and I still carry a Ghanaian passport.
At the age of four years my family had to leave the country in a hurry because a military coup had just happened and my father was a lawyer and Jerry Rawlings at the time had conducted a military coup and had been sprung out of jail and he came back into society.
So, he conducted a military coup, was caught and put in jail and then he was sprung out of jail and he came out.
He came out with a vengeance for those in the legal system who had put him in jail.
So, my dad's brother was a prosecutor who had actually prosecuted Rawlings and so he (Rawlings) was out to kill judges and so on so we had to leave the country very quickly to move to The Gambia.
About six months after having arrived in The Gambia they too experienced a military coup.
TN: Wow.
FS: I was five years old and I remember having to wake up in the middle of the night and we had to take all our belongings and go through the bush to a safe house.
For about a week I had to lie under the beds because bullets were flying through the windows.
It was a very vivid memory of the failure of leadership for me at that age.
I continued to experience things like that, being stopped in the streets by police asking you for bribes at a very early age.
I remember thinking that I thought the police were supposed to be protecting us and not asking us for bribes.
Fast forward and I moved to Botswana and everything was different.
In Botswana things functioned, there were no military coups, the government changed peacefully every year, there was great infrastructure.
Back then in the 1980s they had fibre-optic technology.
If you wanted a phone line in your house you just called the phone service and they brought it the next day, you did not have to pay any bribes.
It was a very different country. I also spent about four years living in Zimbabwe and at the time Zimbabwe was also very highly functioning. I remember they used to deliver milk to your house in these bottles!
TN: Hahahahaha!
FS: It is like what I used to read about in story books!
The education system was great. I lived in Bulawayo for two years, I attended Christian Boys College. Before that I lived in Gweru and attended Chaplin for my ZJC. It was just such a highly functioning country. I realised that where good leadership was in place.
TN: Can I hold you there Fred? Because that story of milk is a story Fred you might not be aware of. It is a story I share wherever I speak publicly about what has happened to Zimbabwe.
So, when I was doing primary education, in the evening my mother would give us two empty bottles of milk and we would go and put the empty bottles of milk outside on the street with 2 1/2 cents in each bottle, and we would go to bed and sleep.
When we got up in the morning at 6am, before bathing to go to school, there would be two bottles full of milk.
One had a yellow bottle top, which was full cream milk, and the other had a blue tip which was not full cream milk. We got those bottles and put them inside.
I always say to people, imagine what would happen today if I did that in my neighbourhood where l live? And the answer is: The milk will not be there, the bottles would be stolen, the 2 1/2 cents would be gone.
That is the change from the kind of Zimbabwe that we experienced. Anyway, I broke your stride Fred, please continue.
FS: You are right there. What you said is exactly a great embodiment of the change that happened in Zimbabwe because fast forward to 10 or 20 years later after that experience in Zimbabwe, as we all know again, due to a failure of leadership, had really gone in the completely opposite direction. The infrastructure was crumbling, so many people had left the country and you know you could no longer leave your milk bottles outside and find milk the next day!
TN: Hahahaha!
FS: Through all those experiences it really became crystal clear to me that if Africa was going to move forward it would only do so on the back of good leaders.
Unless we developed leaders in a more deliberate way, not hoping they just dropped on us by accident, we would not then continue on a lone destiny as a continent.
So, these are some of the influences that got me to really think about whether we can create a specific system.
Almost like a factory that can manufacture the leaders that we need, so we are not just leaving it to chance.
The other thing about my background is that my family has been involved in education institutions for a couple of generations.
My grandmother started a school while she was still in Ghana, my mother started a school whilst we were living in Botswana but at the time she had a full-time job as a teacher and my Dad had just passed away.
So, the parents in the town approached her and said she had a really good track record as a teacher and so could she start a school.
She said she could not as she had four children to look after and her husband had just passed away.
They insisted and eventually she gave in and she started a small study group with five children and one teacher.
Then it grew, and but the time I finished my 'A' Levels which I had done at CBC (Christian Boys College) in Zimbabwe, I had one year to wait before I went to college, so she made me headmaster of the school.
At 18 I ran the school and I saw the impact education could have on transforming people's lives.
Now as I look back I realise that experience was preparing me for what I was to do later.
A few years later I was 25 years old, I had gone and finished college, I had worked for McKinsey in Johannesburg and had done some work in a start-up and now I was at Stanford doing my MBA.
That is when all these things came together.
I reflected on the importance of leadership, my experience in starting education institutions I thought why do we not create a school that will develop leaders?
That will train the leaders that we need and so began the whole African Leadership Group.
TN: Tell me, do you remember the process or the idea where you had that eureka moment? That this was what you wanted to do? Do you remember and the process of that idea?
FS: I vividly remember it. I had worked for McKinsey before my MBA and that is  he who sponsored me to go to Stanford.
So, while I was there I decided to do an internship between my first and second year.
I went to Nigeria to help start a micro finance institution.
I met all these wealthy families who were lawyers and bankers and all that.
They were complaining to me about the fees that they were paying to send their children to expensive schools in the UK.
They were paying something like US$40 000 a year to send their kids to the UK.
Some of them had like four kids and I said wow, why are we making such sacrifices to send our kids outside of Africa for education.
My initial reaction was here is this great business opportunity, let me build a school and I can charge these Nigerians and make some money, right?
So, I went back to Stanford for my second year and I started writing the business plan for the school.
After about two weeks I said to myself starting up a school is a lot of hassle, it's not easy so if I am going to do it let it solve a bigger problem than just a problem for these rich Nigerians, that is the bigger problem that Africa has.
I had been thinking on the issue of leadership, like I said since the age of four years.
So, I thought let us make that the focus of this school.
To train better leaders for Africa and let us call it The African Leadership Academy.
We had a vision that it would develop 6 000 leaders for the continent of Africa over a 50-year period and so forth.
I wrote the business plan for the next six months.
So by the time I graduated I had a plan to start this academy.
Then four years later we opened our doors and the academy became The African Leadership Network, then The African Leadership University.
Today that small seed of an idea has grown into a very large movement where we have gone from trying to create 6 000 leaders to creating three million leaders and that is really the scale at which we are operating now.
TN: Talk to me from the idea being to transform to the idea being a business plan? From a business plan into reaching out to investment partners and so forth?
Talk to me about that heavy lifting from the idea to project implementation? Who you reached out to?
Who made it possible? Did you do this on your own? Who else came on board?
FS: Initially I took this idea to two of my former managers from McKinsey, they really liked the idea.
They had seen and because they had been my mangers they believed I could actually get things done.
So, they said they would join me.
They did not quit their jobs, they provided some initial seed funding.
There was a guy who was a year behind me at Stanford who later on joined about a year later.
That was sort of the co-founding group.
One of the things I learnt is you cannot really do things alone, you need great partners.
So, these gentlemen joined me as partners. Then I graduated from Stanford and there were a couple of hiccups though.
One of the challenges is that McKinsey had sponsored my MBA, and so the deal was that I was supposed to come back and work for them for two years.
So here I was and I had this great idea.
My initial thought was I would start it and then after two months I would find a CEO to run it so I could go back to McKinsey, but after a couple of months I was like I could not outsource my dream, this is something that was too important and I needed to do it myself.
"In Conversation With Trevor" is a weekly show broadcast on YouTube.com//InConversationWithTrevor. The conversations are to you by Heart and Soul Broadcasting Services
Related Topics