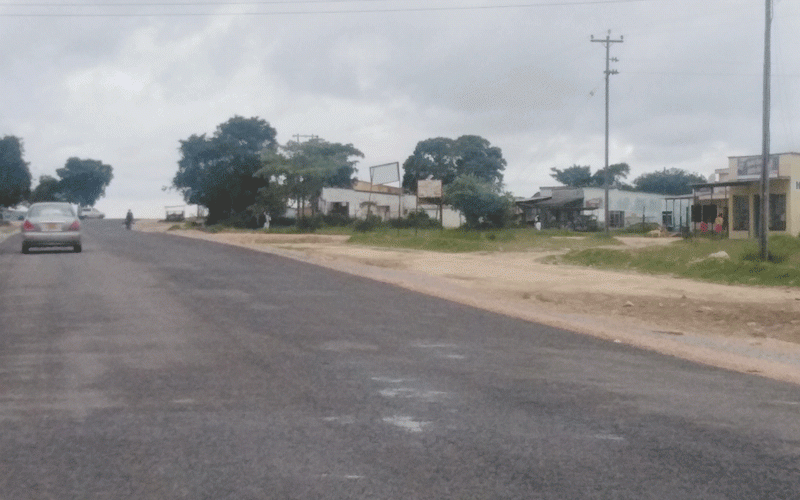 Long forgotten Tongogara growth point in Shurugwi could soon turn into a fully fledged business centre thanks to a road construction project being done in the area.
The growth point, named after the late Zanla commander, Josiah Magama Tongogara, is one of the several rural service centres accorded growth point status by the government shortly after independence.
With the new status, villagers expected a boom in business and a better life, but that has not been the case. Instead the centre was slowly turning into a ghost settlement.
Similar growth points such as Mupandawana in Gutu, Murambinda in Buhera, Mutora (Nembudziya) in Gokwe North, Murewa, Jerera in Zaka, Mutoko and Gokwe are now fully-developed business centres with several amenities.
Gokwe and Murewa have since been elevated to towns, thanks to their booming agricultural sectors and apt road networks.
For the past three decades, no meaningful development has taken place at Tongogara, save for a high school, clinic and Grain Marketing Board depot which receives sporadic supplies of grain and agricultural inputs.
In 1985, through the Public Sector Investment Programme (PSIP), each growth point received a minimum of $160 000 for infrastructural development, which saw the establishment of bus termini and market stalls as well as rural council offices and cottages for council workers.
Villagers in this mineral-rich part of rural Shurugwi told Sunday Southern Eye that the road network would boost economic activities at Tongogara and surrounding communities.
They said all along they felt the government had neglected them at a time when they needed public infrastructure investments the most.
They have since called on the government to fund small-to-medium enterprises as well as other infrastructural developments at the growth point.
"This road construction project is coming at an opportune time and it is going to increase economic activity at the growth point and in the villages," said Elaston Mpeiwa, who operates a business in the area.
"All along it was difficult to set up a business at the growth point; we opted to open businesses at Donga (Chachacha) business centre because there is activity because of the Gweru-Masvingo highway."
Mpeiwa said he would envisage a scenario where the road construction project cuts across the growth point and links Donga and Lalapanzi.
"If we have such a link road, this growth point would be turned into a town," he said.
"We long wanted a tarred road and we thank Mr Kudakwashe Tagwirei who is funding the road construction project."
Shurugwi District development coordinator (DDC) Romeo Shangwa said the road construction would go a long way in improving transport and communication in the area.
"This road project has brought relief to the communities as we have noticed improvements in transport and communication," Shangwa said.
"We have of late seen big public transport players having their buses ply the route, something which had not been happening for some time in the area."
According to the DDC, the road project is expected to link Lalapanzi in Chirumanzi district with Donga.
"It's a big project that's in phases. The first phase was constructing the road up to Tongogara and later moved to Hanke Mission before the final phase that would take us to Lalapanzi," he said.
He confirmed that the multi-million road project was being funded by founder and CEO of Sakunda Holdings Group Tagwirei.
The business tycoon with interests in the energy and construction sector hails from Hanke.
"He has money and is ploughing it back into the community," said a villager.
"I don't mind if he decides to be the MP, I will vote for him considering what he has done in a few months."
Tagwirei could not be reached for comment yesterday.
Government initiated the growth point policy in 1981 in an effort to redress the unbalanced nature of the colonial economy.
The growth of rural service centres was seen as shifting investment concentration from urban areas as well as reducing rural-urban migration.
Development expert Takemore Mazuruse said the idea of the growth point policy was good, but the government was not doing enough when it came to supporting infrastructure.
"It was a good idea, but there was a need to put in place infrastructure like roads which could have supported the growth of these centres," Mazuruse said.
"It was an excellent idea that helped spread economic development and income, while ensuring that those in the rural sector participated in the formal economy."
Meanwhile, Shangwa said apart from the Donga-Tongogara road project, they were rehabilitating a number of roads in the district through the Emergency Road Rehabilitation Programme (ERRP).
"We are working on a number of roads in the district under the ERRP," he said.
"We are also making sure that this year all resources are channelled towards the Mandamabwe-Shurugwi highway which is in a terrible state.
"You will realise that during the Masvingo-Harare road construction, big trucks used this road as an alternative and with the increased volume of traffic, the road was damaged."
Related Topics