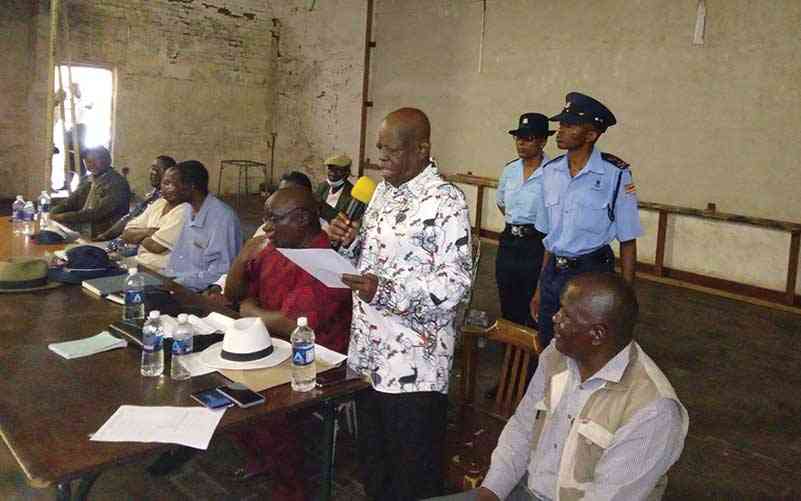 AN 11-member committee has been elected to spearhead engagement between former Zipra liberation war fighters and government to return the former's properties that were seized at the height of the 1980s civil unrest in Matabeleland and Midlands provinces.
This has, however, raised the ire of some Zipra veterans who are arguing that they have, for years, been demanding that their properties be returned, but the government hardly responded.
At a meeting held over the weekend at McDonald Hall in Mzilikazi, Bulawayo, war veteran and former Cabinet minister Tshinga Dube told the war veterans that they must not mix Zapu and Zipra entities.
Dube said this was because Zapu integrated with Zanu to form Zanu PF.
"Comrades you must trust this process. When these properties are returned we shall form a board that will discuss the distribution or methods to cater for all shareholders. Those who have passed on will be represented by their widows or children," Dube said.
At the same meeting, Zipra War Veterans Association's Thoriso Moyo, however, said Dube's initiative was a strategy to brainwash Zipra veterans and destabilise efforts that had already been undertaken by the association to have their properties returned.
"The Zipra War Veterans Association had been pushing for the return of these properties for a long time. We will go back to our committee which has been spearheading this. We are tired of forming committees with a lot of affiliates. What we expected today was the handover of our properties. Why should they involve a lot of people in this? Even our war records are concealed. This is a campaign strategy. We now fear that we will end up being called Zipra4ED,'' Moyo said.
Another prominent Zipra war veteran Thomas Ngwenya said President Emmerson Mnangagwa was supposed to send a government representative to the meeting, not a person from the ruling party.
Committee chairperson Volta Moyo said: "Our task also will be to liaise with various stakeholders to ascertain the authenticity of our findings. We will certainly involve many of our comrades who have knowledge about our properties."
Government seized the properties under the Unlawful Organisations Act (Caveat Number 15 of 82) in the early 1980s alleging that it had discovered arms caches on farms owned by Zapu and Zipra, triggering civil unrest that led to the infamous Gukurahundi massacres.
The Zapu inventory indicate that seized properties include farms and hotels, among them Magnet House, which now houses the Central Intelligence Organisation Bulawayo, Castle Arms in Bulawayo, Green Haven — a huge entertainment facility along the Victoria Falls-Bulawayo Highway, and several residential and business properties in Harare.
The veterans contributed $50 each from their demobilisation payouts after independence in 1980 to purchase the properties through their investment vehicle, Nitram Investments (Private) Limited.
The late former President Robert Mugabe, who at the time was Prime Minister, ordered the seizure of Zapu and Zipra properties at the start of the deadly Gukurahundi onslaught that reportedly claimed the lives of over 20 000 unarmed civilians after the government unleashed the notorious North Korea-trained 5th Brigade to quell civil unrest in Matabeleleand and Midlands provinces.
Related Topics