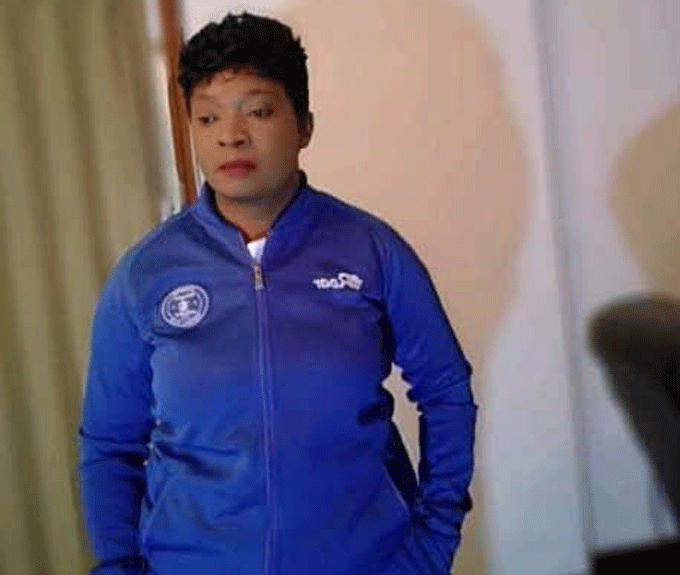 BY SPORTS REPORTER
HAVING coincidentally fallen in love with Dynamos FC at a tender age, never in her wildest dreams did she envision herself being in a position of authority at one of Zimbabwe's biggest and most successful football clubs.
All she dreamt of was to be close to players, but due to her love for the club, she now holds the honour of being the first woman to hold a high post in the Dynamos football executive since the club's formation in 1963.
Esther Mawere rose from just being a mere supporter based in Chegutu to occupy the office of vice chairperson in the Dynamos executive three years ago.
Her appointment was the first for a woman in Dynamo's 55-year history.
And two-years after she stepped down from the post due pressing business and work-related commitments, her rise to the echelons of power in one of Zimbabwe's biggest football clubs remains fascinating.
In an interview with The Sports Hub this week Mawere opened up on her first involvement with DeMbare and her subsequent trailblazing rise at the Harare giants.
"My late brother would take me to Dynamos and it was the environment, which was created at our family home as almost everyone talked about Dynamos, so this led to a close attachment to the club at a tender age," Mawere said.
"So it started when I was still at school. My brothers would always talk about Dynamos, my whole family supported. There was nothing I could do but to join the bandwagon of supporting Dynamos and thus the interest of soccer was born.
"I never saw myself holding such a powerful post at Dynamos, and up to now, I still can't believe that I rose from just a mere supporter from Chegutu to hold such a powerful post in a team that occupies my heart," she said.
Her rise to the top of one of Zimbabwe biggest clubs could have been a case of sheer coincidence for the Chegutu businesswoman after a chance meeting with the then Dynamos coach Lloyd Mutasa and one of the club's supporters Adomsi Makosi Mukwasi in 2017.
"I was doing my studies in Harare and staying at a local hotel. It is on this day that I met Adam (Mukwasi) and Lloyd Mutasa, outside the hotel. The match had been postponed, hence I asked if I could have lunch with the boys at the hotel. I think it was by coincidence that Dynamos had their match postponed, and I saw them at a local hotel I was staying. I then engaged Lloyd Mutasa and asked if they could come to Chegutu for a friendly match against Chegutu Pirates," said Mawere.
With the offer to host Dynamos players accepted, this marked the beginning of her journey with Dynamos Football Club, which was to see her being the first woman club vice-chairperson in the history of the club.
"They accepted the offer and came to Chegutu where and we did everything in a single day. We painted the town blue and white so when Dynamos came, players and the executive were impressed at what they saw in Chegutu," she said.
"They didn't know that Dynamos had a massive following in Chegutu until that day and from then on I suggested that when Dynamos was playing its away matches they could stop over for lunch.
"I became a popular figure with the players and members of the executive. that was when one executive board member told me that I should meet Dynamos chairperson Bernard Marriott."
She was to seal her place in the Dynamos executive after hosting a successful Dynamos Football Club Supporters Chapter annual general meeting at her home in Chegutu.
"So sometime towards the end of 2017, I hosted the Dynamos Football Club Supporters Chapter at my house in Chegutu, and the club's board members came to the meeting," she said.
With her restaurant in Chegutu having become a stop-over for the Dynamos Football Club squad on their away matches, news filtered into the ears of the club's board chair, Marriot of the club's new benefactor.
It was at the beginning of 2018 that she received an invitation to join the club's executive, and without a second thought she agreed.
Not only was she to become an executive member of the Harare giants, but she was handed the powerful position of club vice-chairperson.
"When I received my appointment letter, the feeling was surreal. I couldn't believe what I was looking at.
"For me, being in the executive was not something that I expected and for me to become the first woman in the DeMbare executive was surreal, it is something that I will cherish for the rest of my life," she said.
Even after stepping down from her role Mawere remains passionate about the club.  Mawere is the mother of talented rugby player Neil Mawere, who made his Sables debut in the Victoria Cup two years ago as a hooker.
Related Topics