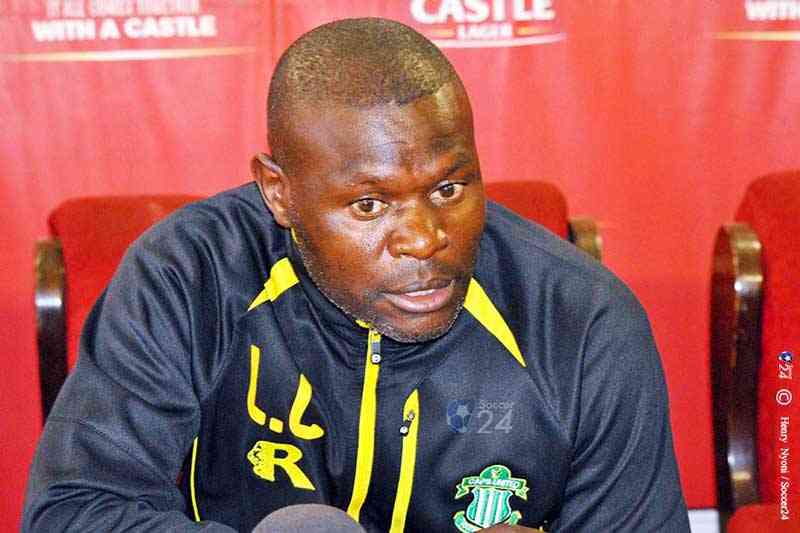 CAPS United coach Lloyd Chitembwe sees the Harare derby against bitter rivals Dynamos on Sunday as an opportunity for his team to showcase their capacity, despite a failed season.
The Green Machine struggled during their entire campaign largely due to financial challenges and they found themselves entangled in relegation battles at a critical stage of the campaign until recently.
And Chitembwe is excited to close what has been a terrible season with the Harare derby. He says it offers them a chance to show what they can bring to the table in such games.
The Caps United coach said he has been pleased with the spirit in the dressing room in the build-up to Sunday's encounter at the National Sports Stadium.
"We have been working on all the aspects that are key in a match, defensively and offensively. All the players are available to play and we do not have any suspensions. We hope they will do a good job for us. I also want to say the spirit is very good. They are looking forward to the match. They have shown the right kind of desire to want to win the match and I think that is very key. Obviously, what is more important is the mindset of the players and the mindset has been perfect. They look quite focused,' Chitembwe said.
He added that after such a poor campaign, the derby offers an opportunity for them to give their fans something to smile about.
"As a coach I think you ought to respect these kind of games. They mean a lot to us as Caps United considering what we went through this season. It's not a secret that we went through hell this season and is an opportunity to show our capacity as it is the last game of the season and what a way to close down on a poor season. I think we just want to atone for all the things that went wrong during the entire season and hope to maximise or capitalise on the game and bring joy to the fans because this is one game that has literally nothing other than the historical sense behind," Chitembwe said.
The Makepekepe gaffer said the match was different from the other matches and said there was no pressure on the team.
Dynamos emerged 3-0 winners in the first instalment of the Harare derby and will be looking to complete a double.
"There is absolutely no pressure on us. It's not going to generate much interest from the fans as the other matches but that being the case, I am sure it also creates an environment where there is less pressure. Players tend to play with more freedom and are able to express themselves. I am looking forward to it and I think it is going to be a very good game," Chitembwe added.
Follow us on Twitter @NewsDayZimbabwe
Related Topics