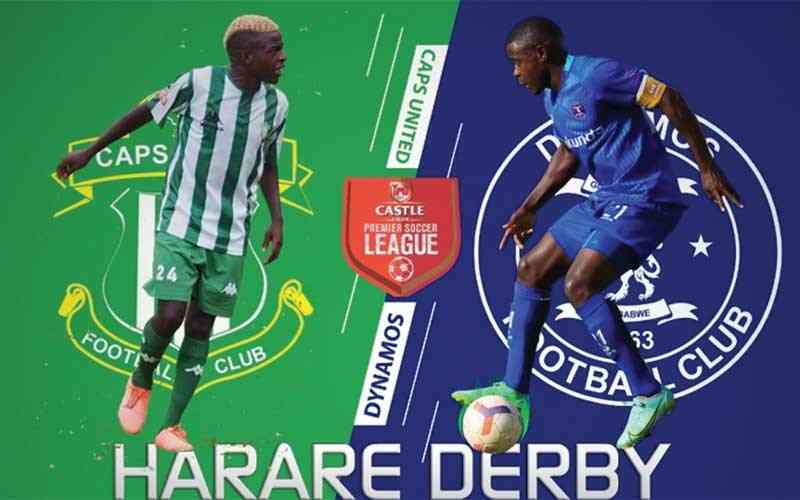 IT doesn't feel like there is a big Harare derby pitting two traditional giants of Zimbabwe football CAPS United and Dynamos today.
This is a fixture that needed very little advertisement over the past years and the Premier Soccer League and sponsors made a feeble attempt to bring this big match back to life by visiting drinking spots in Harare dishing out match tickets and different prizes yesterday.
The whole idea was to try and lure fans who have deserted their teams this season in the wake of their struggles.
"Join us as we celebrate the HARARE DERBY and stand a chance to win match tickets, branded T-shirts and lots of prizes as our activation teams visit selected drinking spots this weekend in Harare," the PSL wrote on their social media platforms.
In the past this encounter was a cash cow for the league and the host side, but barring any miracle, the host team in this case Dynamos, may incur a loss.
One can tell that both teams just want to get the season over and done with so that they can reset and start preparing for next season.
Dynamos have failed to live up to their early season promise and could not stop FC Platinum from claiming a record equaling fourth league title.
And just like CAPS United, they have failed to win their last three matches, recording two defeats and one draw while the latter have two draws and a loss.
At the moment DeMbare sit in third place.
Makepekepe on the other hand occupy 11th place going into the weekend fixtures and cannot do better even if they win the Harare derby.
After they lost the reverse fixture 3 – 0, CAPS United are hoping to salvage some pride in this tie.
"As CAPS United it's not a secret that we went through hell this season. We now want to show our capacity in this last game of the season. We want to atone for our wrongs for the entire season," coach Lloyd Chitembwe told journalists on Thursday.
"The spirit with the boys is very good. They have shown the right desire to want to play this game. What is more important is the mindset of the players going into this game as the boys look very focused.
"As a coach, you ought to respect these kind of games as they are very important. We will go into this match with a positive mind, try to outplay them and win the match. Matches against Dynamos are always like cup finals and we will try to win it. There is a lot at stake," he said.
But Chitembwe is resigned to the fact that the 'big' match has generated less interest from the fans pointing to yet another empty National Sports Stadium.
Dynamos have themselves to blame for a poor season in spite of massive cash injection from sponsor Sakunda Holdings at the start of the season.
The decision not to award players their bonuses during the season had a clearly detrimental effect to the team's performance while a midseason blunder which saw them suspend coach Tonderai Ndiraya under unclear circumstances disrupted Dynamos' positive run of form.
Trying to put a brave face, under fire Dembare coach Tonderai Ndiraya declared that the team had a good season.
"I generally believe that we have had a good season, judging by our recent past standards. In the last six years we have not been doing well as a team, so I think this has been a huge achievement in terms of building the team.
"Going forward I think the team has a strong chance of winning the title. We are back to be a title contender after quite a long time of being on the other side of the log. So it's important for us to finish strongly so that we lay the foundation for next season's campaign," he said.
Interestingly CAPS United and Dynamos have not played a goalless match in the league, derbies since November 2010.
Simply put the derby has provided fans with something to cheer about in the past 19 matches spanning 12 years.
Perhaps, it's a derby one cannot afford to miss.
Related Topics