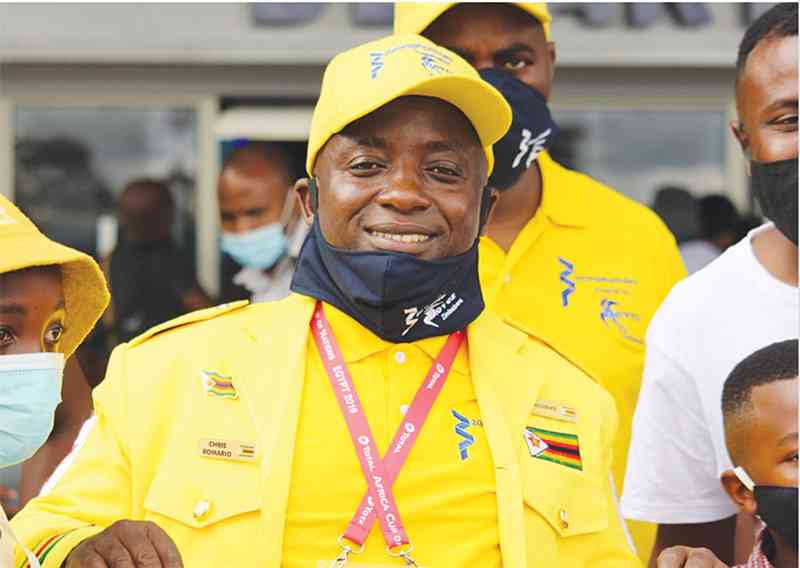 WARRIORS cheerleader, Chris "Romario" Musekiwa has made an impassioned plea to the Sports and Recreation Commission (SRC) to "swallow their pride" and reinstate Felton Kamambo and his Zifa executive board so that the country could be readmitted into the international football community.
Zimbabwe was indefinitely suspended by Fifa last year following the decision by the SRC to disband the Zifa board over a litany of charges, including alleged misappropriation of Fifa funds.
The sanction means that all Zimbabwe national teams and local football clubs cannot participate in international football.
The world football governing body has said it will only lift the suspension upon reinstatement of Kamambo and his board.
But the SRC is adamant that Kamambo and his crew will never again set foot at number 53 Livingstone, the headquarters of Zifa.
The regulator, instead, appointed a Zifa restructuring committee, which last month produced a report giving recommendations on how to reform the domestic game.
However, the Warriors' number one fan, Romario, has said he is worried that all these efforts by the SRC will come to naught if they don't do what they were ordered to by Fifa.
"The situation with our local football is not pleasing," Romario told NewsDaySport yesterday.
"It's high time the SRC swallow their pride and just adhere to what Fifa said so that our football can be saved from imminent total collapse. That is the only way. If SRC do the right thing, it won't take even 48 hours for us to be reinstated back into the Fifa family."
Romario said local footballers and clubs are missing a lot of opportunities due to the suspension.
"These players have missed a lot of opportunities already, and we can't continue on this path. We cannot afford to miss the upcoming 2025 Afcon and 2026 World Cup qualifiers. The junior teams, both men and women, are missing a lot by not participating in qualifiers and tournaments. We are killing a whole generation of footballers because of some egos.
"Right now we have Warriors players who are doing well for their clubs abroad and are at their peak. They would have wanted to transfer that form into the national team, but cannot. We have Marshall Munetsi in France, Tino (Kadewere) in Laliga, Jordan (Zemura) in the EPL, Marvelous Nakamba and Knox Mutizwa to mention a few. These could have been a backbone for our Warriors team and shine at platforms like the Afcon. This is a generation that has been killed."
He claimed that the domestic league has lost its appeal due to the Fifa suspension, resulting in fans staying away from local matches.
The local league suffered from serious supporter apathy last season, with some games attracting less than 50 fans.
"As supporters we have decided to go and support netball and cricket because there is a lot of confusion with our football. The ban has turned our league into social football and the quality has deteriorated because the players are not motivated at all. They are just playing for the sake of it. Players are motivated to play well knowing they are fighting to be selected to play for the national duty to represent the country at tournaments like Cosafa, Chan and the Afcon. But at the moment they are playing social football with nothing to inspire players to do well.
Romario said the supporters groups will soon lobby to meet the SRC and present their case.
"We need to present our views because what they are doing is just a waste of time. They just have to reinstate the board and let them finish their term and we will start from there. Football issues have got their channels which need to be followed."
A number of stakeholders including player Munetsi and former Zifa vice-president Omega Sibanda have also publicly implored the SRC to reinstate Kamambo so that the Fifa suspension can be lifted.
Romario wants more stakeholders to come out so that they can force the regulator to act.
"It's high time all the stakeholders speak with one voice. We appreciate what players like Munetsi are doing. Organisations like the Footballers Union of Zimbabwe should also come out and make a stand. It might make a difference. It's not like we will tell the SRC what to do but we are just making an appeal. At this stage they (SRC) should put the national interest first. Let us all tell them that we want to see our Warriors play the next qualifiers and have all national teams bounce back to the international scene," he pointed out.
"We have good players out there who could have qualified for all the continental tournaments that have been played since we were banned. How are the players going to make up for all that lost opportunity of playing at the Chan, Cosafa and Afcon tournaments? Our clubs also lost the opportunity to play in the upcoming Super Cup league where not only players were set to get exposure, but the clubs were set to benefit financially."
Dynamos and Caps United were set to compete in the inaugural 24 team Caf Super Cup League this year with each club in the cross-continent competition receiving US$2,5 million to help fund their preparations and participation.
FC Platinum and Bulawayo Chiefs who last year won the league and Chibuku Super Cup, respectively, also missed out on the chance to play in Caf competitions this year due to the Fifa ban.
Kamambo and his executive were booted out in November 2021 on various charges including misappropriation of Fifa funds and failure to deal with sexual harassment allegations on female referees.
The charges have, however, not been substantiated and no arrest has been made more than a year later.
Related Topics