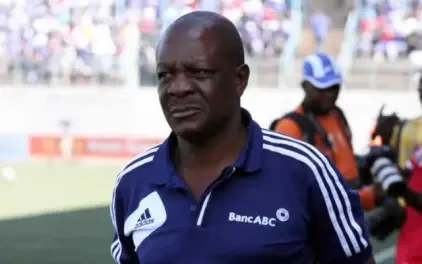 THE Premier Soccer League (PSL) has descended heavily on Dynamos team manager Richard Chihoro who has been indefinitely banned from conducting his club duties for alleged acts of misconduct.
Nyoka, as the long serving DeMbare official, is affectionately known, hogged the limelight for the wrong reasons during the club's opening league game against Hwange at the weekend when he was filmed sprinkling unknown substance on the opponent goal line area during halftime of the clash in a suspected case of "juju".
Hwange goalkeeper Nedrick Madeya had his white towel snatched away from him just before the start of the second half by a Dynamos supporter, who set it alight.
Coincidentally, Dynamos, who had been frustrated by Madeya in the first half and hit the bar three times in that period, went on to score a goal late in the second half to win 1-0, courtesy of Tinashe Makanda's effort.
But it was the halftime incidences that perhaps spoiled what was somehow a very good match between the two sides, and a number of people have been united in condemning Chihoro for his unsportsmanship behaviour.
And the PSL has since summoned him to appear before a disciplinary committee following his acts of misconduct at Barbourfields Stadium.
The league announced the development in a statement yesterday, adding that Chihoro will be banned from conducting his duties until the matter has been finalised.
"Mr Chihoro will not be allowed anywhere near the team bus, changing rooms or to sit in the technical area during PSL matches until the matter has been finalised," PSL wrote yesterday.
"Mr Chihoro is being charged for breaching Order 31 of the PSL Rules and Regulations which makes it an act of misconduct on the part of a player, official, servants or duly authorised (express or implied) representatives of a club who;
31.2.16 Commits any act or makes any statement, either orally or in writing or has been responsible for conduct which is considered ungentlemanly, insulting or improper behaviour, or likely to bring the game, sponsors, any member, the League, Zifa, Caf or Fifa into disrepute.
31.2.17 Behaves in a manner which brings the League or any of its sponsors into disrepute or endangers the welfare of the League."
The disciplinary proceedings are set to take place on April 5, which rules Chihoro out of his team's matches against Sheasham and Simba Bhora. This is not the first time that Chihoro has been found on the wrong side of the regulations in recent time.
Just last season, Nyoka was fined USD$2 000 for his part in the skirmishes that rocked Barbourfields when Dynamos played Bulawayo Chiefs.
He was charged for leading a protest against referee Hardley Ndazi's decision to award the hosts a penalty.
Follow us on Twitter @NewsDayZimbabwe
Related Topics