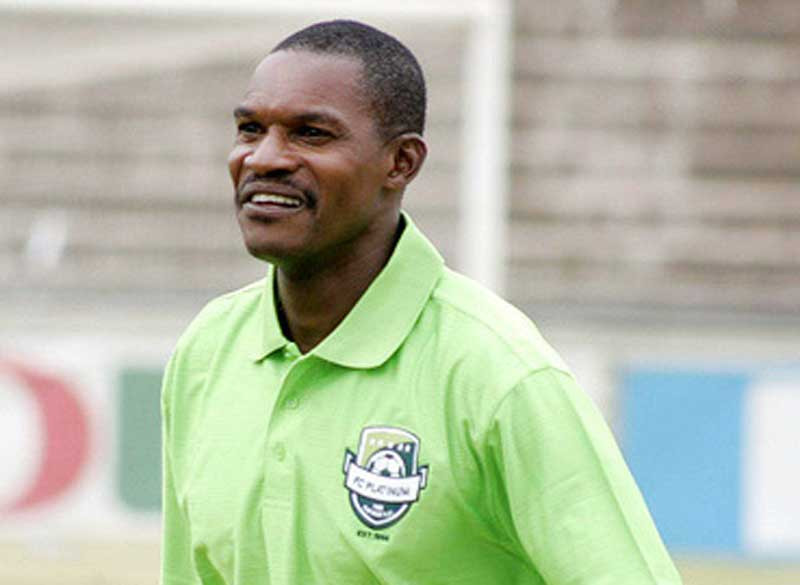 FC Platinum . . . . . . . . . . . (1) 1
Craneborne Bullets . . . . (0) 0
BRIAN Banda scored the only goal that FC Platinum needed to brush aside Craneborne Bullets in a rather low-key Castle Lager Premier Soccer league match at Mandava stadium yesterday.
The four-time PSL Champions kept their momentum following a pleasing 2-1 win over Simba Bhora in their opening encounter.
In this one, they started the match on the front-foot, in search of an early goal.
However, they were kept at bay by the army side, at least for the first 15 minutes when they posed the real threat.
At that moment, a Walter Musona inspired move was thwarted by Christopher Charakupa before reaching the goal area.
Five minutes later, Thandolwenkosi Ngwenya launched another attack from the left wing before delivering a cross that was intercepted by Nyasha Gurende.
Goalie Wallace Magalane was also called into action on the 38th minute, to make an acrobatic save that denied Gurende's curling cornerkick that appeared destined for goal.
FC Platinum broke the deadlock on the 40th minute mark courtesy of Brian Banda, who darted the ball home following a neat build up that involved Panashe Mutimbanyoka and Gift Mbweti
They went to the break riding on the narrow margin, with hopes of extending it in the second stanza.
However, Craneborne Bullets came back with a tightened backline, with little mobility in the midfield.
This forced Mapeza to tinker with his squad, introducing Walter Musona and Jarrison Selemani to face his former paymasters but the latter was tame.
Midfield enforcer Hagizo Magaya and Perfect Chikwende missed sitters in quick succession in the last ten minutes of the game.
FC Platinum gaffer Norman Mapeza was pleased with the result, though he stressed the need to pull up their socks.
"Winning always gives us great joy. The league is still in its infancy. It's too early for us to be over confident.
"Our players are yet to reach the level of fitness that we want and I'm still coming up with combinations to strengthen the team.
"Today's performance shows that we have areas to improve especially when it comes to the final pass.
"Brian Banda gave us the goal, but I feel we could have won it with a wider margin. We really need to score as many goals, when we create chances.
"Of course, I'm happy that we are able to create those chances and now the work is on improving our conversion rate."
His counterpart, Nesbert Saruchera said: "We played the champions, and we gave a good fight.
"We didn't do well in the first half, but we fought hard in the second half.
"This was a good measure of where we aim to go. The team is in good shape. I'm sure by the fifth game, we would be good and up running.
"For now, we value the experience and strength that has been shown by our players, mostly those in their first PSL season."
Teams
FC PLATINUM: W Magalane, G Mbweti, L Mhlanga, M Ngwenya, K Mangiza, H Magaya, J Mutudza, B Banda( I Mucheneka 80), P Mutimbanyoka, W Musona ( J Selemani 69'), T Ngwenya (P Chikwende 57)
CRANEBORNE BULLETS: T Makoni, X Janatana, M Mushangwe, C Charakupa, N Gurende, A Manokore, K Chidonza, M Mudzuka, K Mureremba, Y Mutembedze (H Chimuti 81), T Chibunyu( T Meke 52)
Castle Lager Premier Soccer League results and fixtures
Yesterday: FC Platinum 1-0 Cranborne Bullets, Chicken Inn 1-0 Simba Bhora, Black Rhinos 0-1 Highlanders, Green Fuel 1-1 Herentals
Today: Dynamos v Sheasham (National Sports Stadium), Manica Diamonds v Triangle (Gibbo Stadium), Yadah v Hwange (Baobab)
Tomorrow: ZPC Kariba v Bulawayo Chiefs (National Sports Stadium)
Related Topics